BT AND Virgin Media have announced the details of their student broadband packages, with nine month contracts, for the coming year.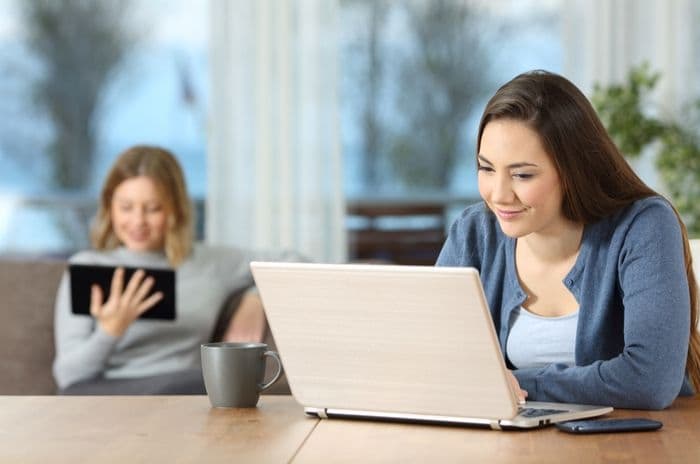 Credit: Antonio Guillem/Shutterstock.com
Both are pushing the importance of superfast fibre in a shared house: all of Virgin's services are fast, but BT are highlighting their up to 76Mb service.
The prices don't look hugely competitive at first - there are no tempting sign-up discounts, for example.
But let's not forget that students can at least share the cost of their superfast connection, with those in a house of four able to get a connection for about £10 a month.
BT's deals
All the packages come with unlimited data, but while Virgin are selling all three of their connection speeds, anyone wanting more than standard broadband from BT must take Infinity 2 - up to 76Mb - or sign up for a non-student deal.
BT are offering their standard, up to 17Mb, broadband for £12.50 a month, plus line rental.
That might be enough for students living on their own or with one other person, but in a bigger student house the fibre package is probably more practical; for £22.50 a month plus line rental, they can have BT Infinity 2 with its up to 76Mb connection.
Neither of these packages comes with any inclusive calls - and BT's line rental increases from £16.99 to £17.99 on September 20th, along with some of their other charges.
That'll put the basic cost of each of these deals up to just over £30 and £40 a month respectively.
There's more on those increases here.
In the meantime, it is worth noting that these prices are actually pretty comparable with those paid by customers on a standard length contract - even if they do suffer from a lack of introductory discounts and offers.
Virgin's deals
As mentioned above, Virgin are giving students the choice of connection speed - but they're offering broadband only connections.
It makes sense - with an increasing number of us making fewer and fewer phone calls using a landline, it avoids paying for an unnecessary service - and threatens to end the once traditional shared house argument about the phone bill.
And while their headline prices do look higher, it's worth remembering that's all users will have to pay per month.
That means that students in places where both BT and Virgin are available can get superfast broadband for just a couple of pounds more a month than BT are selling their standard broadband.
For example, students opting for Virgin's 50Mb package will pay £32 a month all in; those wanting up to 100Mb will pay £37 a month, and those who want 152Mb should work out their share of £44.50 a month.
Unlike BT, Virgin do charge more per month for those on shorter contracts than their non-student customers.
But at just £3.50 a month more, it makes far more financial sense to opt for the shorter contract than pay off the remainder of a 12-month service or face early termination fees.
Take note(s)
Do be warned, however, that both BT and Virgin sell "variable tariffs" - meaning that they can change the headline prices during the course of a contract.
Virgin Media recently got into trouble with the Advertising Standards Agency (ASA) for not making this clear enough.
The other thing to note is that it is possible to get broadband at university without having to sign up for even a nine month contract.
Flexible contracts of 30 days at a time are available - although they tend to be for standard broadband, and don't work out that much cheaper than the cheapest deals listed above.
TV as well?
They also don't offer the chance to take TV as well, which BT are.
Students who stick with standard broadband are being offered a TV package no longer available to other new customers.
That's the old Essential TV deal, which for £5 a month gives them the basic Youview channel selection and access to catch-up services. Importantly, unlike the newer basic TV service, it comes with a Youview+ box that can record up to 300 hours of SD programmes.
Those who go for BT Infinity can take the newer TV Entertainment Plus package, which offers an extra 25 "premium" channels for £10 a month.
As it's BT TV, both packages come with the option to add BT Sport free of charge.
Students opting for broadband with Virgin Media can't add TV to their package.
Perhaps that's for the best: the range of options and associated costs - and the longer minimum contract required - would be enough to spark a whole new batch of arguments with housemates.