DODGY sales tactics, spurious 'discounts' and hidden costs: three things homeowners have been facing from double glazing salesmen for years.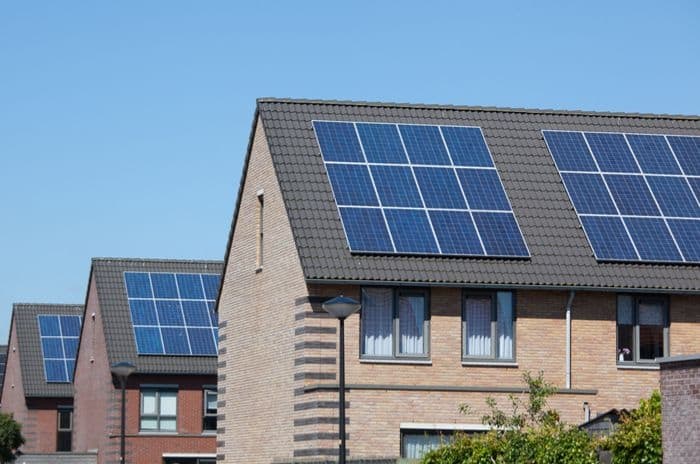 But once you've got your windows done you're not out of the woods.
Households trying to go green - and make some cash - by installing solar panels on their home often face misleading advice and high-pressure sales techniques.
And, just as with double glazing, it's a crying shame because this is a home improvement that could be well worth having.
So just why are we being mis-sold? And how can we avoid it?
Mis-selling tactics
There are three main problems with the selling of solar panels.
1. Feed-in tariff confusion
The Government supported cash back scheme for solar energy, known as a feed-in tariff, allows households with a 4kWp system fitted to make up to £28,000 in tax free profits over 25 years.
The idea is simply that the electricity generated by households is sold back to the National Grid, covering the cost of panel installation and making the household a bit of profit too.
Unfortunately, though, the feed-in tariff system is in complete disarray.
The Government announced in 2011 the feed-in tariff rate would be cut by almost half from 43.3p to 21p per kilowatt hour because take up had been far higher than expected and the cost of installation had fallen.
The outcome for the consumer is confusion. As of 19 January 2012 a Government contingency plan will bring the 21p rate into effect from April for installations starting 3 March. However, the contingency is a Court of Appeal case.
"Nobody knows what the tariff is," said Daniel Green chief executive of HomeSun, one of the companies engaged in the court case, earlier this year.
Green advised caution against any company claiming to have complete certainty about the scheme's future.
In all, just as in the mainstream energy market tariffs can be breathtakingly complex.
2. High pressure sales
But the scheme itself isn't the only problem.
Solar panel firms are expressly prohibited from engaging in high-pressure sales techniques.
But a Which?'s undercover investigation carried out in June 2011 found two companies that did just that.
The consumer group filmed salespeople giving consumers just days to decide on whether to hand over thousands of pounds and be tied in for years before 'the discount runs out'.
You can see some of that undercover filming below.
Under Ofgem rules, energy companies must ensure that the information their sales staff give to consumers is:
Complete in its explanation and providing accurate information to the consumer that takes out the deal
Easy to understand, not over legalistic or containing more information than the consumer could reasonably get through
Not misleading, particularly in relation to the savings which could be due to consumers after they take up the deal
Finally, the sales should not relate to products which are inappropriate for the consumer's typical usage or general financial situation
As you can see, this code of practice is vague and extremely open to interpretation and, therefore, to allegations of rule breaking.
Nevertheless, Ofgem has issued fines to firms found to be seriously breaking mis-selling guidelines.
In 2010, for example, when a set of guidelines early on in the year failed to get off the ground Ofgem launched a full investigation of the doorstep and telephone sales departments of four big suppliers.
That investigation was prompted by a rate of mis-selling cases which stood at about 200 cases every month.
3. Ongoing costs and profits
Which? also found that many salespeople were offering misleading advice, often by disguising or failing to mention pretty major ongoing costs.
Just three of the 12 companies selling solar PV (photovoltaic) panels gave accurate estimates on how much energy the panels would be able to generate.
Seven companies didn't take into account the fact that part of the roof was in the shade, so putting solar panels there was questionable.
Which? executive director Richard Lloyd said: "It seems incredible that the government's method requires companies to ignore whether you live in Cornwall or Scotland when working out how long it'll take to pay for the solar panels. It's obvious that the more sun you get, the faster the payback. The government has to put this right.
"It really isn't difficult - companies just need to make sure they send people who are qualified to ask the right questions, do the right checks and give customers better advice."
Avoiding mis-selling
As we've seen, there are inherent problems with solar panel schemes in addition to serious concerns that companies are engaging in high-pressure and plain misleading sales techniques.
The only real protection is to get informed before moving energy supplier, take independent advice rather than believing salespeople and, most importantly, take the decision slowly: panels are supposed to keep households going for years, think of it like buying the house itself.
The Energy Saving Trust is a good source of information on solar panels, for example.
Remember, however, that nothing you read online, including this article, will constitute independent legal advice.
Many sites are reliable and useful as guides but, ultimately, they don't have any liability for any damage or loss suffered after you act on the information they provide.