SKY are preparing to launch a new broadband deal aimed at placating former Be and O2 broadband customers.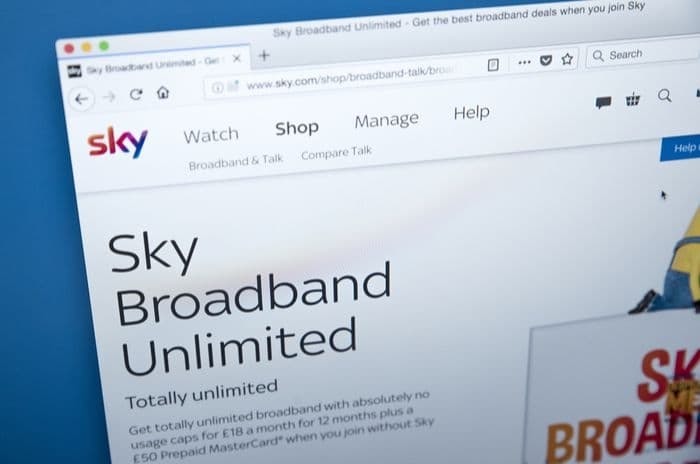 Credit: chrisdorney/Shutterstock.com
Broadband Unlimited Pro will offer a free static IP address, line profile management and extra customer support when it is rolled out in March and April.
Many Be broadband customers, in particular, were none too pleased when Sky's £200 million buyout of the Telefonica home broadband assets was announced in March 2013.
Subsuming the two small, customer service-focused ISPs into Sky would have the same effect as McDonalds taking over a Michelin starred restaurant, one Twitter user predicted.
Unlimited Pro is Sky's attempt to be less like the McDonalds of broadband, though only a bit: they're starting by cutting prices.
Pound menu
Former O2 and Be customers being moved on to Unlimited Pro will have been on the most expensive Be Unlimited or O2 The Works deals so they'll likely see their subscription prices drop. Sky have promised to at least match the monthly prices for all their new customers.
As always, taking more Sky services reduces the price of broadband considerably.
Unlimited Pro is:
£20 a month: without Sky line rental or TV
£15 a month: when customers take Sky line rental (but not TV)
£12.50 a month: when customers take Sky line rental and Sky TV
Former O2 and Be customers won't have to start a new 12 month contract when they're moved over to the new Sky service, though they'll have to enter a new term if they decide they want a different Sky package to the one they're offered.
The cut off date for customers to stop their move to Sky, to go elsewhere or just go down with the ship, is being communicated to customers by post, but one member of the Choose team has already been given a date of February 15th.
If they do nothing, their next payment after that date will go to Sky.
And we're betting many will choose to do just that (nothing, that is) because Sky are offering a free static IP, line profile management and dedicated customer support alongside their completely traffic management and fair use free unlimited broadband.
That's a deal customers will struggle to find anywhere else.
Free static IP address
Unlimited Pro, and let's just note at this point that this new deal shouldn't be confused with Sky's up to 78Mb Unlimited Fibre Pro, is offering a free static IP address, an incredibly useful feature for anyone that needs their IP verified to log into the work administration systems, for example.
Sky are handing out new static IPs, customers won't be able to keep their old ones, but they are also assigning each household a new single static IP before the broadband service is switched over, which should give customers plenty of time to switch over any service they need their IP for.
Dedicated support
Sky promise dedicated customer support for Unlimited Pro customers but, in the letters to new customers we've seen they're sketchy on what that actually means.
They trumpet 6am to midnight customer support, for example, but that's the normal hours of the Sky call centre.
We asked Sky for some clarity.
"We anticipate customers using these new products and features may have queries of a more technical nature, and so we'll have a team to specifically support them," they told us.
That sounds positive, though we'd be intrigued to hear whether Sky are going to distinguish calls from Unlimited Pro customers from their other calls.
Sky are having a good run with their customer service, according to Ofcom complaints statistics and service surveys (more details here) they're offering some of the best support around at the moment.
But Be broadband customers are a hard lot to impress.
We note, for example, that Sky aren't giving out new routers when they move people over, despite the ISP's previous insistence that customers use the Sky router they're given or nothing, so support staff run the risk of getting stumped by unfamiliar hardware.
Line management
Finally, Sky are trailing "line profile management" with Unlimited Pro, a feature they're keeping under wraps but we assume refers to personalised traffic management.
Like Be, Sky don't have use traffic management to prioritise time sensitive online activity, like streaming video, over things that can be slowed with less problems in terms of end user experience, like loading web pages.
Unlike Be, however, they have high contention ratios (many users sharing a line).
Personalised traffic management could be a good compromise for former Be customers who would otherwise have no recourse if their service quality dipped as a result of having to share the line.
Whether it'll actually work is another matter. It's certainly intriguing.