Last month, we interviewed Blockbuster about their website's long-awaited facelift, new deals and their plans for the future.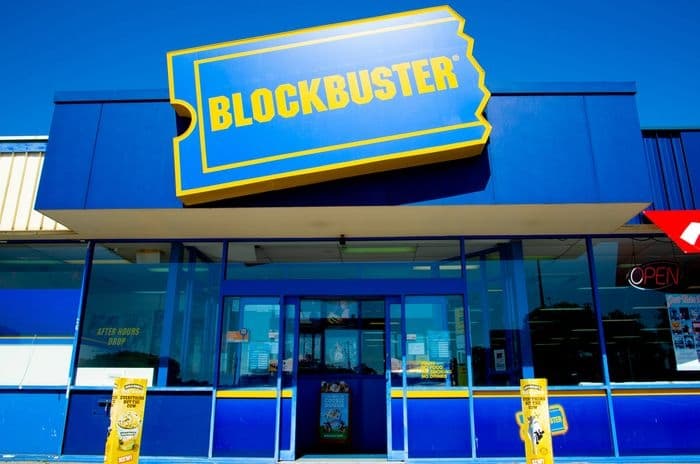 Credit: Adwo/Shutterstock.com
This month, the company recorded a £2.6 million drop in profits compared to the previous year, according to Companies House records.
Blockbuster's future as profits drop
Blockbuster DVD rental recorded a £1.7 million profit for the year to last January, Companies House records show.
The year before, though, Blockbuster turned a £4.3 million profit.
What happened?
Well, according to Blockbuster themselves, the World Cup did.
The football was so popular over the summer of 2010, according to the DVD rental service, that without it they would actually have done better than the year before.
It's not as far-fetched as it sounds.
The Office for National Statistics reported at the time that a rush for flat screen TVs and the like accounted for a 0.6% rise in high street sales before the competition.
Perhaps that's what was behind Blockbuster's plan, in September last year, to start stocking electricals in their DVD rental stores?
HMV, already on a knife edge, put a 10.6% drop in like for like sales down to the World Cup.
In the black
Blockbuster has dropped a number of its least profitable high street stores this year and sales have fallen 12%, to £231 million.
But compared to Lovefilm and Blockbuster's US cousin, it's very firmly in the black.
Lovefilm only managed to turn a profit on its millions of investment cash this year, and then managed just £1.92m.
Blockbuster in the US is on even shakier ground although the damage to the Blockbuster brand is pretty much the only impact on the UK business.
Blockbuster talk their new site
In September Blockbuster launched a site redesign, introduced free game rentals on all its unlimited deals and ditched packages that offered monthly rentals on the high street as well as by post.
At the time, we spoke to Malachi Simons, Blockbuster's Head of Online, about what had prompted the recent changes and what was coming next for the provider.
As you can see from the interview below, Blockbuster certainly seem committed to offering new options for their customers though their plans - updating the website again and offering slightly tweaked packages - seem to be tidying the edges of a business model that's becoming more and more threatened by online streaming and downloads.
So congratulations on the redesign - the site looks great, how long have the changes been in the works?
"Thank you very much, we started planning this last year, but we wanted to introduce Top Ticket (ability to guarantee what you're sent next) and the iPhone App first. We've been working on the new site for several months now - and very little else for the last few weeks.
"We're very pleased with the customer reaction so far."
And what do you think will make the biggest difference to your customers?
"Well. It's not just a paint job, this is a complete transformation of the Blockbuster Online Experience.
"We've introduced games rental on all of our Blockbuster Unlimited plans for free, the navigation has been completely transformed - many of the most popular areas of the site are more accessible than ever before.
"We have new genre pages, loads of new charts as we know that our customers love seeing what's popular. We've added a new Blu Ray section, so rather than Blu Ray customers feeling like it's a mere bolt on to the rental proposition, a Blu Ray customer can now browse all things Blu Ray in one place.
"We have focus search - so the search and search results change according to the section of the site you are in - and we've relaunched Browse By Year - meaning customers can browse through 100 years of cinema.
"And then there are other cool things - we introduced a new 'Film Finder', tell us what you like and we'll suggest some movies. You can suggest by format, rating, certification... We have relaunched Movie Mix which is a great way to ensure that you always have a certain type of film at home - so for instance, if you've got kids, you can tell us that you always want to have a Children's title out on rent.
"And Top Ticket on games - what's not to like? Right now we have Gears of War 3 and Resistance 3 available for customers to Top Ticket. No other online rental company can give you that sort of service.
"But you can get these right now at Blockbuster."
You've closed a few of your high street stores this year and we notice you've ditched your online Xtra plans (which included store rentals) too - is Blockbuster going online only?
"Not at all. We have nearly 600 stores in the UK and we have millions of people visiting our stores each year.
"OnlineXtra has been a great success - our customers love being able to pop along to their local Blockbuster store at the last minute to rent, as part of a Blockbuster online rental plan.
"Thousands of our customers regularly rent both online and in their local Blockbuster store.
"All we've done is made some of the sign up screens easier to understand.
"All of our online plans include in store benefits - something that you'll be seeing more of in the coming weeks and months."
Are there more site changes on the way?
"We're not going to move the bread and the milk every week but we do have a stage 2 planned in the near future.
"We're quite excited to see customer reaction - it should go down very well."
And what about further into the future? This year Lovefilm moved into a number of different platforms and its streaming service really took off, do you have any plans in either of those directions?
"At Blockbuster, we put our customers first. We want to give customers the content they want, when they want, however they want.
"Over the last year we've introduced innovative new features like Click & Collect - transforming how people rent in store - and Top Ticket - allowing our online customers the ability to guarantee what they get next.
"We're mad about movies and games, and we're focused on new ways to engage with as many like minded people as possible.
"Technology is evolving quickly and we're quite excited about what's coming down the track. However we can't disclose anything at this time."
Finally, we can't let you go without asking you about the Netflix mess [controversy over package changes that went down very poorly with customers]... Has it changed the way you'd communicate a price change to your customers?
"Obviously I'd have to be living under a rock to not know about the Netflix / Quickster situation but I don't work in the US market so it's not my place to comment.
"At Blockbuster UK, we're focused on the Blockbuster UK business and we're constantly looking at ways to add more value to our customer proposition."