O2 have announced they're on track to connect 800 towns and villages in Scotland to their 4G network by the end of the year, improving mobile broadband connectivity for rural and urban communities alike.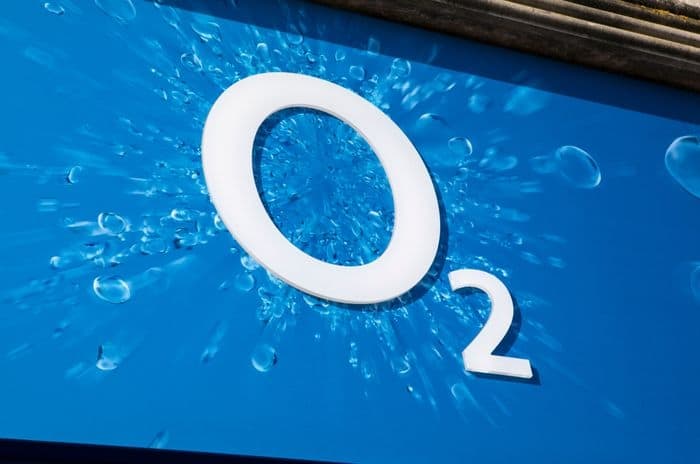 Credit: chrisdorney/Shutterstock.com
O2 have been constructing new masts and installing new networks since the beginning of the year, in addition to installing 85 new generators, all as part of the £2 million it reportedly invests every day in expanding its 4G (and 3G) coverage.
With such investment, they now claim to cover 98% of the outdoor UK population with their 4G network, a claim backed up by recent industry reports, which have found their 4G coverage second only to EE.
However, these same reports have found that other metrics of their network's capacity - such as download speed and latency - aren't as impressive, suggesting that more widespread coverage is perhaps coming at the cost of higher performance.
Enhancements
What's impressive about O2's network expansion in Scotland is that it's covering a variety of area types, from urban centres such as Aberdeen to rural areas around Inverness and the highlands of Ben Nevis.
This geographic diversity in their coverage is being facilitated by diversity in how they deliver their network.
For example, they've built more typical masts in places such as Inverness and Ben Nevis, while in the centre of Aberdeen they've partnered with the Wireless Infrastructure Group (WIG) to provide what is the UK's first ever cell network connected by fibre cables.
Added to this ingenuity is the installation of the aforementioned 85 generators, which will ensure that O2's Scottish network isn't suddenly put out of action by a weather-caused loss of power.
At O2 we are constantly challenging ourselves to develop and deploy new technology to deliver better connectivity for our customers across Scotland regardless of landscape or weather conditions.
Derek McManus, COO O2
This comprehensive approach shows they're taking very seriously the task of providing of a robust 4G network in Scotland, where coverage is particularly good in the major cities (e.g. Glasgow and Edinburgh fared better than London in the latest RootMetrics report), but where things become increasingly patchy the further afield customers go.
Speaking of how O2 are boosting Scotland's mobile service, the Scottish Connectivity Secretary, Fergus Ewing MSP, said, "Today's announcement ... represents an important step towards filling mobile coverage gaps across the country, connecting Scotland's so-called 'not spots' to a fast and reliable mobile internet connection".
Weaknesses
That said, while there's little doubt that connecting 800 additional towns and villages will fill plenty of gaps in Scotland's coverage, it's questionable as to whether O2 offer the fastest and most reliable network, in Scotland or the UK as a whole.
For one, in their Mobile Performance in the UK report from July, RootMetrics broke down network performance to the national and area level, finding that O2 comes in last of the four main operators in both Scotland, and in Edinburgh and Glasgow.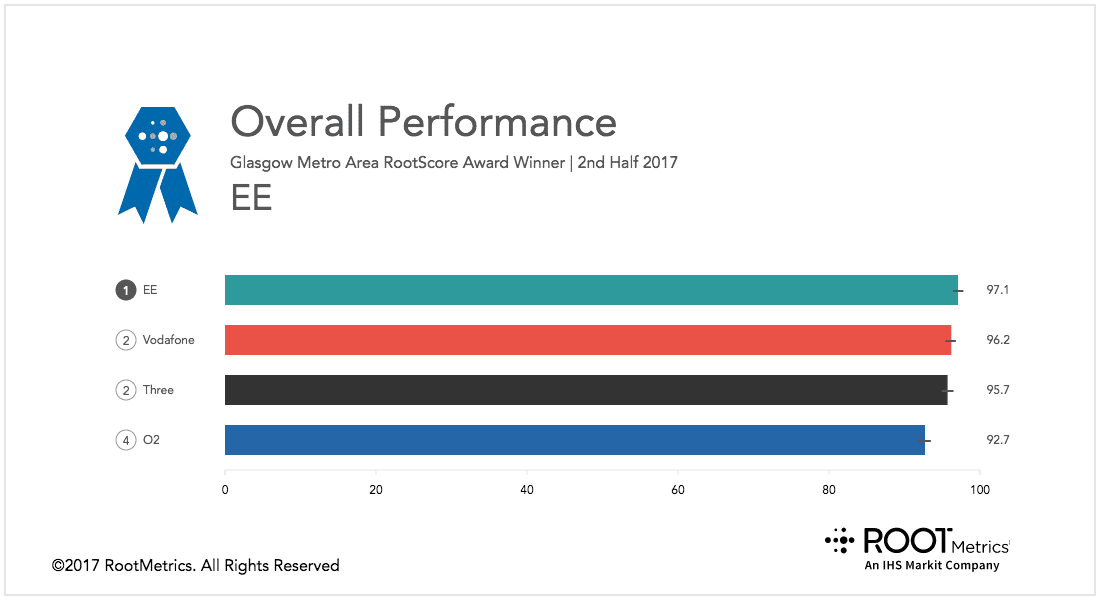 Source: RootMetrics, Mobile Performance in the UK, July 2017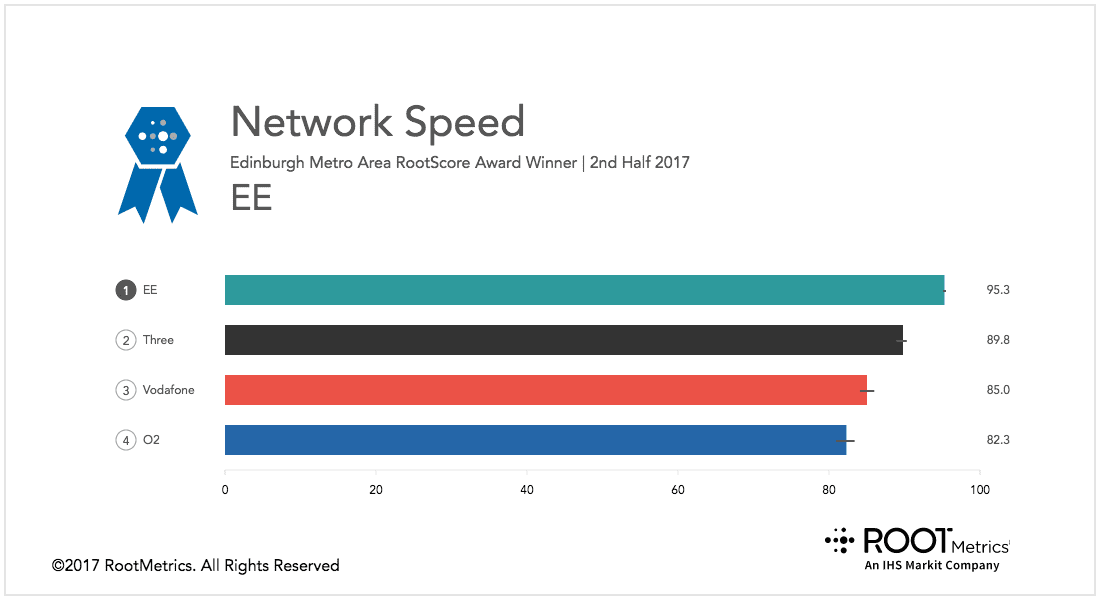 Source: RootMetrics, Mobile Performance in the UK, July 2017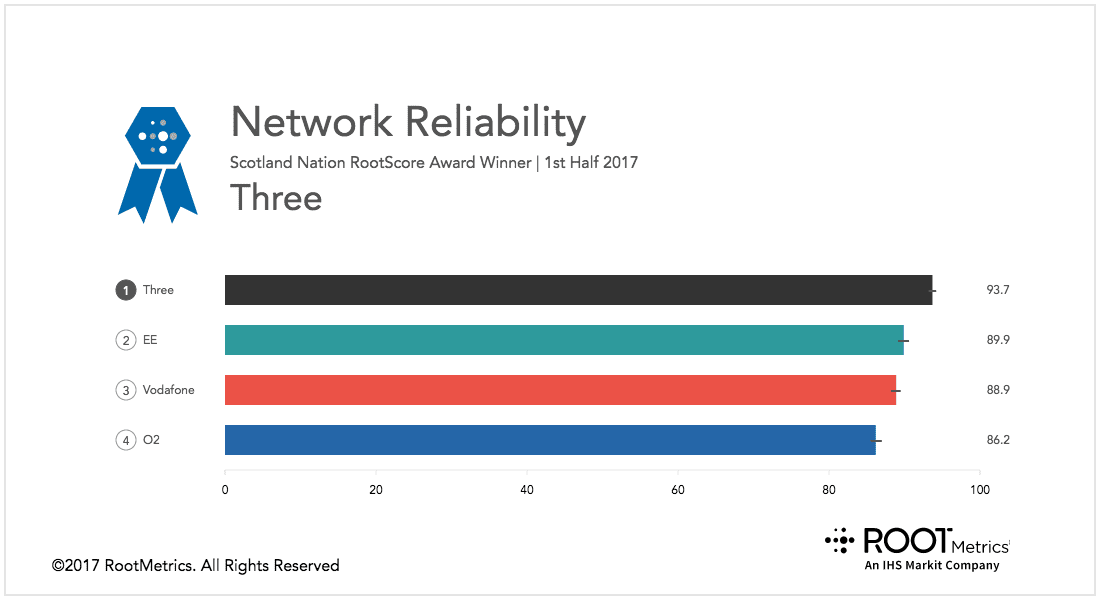 Source: RootMetrics, Mobile Performance in the UK, July 2017
While O2's investment in 800 new locations shows they're striving to improve their performance in Scotland, it's clear from the above that they have some way to go before they catch up with EE, who have repeatedly come first in RootMetrics' surveys of UK mobile performance.
This impression is backed up by other reports on network performance, such as the State of Mobile Networks analysis published by OpenSignal in April.
While this found that O2 was the second best network in the UK for 4G availability, it also found that they came in last for 4G and 3G download speeds, as well as last for 3G latency.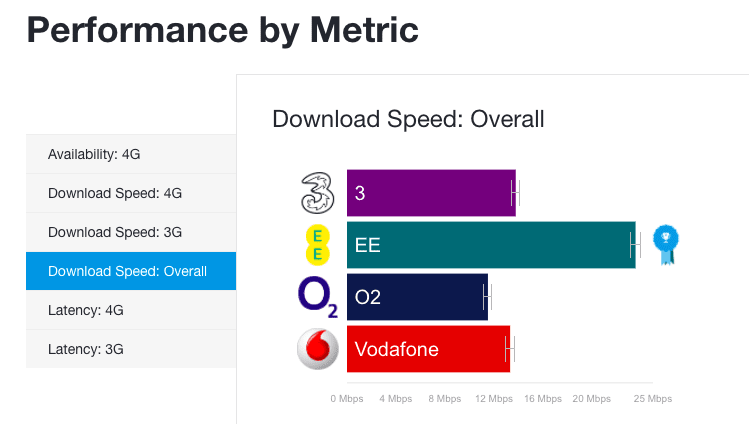 Source: OpenSignal, State of Mobile Networks, April 2017
Customer Service
As such, O2 have a great deal of work to do in catching up with the other providers, especially when the likes of EE are boosting their 4G network by converting old 2G spectrum and rolling out an even faster 4G+ network in select cities.
Yet to be fair to O2, while they may not have the strongest network, they seem to have the strongest levels of customer service and satisfaction.
For example, in July they revealed they have a customer churn rate of only 0.9%, the lowest among the big four networks.
This means that they're customers are more loyal, staying with O2 for longer than the customers of other networks.
While there could be a number of reasons for such loyalty, it's likely that customers are influenced by the special offers and services O2 provide.
These include O2 Priority, which gives customers reductions on a variety of products and enables them to get concert tickets early. And they also include O2 Refresh, which splits their bills into allowance and device parts, enabling them to afford the latest smartphones sooner than they would have otherwise.
And now, in addition to such benefits, customers in Scotland at least will be able to enjoy an enhanced 4G network, just as mobile broadband becomes an ever more vital part of their lives.