Fuel providing free Fire (Amazon Fire, that is)
FUEL Broadband have started offering new customers a free Amazon Fire TV Stick, worth £35, as well as free broadband for six months.
It's not the first such offer from the ISP; as recently as April they were offering Chromecast to new subscribers - but it is the first time Amazon have partnered with a UK broadband provider.
Along with the Fire Stick comes the offer of a month's free trial of Amazon Prime, including access to Prime Instant Video.
But that's not a huge deal in itself, as Amazon happily offer the same free 30 day taster to all comers - as long as they haven't already tried Prime in the past.
Hot content
Let's focus on the Fire Stick, as that's the big selling point here.
It's the ultra portable version of Amazon's Fire TV, the size of a USB stick but with an HDMI connection - and a (not that much bigger) remote control. Tucked inside are links to all manner of streaming services, many in HD, apps and games.
It's a rather odd combination of services.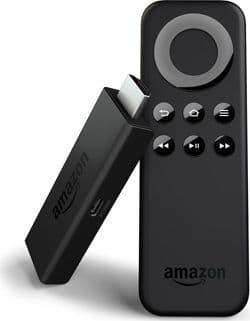 There are subscription content providers such as Netflix and Amazon Instant Video, pay on demand services like Curzon Home Cinema and Mubi, and some - but not all - of the TV companies' catch-up and on demand services.
For example, anyone with digital TV should be able to access BBC iPlayer and Demand 5 that way, although Scots in exile may find Amazon Fire's inclusion of STV Player comforting - but 4OD and ITV Player are conspicuous by their absence.
Bearing in mind that Fuel only offer standard broadband - up to 17Mb - one of the features that could make the Fire TV stick more appealing is its ability to pre-buffer content.
Basically, like many on demand services, it learns what users like based on their selections, and somehow cues up the shows and content it thinks they'll want to watch - so they'll start without delay when chosen.
Cold comfort
None of that will be any comfort to existing customers, who will have started to receive notification of price increases for both their broadband and line rental.
Previously £15, line rental has risen to £16.40 - among the most expensive around - and their unlimited up to 17Mb broadband will now cost £5 rather than £4 a month as standard.
It's possible that many of Fuel's existing customers are still benefiting from other introductory offers - Fuel only appeared as a brand in October last year, offering broadband free or for £2 during an introductory period for anything from six months to a year.
Before then, they were still trading as Primus, a company once known for a somewhat complicated but very cheap range of broadband and home phone deals.
Immediately after their facelift they were vying with Tesco Broadband for pole position in terms of who offered the cheapest broadband; now they're only a little cheaper than TalkTalk.
To rub it in a little more, Fuel are also offering a year's free broadband - and free activation - to people who signed up for home phone services back when they were still Primus.
13 October 2017
11 October 2017
10 October 2017
Follow us or subscribe for FREE updates and special offers