MOBILE roaming across EU member states is likely to become cheaper but the European Commission have backed down on more ambitious "roam like at home" and net neutrality plans.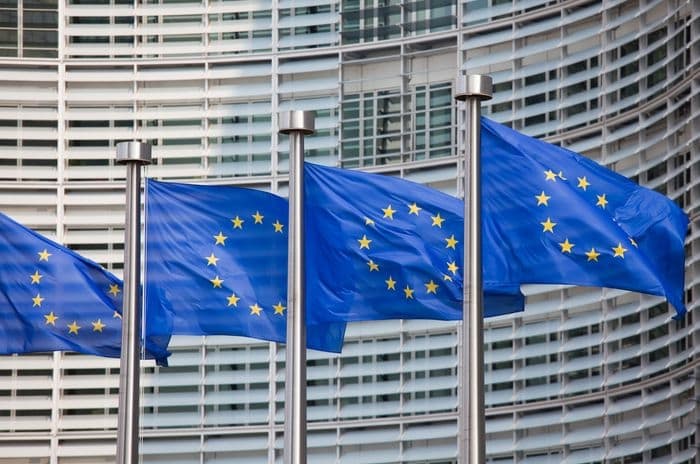 Credit: jorisvo/Shutterstock.com
The Commission propose charging home rates for voice, SMS and data when visiting other countries within the EU, but only up to a "basic roaming allowance".
After the limit is reached, operators would be able to add on more charges; a pricing scheme that falls short of the agreed "near zero" cost to roam by 2015.
And a new proposal for "protecting an open internet" sounds conservative compared to initial plans for net neutrality.
While they'd ban ISPs from blocking or slowing down online content, a "limited number" of exceptions would be allowed.
Connected Continent
Back in 2013, the Commission agreed an EU-wide legislative package called the "Connected Continent".
As part of the package, they planned to introduce net neutrality - so operators would have to treat all internet traffic equally. They also agreed to completely phase out mobile roaming charges by 2016.
The changes would've allowed people to move freely between countries without worrying about the higher cost of mobile use, while providing unrestricted access to online content.
But last week the European Commission announced they want to strip back the package and will negotiate the revised proposal with the European Parliament soon.
There is little detail so far but the Commission's Vice President, Andrus Ansip, voiced his concerns about scaling down the initial package.
In a recent speech he said, "I do not want to pre-judge the work now being done. But it does concern me that we may end up with a lack of provisions for spectrum and not enough ambition on roaming and net neutrality."
"Much cheaper" roaming
Despite the commitment to make roaming "much cheaper" by 30 June 2016, the delay to completely phasing out charges will be particularly disappointing for many.
93% of young Europeans feel restricted by the high price of roaming according to a European Commission survey carried out last year.
And most would increase their mobile usage if there were no charges.
But if the plans go ahead it'll be mid-2018 before the topic is even discussed again.
The proposed basic roaming allowance is unconfirmed, however members of the European Parliament have hinted at a data limit of just 5MB per day - roughly enough to listen to one song on Spotify.
Once the allowance is used up, operators would be free to charge standardised higher rates.
The good news is rates have gradually decreased over the years and this time they'd be lower again.
They plan to cap charges at wholesale prices, which are roughly one third of current retail rates.
So it would cost 2.7 Euro cents per MB of data, 5 Euro cents per minute for a call and 1.6 Euro cents to send an SMS, excluding VAT.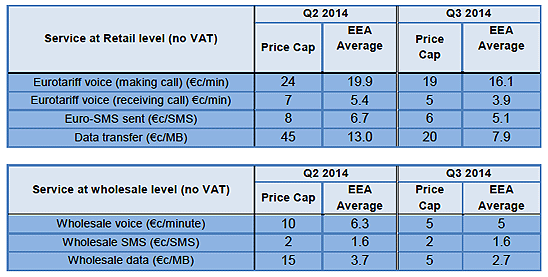 SOURCE: International Roaming BEREC Benchmark Data Report April 2014 - September 2014. Available here [pdf]
Not neutral
At first glance the new open internet proposal also seems weaker than before. Most obviously the new proposal isn't referred to as net neutrality.
It mentions traffic management rules, but allows for exceptions. And there's no mention of what broadband speeds are acceptable.
As in the previous proposal, it still allows deals for services which require a "specific level of quality". So it'll be legal for companies to pay ISPs extra to deliver quicker services.
But it's up for debate whether true net neutrality is needed to achieve the Commission's goals.
In 2013, Neelie Kroes, the then Vice President of the European Commission and Commissioner for Digital Agenda said, "Internet access will mean the full, unrestricted internet, with guaranteed speed and quality for all. Companies are not allowed to discriminate against you and your choices."
Specifically, they're already working on a separate "Digital Single Market" project. A major aim is to vastly improve broadband access across the EU.
Resisting change
Telecoms companies tend to do the minimum needed to meet regulations.
For example, the graph below shows the response to the EU's price regulation of voice calls so far.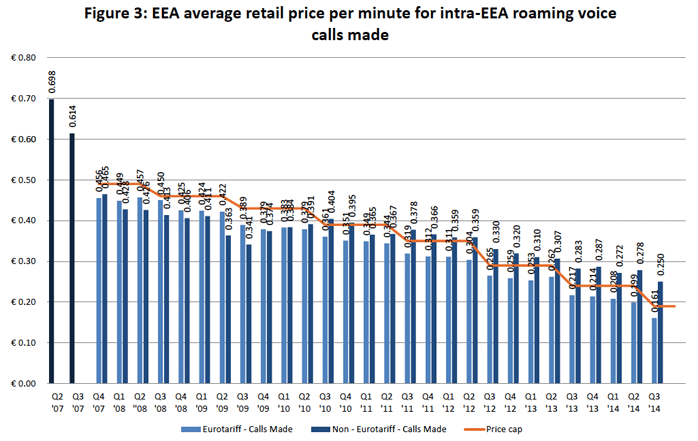 SOURCE: International Roaming BEREC Benchmark Data Report April 2014 - September 2014.
Call prices reduced in line with regulation, but operators haven't done any more than was asked of them, sticking very close to the price cap.
It was Kroes who continued, "We need to end roaming, not just reduce the price. The cost of providing data will get cheaper faster than regulation can keep up - price reductions will become a losing game."
Some argue that the Commission now isn't pushing the telecoms industry far enough on either the roaming or net neutrality issue.
And like the American net neutrality debate, EU telecoms companies are resisting change.
The European Telecommunications Network Operators' Association are calling the latest proposal a "more balanced position".
So it's perhaps understandable then the Commission has taken a step back. And reaching an agreement between so many EU member states is bound to be a difficult task.
But there could be more to come. Before becoming law, the act still needs to be agreed by both the European Commission and the European Parliament.