Complaints to banks fall 15% as PPI scandal dies down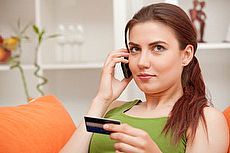 COMPLAINTS to banks fell 15% between the second half of 2012 and the first half of 2013.
92% of complaints made to banks in the first half of 2013 were closed within eight weeks, the highest proportion since 2006, Financial Conduct Authority (FCA) figures revealed.
Fall mirrors PPI claims decline
The fall in complaints has been largely driven by a decrease in new complaints about Payment Protection Insurance (PPI).
61% of complaints in the period were related to PPI but the number of complaints fell by 10%, compared with the last half of 2012.
Not done yet
However, the PPI scandal is far from over yet.
Looking just at the five most complained about banks in each category we can see that PPI (General Insurance and Pure Protection category) makes up an even larger proportion.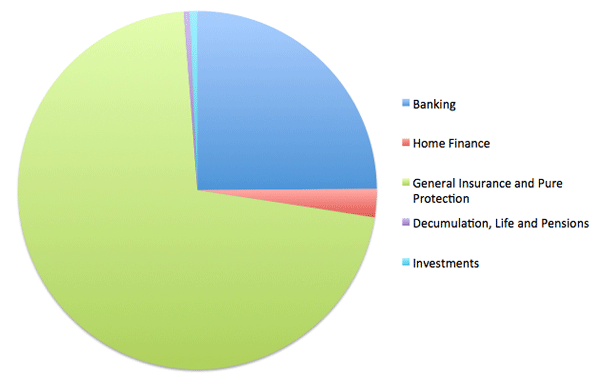 The biggest banks are still opening the most new PPI claims cases, thousands of them.
It's also worth noting that some firms are actually seeing more new claims than they did at the end of last year.
As you can see in graph below, for example, complaints to HSBC actually increased, by 120,860 and new complaints to other firms really didn't fall by all that much.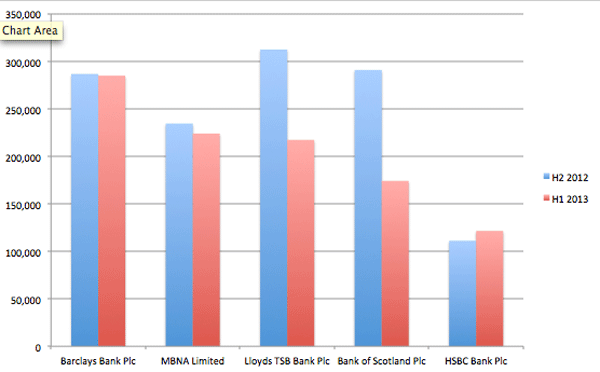 In the end, though, new complaints made to banks are only telling one side of the story on PPI in any case.
Banks still reject many PPI claims, many of which then end up with the Financial Ombudsman Service (FOS). The vast majority of cases the FOS sees are resolved in favour of the consumer.
In a recent interview, Chief Ombudsman Natalie Ceeney said that the regulator is still receiving 2,000 cases related to PPI every day.
Again, it's far less than they were seeing - the peak was 3,000 a day - but complaint levels are still by no means trivial.
Eyes on current account complaints
Aside from PPI, complaints about other general insurance products were the next most numerous, making up 11% of all complaints.
Complaints about current accounts made up 10% of the total.
Many current account complaints concern moving accounts between providers, a process which has long been fraught with difficulties for consumers.
It'll be interesting, in the next set of figures, to see how September's implementation of the seven day switching service (more here) affects the number of dissatisfied consumers.
Banks and regulators, which have put millions into the scheme, will be looking for a positive result. But, with many more people willing to move accounts, it's possible that current account complaints will spike.
Preventing complaints
Behind all this data is a new financial regulator eager to bring down complaints figures and, in particular, to prevent scandals like PPI mis-selling.
Speaking at a British Bankers' Association event this week Martin Wheatley, Chief Executive of the FCA seemed to indicate that he was willing to impose greater oversight on the banks.
"...the regulator scans markets to see where the issues are, increasingly using thematic reviews and market studies to signpost direction," he said.
In the speech Wheatley rejected what he called a Reganite model of regulation as a handbrake to growth and innovation.
The regulator could help financial firms to innovate, he said, in part by drawing attention to potential issues.
Mis-selling had "reduced the regulator to the role of judge dispensing justice... [and] chiselled away at public confidence in financial services," Wheatley said.
He drew attention to 'framing' - the whole transaction surrounding the way a product is sold - and incentive schemes which could lead to mis-selling as particularly concerning.
However, the 'handbrake model' is clearly going to take some time to wear off.
After the speech an audience member asked whether more regulation would lead banks to be too cautious when they create new products.
Wheatley replied that the regulation wouldn't be stifling; many consumers forced to complain to their banks might think that financial institutions can't be too cautious.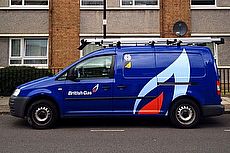 21 November 2017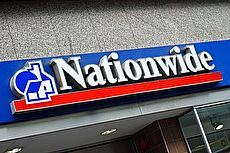 16 November 2017
13 November 2017
Follow us or subscribe for FREE updates and special offers