BROADBAND and landline customers are to receive automatic compensation whenever they experience late repairs or missed installation appointments, after Ofcom announced that major internet providers have finally agreed to join their new compensation scheme.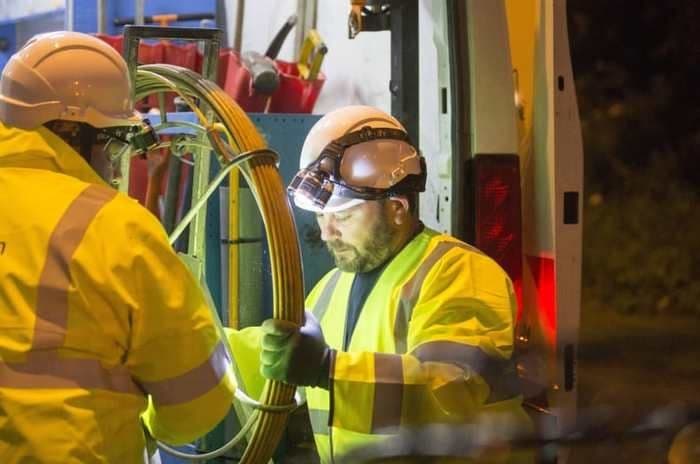 ©Openreach
BT, Virgin Media, Sky, TalkTalk and Zen Internet have all signed up to the voluntary scheme, which Ofcom will roll out over a 15-month period that will end in early 2019.
The scheme will see customers paid £8 for each day a broadband service isn't repaired, £25 for every missed engineer appointment, and £5 for every extra day a customer has to wait for their service to be installed.
The expectation is that it will pay out £142 million a year to customers, although this is £43 million less than what was originally forecast by Ofcom in March, since the compensation for each category has been reduced since the regulator's initial proposals.
"Automatic" doesn't necessarily mean automatic
In practice, what automatic compensation means is that, when a loss of service goes on for longer than two days or a repair or installation date is missed, customers will have credit paid into the accounts they have with their providers.
Of course, while the compensation is being billed as "automatic", it isn't entirely automatic, insofar as customers initially need to "register" a loss of service with their provider, either by phone or some other means (e.g. online) not yet clarified.
Once registered, providers are then expected to monitor how long a loss of service or late installations persist, and pay out the following amounts in the following cases: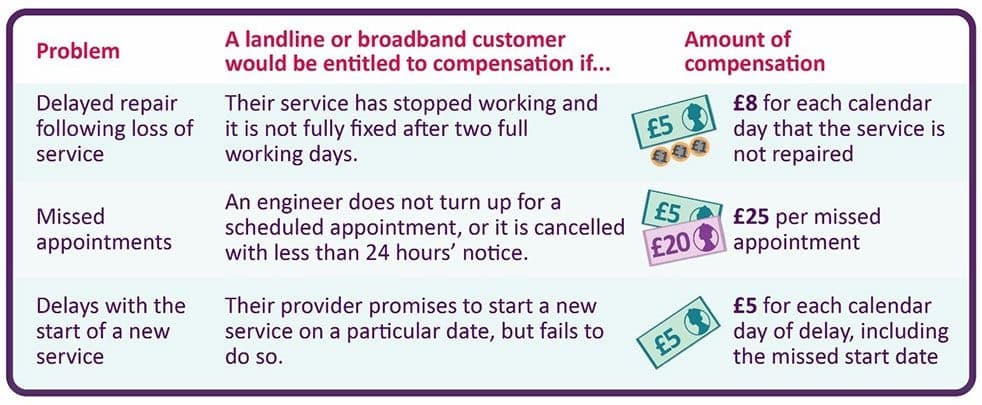 Source: Ofcom
Reducing 250,000 missed appointments
To put these figures into some perspective, when Ofcom opened their consultation into automatic compensation in March, they provided some interesting stats on just how common broadband outages are:
5.7 million cases a year of a loss of broadband or landline service
250,000 missed engineer appointments
1.3 million delayed broadband and landline installations (12% of the total)
Worse still, while compensation is in fact paid out by some providers today, the fact that customers have to make claims themselves means it's paid out only in 15% of cases.
Added to this, they're paid £3.69 on average for every day service is lost, and £2.39 on average for every day an installation is delayed.
Don't waste valuable time
The scheme, therefore, is meant to improve on such a sorry state of affairs, which is arguably the reason why broadband is the sector of the telecoms industry with the highest rates of customer dissatisfaction.
Commenting on how unfavourable the previous regime was for customers, Ofcom's Consumer Group Director, Lindsey Fussell, said, "Waiting too long for your landline or broadband to be fixed is frustrating enough, without having to fight for compensation".
The potential eradication of long wait times is also what Citizens Advice highlighted in welcoming the news.
"The introduction of this voluntary scheme means that consumers will no longer have to waste valuable time negotiating with providers," Gillian Guy, their CEO said.
Issues
However, while providers will be driven by the scheme to improve the services they supply to their customers, it's not without certain issues.
For one, there's the fact that the scheme is voluntary rather formally regulated, which is why not every provider has signed up to it (although both Plusnet and EE have "indicated" they'll join it).
Providers will have to pay money back automatically, whenever repairs or installations don't happen on time, or an engineer doesn't turn up. People will get the money they deserve, while providers will want to work harder to improve their service
Lindsey Fussell, Ofcom
Added to this, there's the age-old issue of customer awareness and apathy: given that only 15% of customers currently bother to complain and demand compensation, it's possible that a significant percentage will be late in "registering" a loss of service, or may not do so at all.
And finally, there's the fact that, in the end, the amounts being paid out to customers are less than what Ofcom originally proposed, with the payment for each missed appointment decreasing by 16.6% from £30 to £25, for example.
Negotiations
Nonetheless, while this might make it seem as though Ofcom caved in to industry pressure, they actually managed to get providers to agree to paying more than they were first prepared to offer.
| Issue | First voluntary code | Second voluntary code | Final industry scheme |
| --- | --- | --- | --- |
| Delayed repair following complete loss of service | £3/4 per working day | £7 per calendar day | £8 per calendar day |
| Missed appointment | £20 per appointment | £20 per appointment | £25 per appointment |
| Delayed service activation | £3/4 per working day | £4 per calendar day | £5 per calendar day |
Source: Ofcom, Automatic Compensation statement, November 10th, 2017
As the table above shows, the voluntary code initially proposed by the likes of BT, Virgin and Sky would have seen customers receiving £3 or £4 for each day of a loss of service.
However, Ofcom managed to get them up to £8, although this isn't quite as high as the £10 the regulator's initial consultation on compensation proposed.
Still, it's a reasonable compromise, and even if it could potentially see bills rising slightly in order to cover the cost of providing compensation, Ofcom have promised to "step in" and act again in a year if the scheme isn't shown to be delivering value for customers.