Aviva apologise, but are banks LGBT-friendly enough?
©iStock.com/Alija
LAST week, Aviva apologised to a gay customer after sending out a pensions policy that seemed to assume that he would be in a heterosexual marriage when drawing on his money.
"It just shows [that] while we have legal equality we still need to fight for our rights and for our love to be recognised in day to day life," the customer told Pink News.
While discriminatory language is now a rarity in financial documents, the case illustrates how easily banks and building societies can alienate their LGBT customers.
We still need to fight for our rights and for our love to be recognised in day to day life.

David Clark, Aviva customer.
Earlier this year, a Nationwide survey found that two thirds of LGBT consumers polled felt that their financial services provider wasn't taking serious steps to understand them.
More worryingly, 13% of those surveyed said they'd had an uncomfortable experience with a financial services provider because of their sexuality.
Are banks doing enough to help their LGBT customers?
Equal products
The Aviva example illustrates one place where many are coming up short: policy wording.
Pink News reported that David Clark, an Aviva customer from South London, was dismayed to find that the marriage example in his pension statement assumed that he would have a wife.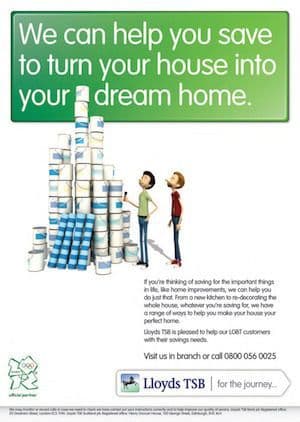 "If you die before your wife," the statement said, for example, "... 50% of your pension will be paid to her for her lifetime."
To their credit, Aviva immediately apologised and explained that they'd only meant the wording as an example: in fact, Aviva pension customers can name same sex partners as pension beneficiaries.
Just to cover all bases, though, Aviva also said that they're "in the process of changing" the policy document, an admission that the current example isn't inclusive enough.
LGBT-friendly banking
As Aviva's response shows, mainstream financial providers take their responsibility to make their services more LGBT-friendly seriously.
Increasingly, banks are showing gay and lesbian couples in their marketing materials, like the Natwest 'Spot the Difference' advert below and the Lloyds Bank print advert shown above.
SOURCE: Natwest / Youtube.
Financial Services companies generally do well in rankings of gay-friendly employers, too.
The Co-operative, Barclays and Lloyds Banking Group are in the top 20 of Stonewall's 2014 top 100 list.
But Chris Rhodes, Nationwide's Executive Director for Retail, says that financial services providers still aren't going far enough.
"While some progress has been made in the financial services industry in recent years, when it comes to marketing to and serving LGBT customers, there is still more financial providers can do to ensure these customers feel supported and included. I don't feel this is something that has been given the consideration it deserves," he said last month.
Inequality under law
Under the 2010 Equality Act, it is illegal for businesses, including banks, to discriminate because of sexual orientation.
As the Aviva example shows, however, banks can indirectly discriminate by assuming that their customers are straight.
And, although it's rare, direct discrimination does still occur, too.
Last year, for example, a Lloyds Bank staff member asked a trans customers opening a current account several personal and irrelevant questions, like her previous name and whether she'd had surgery, before telling her that she might not be able to open an account at all.
Lloyds Bank apologised, albeit a bit begrudgingly read the full story here, but trans people seem particularly likely to face discrimination from their banks.
A 2013 Brighton and Hove city council report found that trans people in the, famously LGBT-friendly, city faced bank staff that insinuated they were trying to defraud the bank by using someone else's bank account details, among other problems.
In terms of policies, pensions still pose the biggest problem to overall equality.
The Equality Act and the Marriage (Same Sex Couples) Act were written with a loophole which allows private occupational pension schemes to limit survivor benefits and stop same sex partners that are the pensions beneficiaries gaining as much as an opposite sex partner would.
The disparity exists because giving more people more benefits is expensive, the Government think it will cost £18 million, though the campaign for changing the law is gathering strength.
The problems of discrimination from staff and under law are clear, but even indirect discrimination has a cost.
39% of the LGBT people surveyed by Nationwide didn't have adequate pension or financial plans for themselves and their partner, perhaps partly because they're reluctant to talk about it in the bank.
16 November 2017
13 November 2017
8 November 2017
Follow us or subscribe for FREE updates and special offers