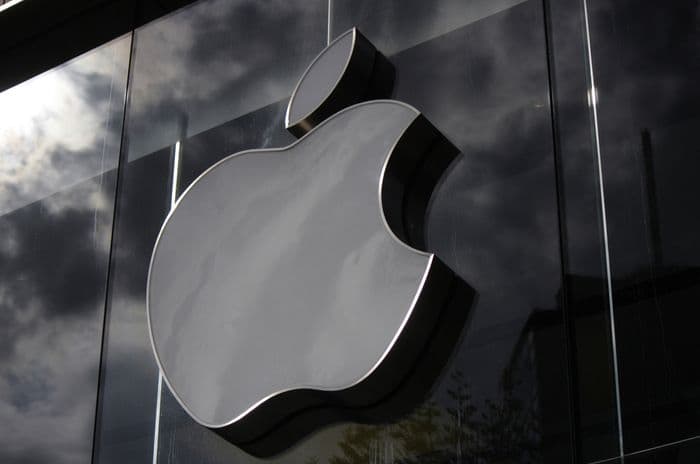 Credit: 360b/Shutterstock.com
AFTER months of rumours, Apple finally launched two new smartphones: a high-end iPhone 5S and a 'budget' iPhone 5C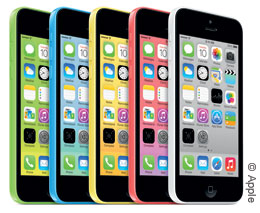 The launch of the Apple iPhone 5S and 5C on the 10th September marked a moment in mobile history. It is the first time that customers have been able to choose between two devices.
So, with a choice between the expensive iPhone 5S and the supposedly cheaper, yet colourful, iPhone 5C, which will Apple fans go for?
Design
Apple has never been one for completely overhauling the look of a successful device and it made sure that its flagship smartphone stuck to that rule.
The iPhone 5S looks like the iPhone that is known and loved. They've shaken things up a little with a gold and white model, but the silver/white and grey/black are still there too.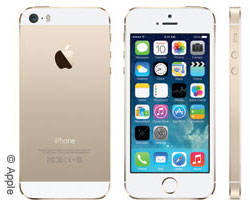 However, Apple has gone to the extreme with its low(er)-end iPhone 5C, which is available in five bright colours: white, red, yellow, blue or green. While colour is not a new idea for the company - think iPod and iMac - it's certainly a deviation from the iPhone norm.
It's not just colour that stands these two devices apart. The iPhone 5S keeps the same size and weight as the iPhone 5, but Apple has decided to make the iPhone 5C bigger and heavier.
The difference is partly down to the steel structure lurking beneath the cheap coloured plastic, but it could also simply be a way to ensure the 5S feels like a more premium handset.
Screen
Oh Apple... how you disappoint. Both the iPhone 5S and 5C feature the same 4-inch Retina display, with 640 x 1136 resolution and 326 ppi as found on their predecessor.
While the screen isn't exactly complaint-worthy, Apple could have improved the display on the iPhone 5S to set it further apart from its budget counterpart.
Considering the price of the iPhone 5S has increased, an improved HD resolution would have been appreciated.
Battery
With more demand on smartphones than ever before, it's important that manufacturers are giving users plenty of battery power. Apple has impressed in this department - often improving both performance and battery life.
It's done it again. Both models will feature a better battery than the iPhone 5, with 10 hours of talktime and around 250 hours on standby. However, as long as it makes it through 'til bedtime, most of us aren't too bothered.
Camera
If there's one area where the iPhone has been lacking, it's the camera. While all models have packed a reasonable punch, none of them have done anything to wow. Unfortunately, it's a trend that continues with the iPhone 5S and 5C.
There is a slight improvement over the iPhone 5's offering, thanks to a few changes to the lens and app. Users will now be able to benefit from automatically-set white balance and exposure and reduced camera shake.
If you've been struggling with the lighting in FaceTime calls, you will be pleased to hear that the backside illumination sensor has had an upgrade.
Those that have plumped for the iPhone 5S will have the advantage of a dual LED "True Tone" flash and a larger sensor with f/2.2 aperture - all of which will improve the lighting.
There's a couple of other features that can be found on the new handsets, including a 10-photo-per-second Burst mode and Slo-mo HD video recording.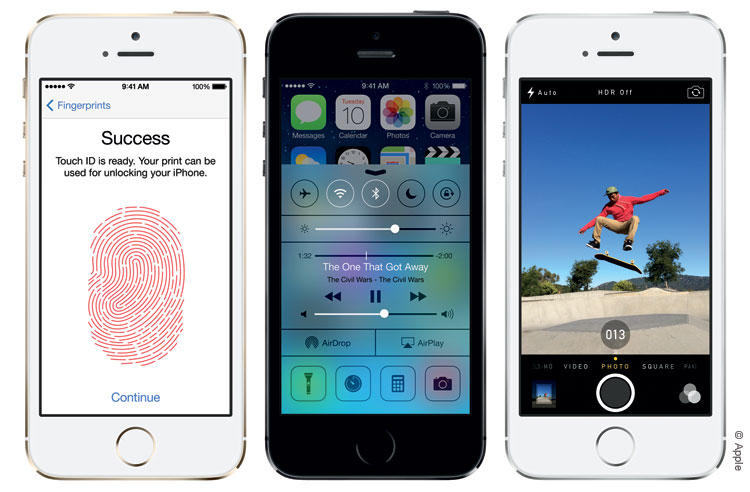 Storage
One area where Apple refuses to budge is expandable storage. Where Android users can generally boost their storage with a microSD card, iPhone owners can't.
The iPhone 5S comes as 16GB, 32GB or 64GB, but the iPhone 5C is only available in 16GB or 32GB.
Although the models with larger storage are more expensive, it's important to consider your needs carefully before opting for the cheapest version. Don't forget - you won't be able to expand.
Processor
Now this is one area that makes that £90 price difference worthwhile. The iPhone 5C features the same chip found in the iPhone 5 - the dual core Apple A6 CPU, whereas the new flagship device debuts the A7 processor.
Apple claims that the iPhone 5S has twice the performance of its predecessor thanks to its 64-bit chip.
While there are a few grumbles about the iPhone 5S not being as revolutionary as some had hoped, the inclusion of a 64-bit processor is notable.
To incorporate the new technology so early, Apple has designed its own CPU. Other smartphone makers, including Samsung, Qualcomm and Nvidia, all license ARM technology and 64-bit processors are not due for production until later next year.
So, Apple is well ahead of the pack once again and iPhone 5S owners will be the only ones able to enjoy the 64-bit experience - for now anyway.
Price
The iPhone 5C has been one of the worst kept secrets in the tech world. Rumours of a budget-friendly iPhone have been doing the rounds for a long time.
So, when the £469 price tag (for the 16GB model) was revealed, people were surprised... that's not cheap.
In 2011, the iPhone 4S launched with a SIM-free price of £499 and just last September, the iPhone 5 was priced at £529. While £469 is less than previous models, it's hardly the budget-friendly device that has been touted.
That's because the premium iPhone 5S costs more of course. The 16GB model is £549, but you can expect that price to increase if you want more storage. It'll set you back £629 for 32GB and a whopping £709 for the 64GB model.
Conclusion
The iPhone 5S is clearly the better handset and given the huge difference in processor speed, build quality and camera, it's well worth paying that little bit more. After all, it's the same price for a 32GB iPhone 5C as it is for the 16GB iPhone 5S.
However, if you thought Apple was going to release something revolutionary, you'll be sorely disappointed. Evolution will have to do for now.