Fibrus are offering reduced priced broadband and up to £100 in Amazon Gift Cards this Black Friday.
Independent full fibre provider, Fibrus, are offering big savings across all their broadband plans for Black Friday.
New customers can currently sign up to a full fibre plan from as little as £14.99 per month for 24 months, with free setup and a WiFi 6 enabled eero router.
All packages also come with Amazon Gift Cards from £25 to £100 in value depending on the broadband speed chosen.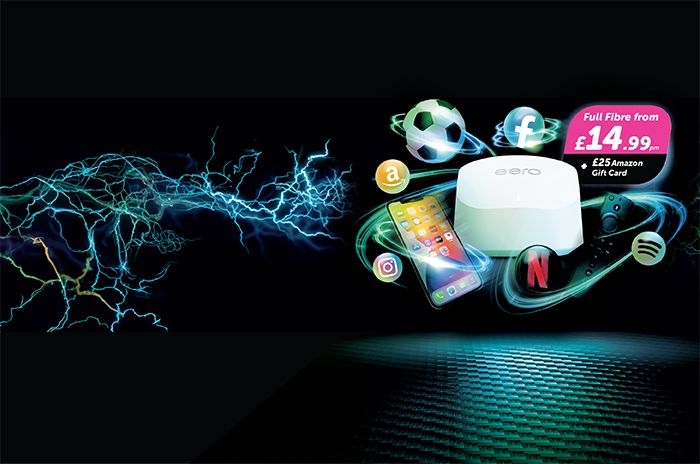 Black Friday prices
For Black Friday 2023, Fibrus are cutting the price of all their broadband plans, offering new customers savings up to £25 per month, which adds up to £600 over the length of the minimum term.
Here are the current offers running from today until 11th December 2023:
Check availability for Fibrus broadband.
These deals include free setup and activation, and bundle a WiFi 6 enabled Amazon eero router.
Full Fibre 100 customers will get one eero 6+ device, Full Fibre 300 customers get two eero 6+ devices, and Full Fibre 1000 customers get two eero Pro 6E devices.
Amazon eero's support intelligent mesh and multiple devices can help boost wireless coverage seamlessly around a home.
Amazon Gift Cards
Fibrus' partnership with Amazon to provide customers with their latest eero 6 routers, brings another special offer for new customers this Black Friday.
From today and throughout November 2023, new customers signing up to Fibrus broadband will get an Amazon Gift Card with a value ranging from £25 to £100.
Customers taking Full Fibre 100 or 150 will get a £25 Amazon Gift Card, those taking Full Fibre 300 get a £50 Amazon Gift Card, and customers taking the fastest Full Fibre 1000 will receive a £100 Amazon Gift Card.
Gift Cards can only be spent at Amazon, and this offer only applies to new customers signing up to Fibrus broadband between 6th November 2023 and 11th December 2023.
Customers are required to sign up to a 24-month contract, and must remain a customer for at least 30 days following the date they are connected before the digital Amazon Gift Card will be sent out by Fibrus.
Overall, in conjunction with the reduced prices, these Black Friday offers from Fibrus are generous, offering combined savings of up to £700.
Read our review of Fibrus broadband.
Expansion
Fibrus have around 40% coverage in Northern Ireland so far, and have also begun expanding their network into England, with a recent Project Gigabit funded rollout into Cumbria now live in Penrith.
The provider plans a total investment of £200 million into Cumbria, with a target to connect over 113,000 premises in the area by 2025.
Fibrus generally targets underserved areas, and plans to connect over 40 towns and villages throughout Cumbria, including Kendal, Workington, Whitehaven, and Ulverson.
Ultimately, Fibrus aim to continue challenging bigger players like Openreach and Virgin Media, while also concentrating on rural and hard-to-reach locations that would otherwise be overseen by other commercial players.
They've said their medium-term goal is to pass 500,000 premises by March 2024, with rollout plans also looking at Northumberland and Durham in North East England, as well as Scotland.