The Samsung Galaxy Z Fold3 is a 5G device with a large 7.6-inch internal display and support for the Samsung S Pen.
Prices start from £1,599 if the device is bought outright, although mobile networks are offering mobile plans starting from around £60 per month.
All four major networks are stocking the device, although none of them are promising rapid delivery with up to six weeks estimated by Three for some models.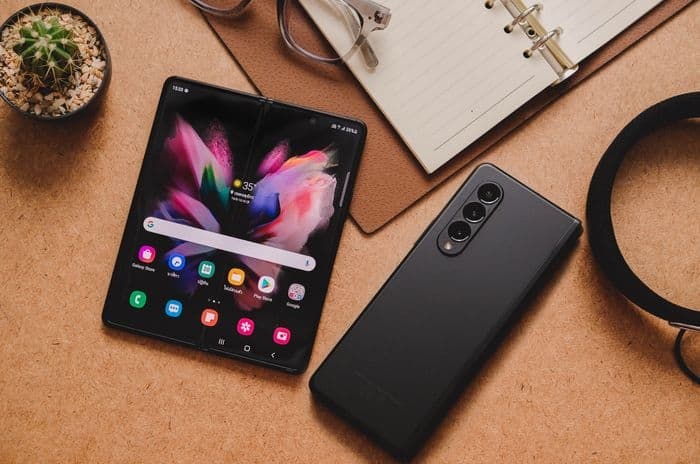 Framesira / Shutterstock.com
Samsung Galaxy Z Fold3
The Samsung Galaxy Z Fold3 is the third foldable smartphone offered by the mobile giant and officially released in the UK on 27 August 2021.
It comes in three colours (Phantom Black, Phantom Green and Phantom Silver) with two storage options of 256GB and 512GB. Prices for the 256GB model start from £1,599 when purchased outright from Samsung or a mobile provider.
All four major UK mobile networks are offering Samsung Galaxy Z Fold3 mobile deals, with some of the cheapest plans starting from around £60 for those who don't want a lot of inclusive data.
Yet, despite the device being on general sale, there still seems to be a significant delivery delay across all mobile providers.
Features
The headline feature on the Samsung Galaxy Z Fold3 is the foldable screen that expands to an internal screen size of 7.6 inches. On the outside, the cover display is 6.2 inches.
It also features:
Dynamic AMOLED screen with 120Hz refresh rate
3 x 12MP rear cameras
10MP front camera
4MP under-display camera
12GB RAM
4,400mAh battery
Snapdragon 888 chipset
Armor Aluminium body and Gorilla Glass Victus display
Water resistant to IPX8
5G capability
For the first time with a Samsung foldable, there is support for the S Pen, although this must be purchased separately.
As with other recent Samsung device releases, there is a data cable in the box but no charging block so customers will need to ensure they have one already.
Evolution of foldables
As Samsung's third folding smartphone, the Samsung Galaxy Z Fold3 is a huge improvement on the first foldable handset they released back in 2019.
After being hotly tipped to be one of the most innovative releases of 2019, the device's release date was pushed back after early reviewers reported the screen cracking after just a few days of use.
It was finally released later that year and was followed in September 2020 by the Samsung Galaxy Fold2.
Lessons had been learned from the design of the first device, with Samsung redesigning the hinge to allow for multiple screen positions and it was a more compact device.
Even with the latest Samsung Galaxy Z Fold3, however, customers should expect a bulkier handset than they're perhaps used to.
The handset has a depth of 16mm when folded and weighs 271g. In comparison, the Samsung S21 has a depth of 7.9mm and weights 100g less.
Foldable phones are still novelties for most customers and the technology is still evolving.
For many customers, the prospect of spending £1,599 or the monthly mobile contract equivalent on a handset like the Samsung Galaxy Z Fold3 is unrealistic, and it's true early adopters tend to view devices like these as prestige mobile phones ahead of anything else.
With this latest generation of foldable, Samsung seem to be getting into their stride and introducing features to make the device more usable and unique.
Alongside the water resistance certification for up to 1.5 metres, Samsung is also working with third-party developers to introduce apps that work natively with the Fold3, allowing for easier multitasking and an overall immersive experience.