In 2017, Wales generated 22% of its total electricity from renewables including on and offshore wind, solar and biomass.
Welsh Government targets announced last year were deemed to be ambitious as UK aims to meet worldwide targets on reducing carbon emissions.
Consumers are yet to see the impact of renewables on bills, despite green tariffs announced by both E.On and nPower in the last year.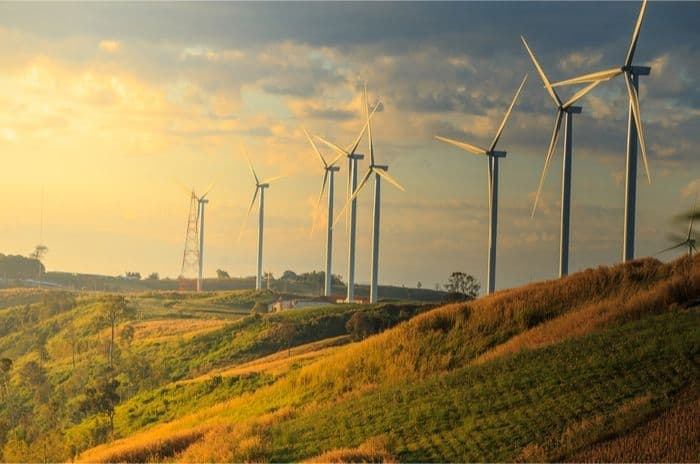 Wales increasing renewable electricity generation
It's important to note that the headline figures don't mean that 48% of electricity used in Wales is derived from renewable sources.
Although Wales now generates more than double what it consumes in electricity per year via fossil fuels and renewables, it is a net exporter to England, Ireland, and other European countries.
So, while 22% of the electricity generated in Wales comes from renewable sources, it is the equivalent of 48% of the amount used by Welsh consumers and businesses.
Growth of renewable electricity capacity has slowed in recent years. Between 2016 and 2017, it only rose 5% compared to the 21% increase between 2015 and 2016.
Welsh electric renewable energy capacity in 2017 increased by 313 MW (megawatts, one million watts). This brings the total capacity to 3,683 MW, with the estimated electricity generation of these at 7,050 GWh (gigawatt hours, one million kilowatt hours).
Wales is home to 53,257 solar PV sites and 1,092 non-solar sites according to UK Government statistics for 2017.
Are renewables having an impact on bills?
Criticism of renewable energy in recent years has centred on the fact that expected savings to consumers have yet to emerge and consumers feel they are paying a premium.
For instance, at the time of launch in September 2017, the E.On Clean Energy tariff was £111 more expensive on average than their comparable non-renewable tariff.
Meanwhile, the Go Green Energy Fix tariff introduced by Npower in October 2017 was cheaper than comparable two-year fixed tariffs by £23. However, it only committed to match-purchasing 15% green gas alongside 100% green electricity.
Energy companies have been criticised intensely for price rises in 2018, although they cite wholesale costs and the costs of delivering Government policies as justification.
These price hikes have led to a mass exodus of customers from the Big Six companies to smaller energy suppliers, with 2.4 million expected to switch by the end of 2018.
Welsh electricity generation driven by Welsh Government
Renewable energy capacity in Wales drastically increased in 2015 following the commissioning of Gwynt y Mor, one of the largest offshore windfarms in the world with a capacity of 576 MW.
Welsh generation capacity was further increased by the Pen y Cymoedd onshore wind farm opened in 2017 and capable of delivering 228 MW. This was highlight as one of Wales' key improvements last year alongside many medium solar PV projects.
While the 70% target for renewable energy by 2030 has been labelled optimistic, it is not the only target that the current Welsh Environment Secretary has set for the coming years.
The Welsh Government aims to see more locally owned renewable electricity projects developed, with an expectation that all new projects will have some local ownership involved by 2020.
Government figures estimate that locally owned projects currently account for 94% of renewable energy projects in Wales, yet they only comprise 20% of renewable energy capacity in the country.