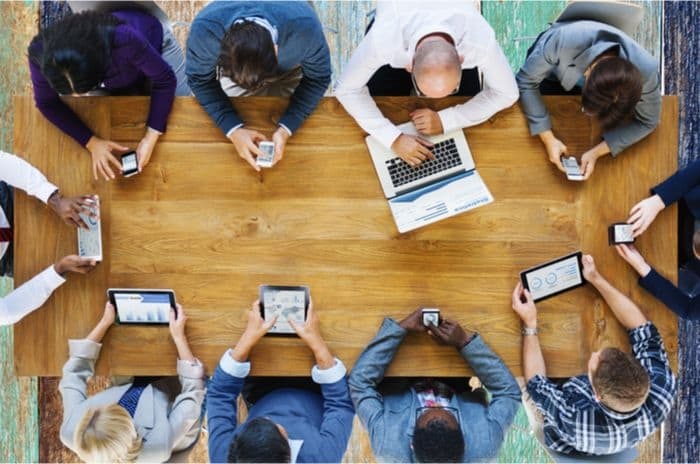 ---
At a glance
| What we like | What we don't like |
| --- | --- |
| Full fibre speeds of up to 10Gbps | Severely limited availability |
| 12-month and 36-month deals available | Pricier than some competitors |
| 24/7 customer support | Limited information about real-world experiences |
| Comes with SLAs and SLGs | |
Business broadband packages
| | YouFibre 150 | YouFibre 1000 | YouFibre 10000 |
| --- | --- | --- | --- |
| Price from | £60/mth | £90/mth | £300/mth |
| Set-up costs | Free | Free | Free |
| Download speed | 150Mb | 900Mb | 9000Mb |
| Upload speed | 150Mb | 900Mb | 9000Mb |
| Router | eero Pro 6 | eero Pro 6 | eero Pro 6 |
| Call packages | From £15.60 (landlines only) | From £15.60 (landlines only) | From £15.60 (landlines only) |
| Contract length | 12 months/36 months | 12 months/36 months | 12 months/36 months |
---
Broadband deals
Business broadband from YouFibre is available in three speed plans, both available on 12-month or 36-month deals.
These are the 12-month plans with prices including VAT at 20%:
| | Package | Broadband | Monthly price | Upfront price | Contract term |
| --- | --- | --- | --- | --- | --- |
| | You 150: 24 months | 150Mb average | £39.99 | Free | 24 months |
| | You 1000: 24 months | 1Gb average | £54.99 | Free | 24 months |
| | You 8000: 24 months | 7Gb average | £129.99 | Free | 24 months |
At first glance, these prices seem high in comparison to the cheapest business broadband options on the market but the promised speeds are so much faster thanks to YouFibre's full fibre network.
Businesses willing to sign up to 36-month deals can get substantial discounts on YouFibre's business broadband deals:
Package
Broadband
Monthly price
Upfront price
Contract term
YouFibre 150: 36 months
150Mb average
£50
Free
36 months
Offer: 1/3 off YouFibre 150Mb
YouFibre 1000: 36 months
1Gb average
£75
Free
36 months
Offer: 25% off YouFibre 1Gb
YouFibre 10000: 36 months
7Gb average
£250
Free
36 months
Offer: 50% off YouFibre 10Gb
So, the savings businesses can make by signing up with YouFibre broadband are significant, yet many companies probably won't be in a position to make that kind of commitment.
It's notable, too, that YouFibre doesn't charge set-up fees for their business broadband, even at the 10GB level.
Features
YouFibre promise Service Level Agreements (SLA) and Service Level Guarantees (SLG) to all their business broadband customers, regardless of the plan they are on.
There are no details and the SLA and SLG promises on the YouFibre, so potential customers will want to discuss their specific needs with the ISP before signing up.
As we explain in our guide to what makes business broadband different to residential broadband, guarantees help companies understand how quickly problems will be dealt with and what they can expect from their business broadband service.
Yet YouFibre don't provide details about other business-grade options in the same way XLN do, for example. That isn't to say such premium services aren't available, just that YouFibre don't disclose such information.
---
Price comparison
As we've mentioned, YouFibre's monthly prices for business broadband can seem eye-watering for companies, yet their average speeds are much higher than other business broadband providers can offer.
Here's how they compare against the top advertised packages by XLN, Plusnet and BT:
Package
Broadband
Monthly price
Upfront price
Contract term
YouFibre 150: 36 months
150Mb average
£50
Free
36 months
Offer: 1/3 off YouFibre 150Mb
You 150: 24 months
150Mb average
£39.99
Free
24 months
Superfast 80Mb Full Fibre
80Mb average
£15.95
for 12 mths,


then £37.95

£9.99
24 months
Offer: Save over 40% for 12 months + Free Super Router
Unlimited Business Fibre
76Mb average
£22
£4.99
24 months
Full Fibre 150 Enhanced + Digital Line
152Mb average
Free
for 6 mths,


then £59.95

£29.95
24 months
Offer: Black Friday: First 6 months free + Includes enhanced support and 4G back-up

(Ends 03/12/2023)
It's notoriously tricky to compare business broadband packages because of the different services on offer, yet YouFibre's packages seem to be pricier than their rivals, even when you take the lower prices of 36-month contracts into consideration.
In terms of YouFibre's faster packages, we can look at the leased lines offered by TalkTalk Business Broadband to see how YouFibre's prices compare:
Package
Broadband
Monthly price
Upfront price
Contract term
YouFibre 10000: 36 months
7Gb average
£250
Free
36 months
Offer: 50% off YouFibre 10Gb
Leased Line
Up to 1GB
From £90
Free
24 months
The small print on TalkTalk's leased line service is certainly impressive and ostensibly offers more for the money, yet we'd be cautious of that "from" in terms of costs.
It's also worth noting TalkTalk are gradually rolling out fibre to the premises (FTTP) services which would be more directly comparable to YouFibre's deals (and seem to be cheaper overall), but these are only available in a handful of locations to date.
Overall, YouFibre may be a more expensive option, but they are offering speeds that may not be available to businesses from other ISPs.
---
Speed
YouFibre's business broadband boasts top speeds of 10Gbps, something rarely available beyond a dedicated leased line system.
With YouFibre operating their own full fibre network, top speeds can be delivered direct to a business's premises and, at this stage, there's not as much competing traffic on those networks.
The broadband packages mentioned above (150Mb, 1GB and 10GB) have average download speeds of 150Mb, 900Mb and 9000Mb respectively, and are achievable by 50% of users at peak times according to YouFibre's website.
It's also worth noting that the highest speeds available to individual devices are only usually available on wired connections, so customers will need to link devices to the router with an Ethernet cable to reach the highest speeds if those are required for a business.
---
Router
YouFibre seem to provide their business broadband customers with the same eero Pro 6 router as they give to their residential customers.
This is an excellent piece of kit, although it's more of a node than a router in the traditional sense and it needs to be managed via an app on Android or iOS.
It also has the following specifications:
Meets latest wi-fi standards
Tri-band (works on three frequencies)
Automatic channel selection
Band steering
2 x auto-sensing Gigabit ports
Bluetooth 5.0
Alexa support
As we've said, the node is excellent for use in home environments and surpasses many of the specs we'd expect to see on home hubs. However, we don't have independent information on how it works with the 10Gbps speeds offered by YouFibre's top packages and whether it successfully manages heavy amounts of data traffic.
---
Business call plans
While business broadband from YouFibre can be taken without an accompanying phone line, many companies will want to add calls to their plan.
This comes in the form of a Voice over IP (VoIP) line which uses the internet in place of a traditional phone line.
These are the two packages on offer (including VAT):
| Plan | Features | Monthly price |
| --- | --- | --- |
| YouPhone | Free unlimited evening and weekends UK landline calls | £15.60 |
| YouPhone Plus | Free unlimited UK landline calls | £21.60 |
The main point here is that inclusive calls are to UK landlines only, so businesses won't be able to use those minutes for calls to mobiles.
Plus, many businesses taking a call plan will necessarily opt for anytime inclusive calls since many companies operate during traditional business hours.
It's possible for companies to keep their existing phone number, handy for businesses who have built up a reputation and want to improve their business broadband capacity without losing their numbers.
---
Customer service
YouFibre is a relatively young ISP, so there isn't much information around their customer service generally, and even less about the business side of their broadband.
So far, the best information available comes from customers reviewing the ISP via Trustpilot where they have a TrustScore of 4.5 out of 5, though this based on only around 230 reviews and most reviews relate to residential broadband. The company also responds quickly to both positive and negative reviewers.
Business broadband customers with YouFibre can access enhanced customer service compared to domestic customers.
They promise 24/7 dedicated support available via email, chat or phone, allowing customers to choose the contact method that works best for them. They say they'll answer quickly but won't rush a client to respond rapidly - perfect for businesses who often have multiple things going on at once.
Of course, we don't have much information about how this works on the ground for existing YouFibre business broadband customers, yet that isn't out of the ordinary for business connections as official figures aren't collated by Ofcom in the same way, even if YouFibre were large enough to warrant inclusion.
---
Availability
The major obstacle for customers who like the sound of YouFibre's business broadband is likely to be availability, or lack thereof.
Currently, they are only active in parts of the following areas in the North East of England:
Peterlee
Durham
Spennymoor
On a map from Think Broadband, that coverage looks like this: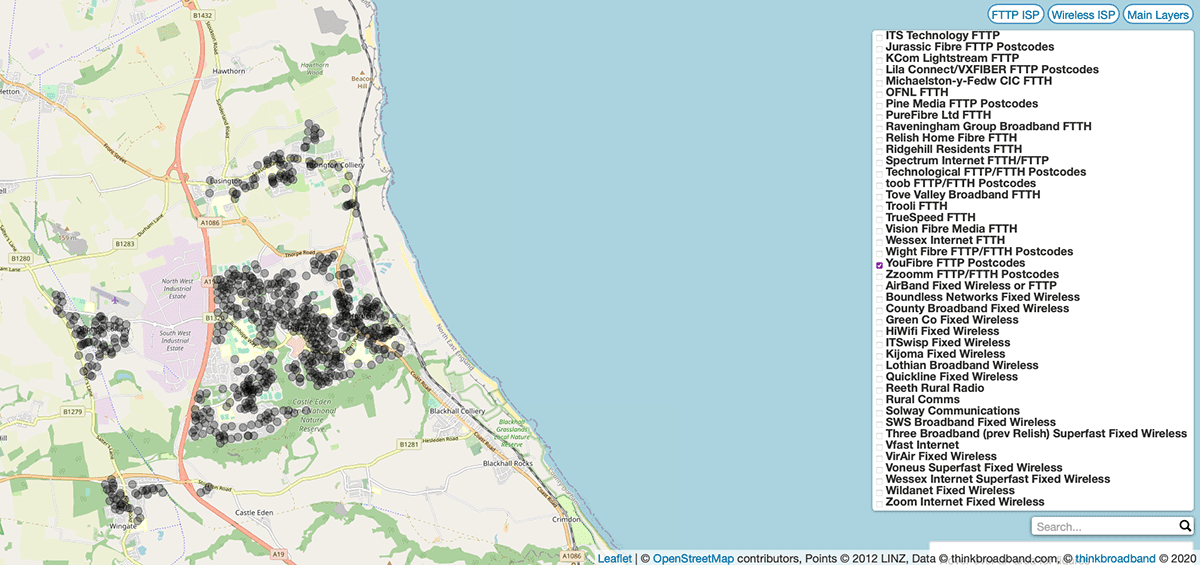 Businesses in this area will be able to sign up to YouFibre, and it's possible they will expand soon to locations adjacent or close to those on this map.
YouFibre have also announced their intention to roll out broadband services in Cheltenham from summer 2021, although it's unclear how many business premises are included in that rollout.
---
Verdict: 10Gbps business broadband
YouFibre offer broadband speeds that would suit the requirements of any business, no matter how many staff they employ on site or how many devices are connected at any given time.
Our concerns with YouFibre business broadband mainly come from the variables we don't have much information about: i.e. how the nodes perform in busy business settings and what the customer service is really like for companies.
Yet their USP is undeniably strong and they offer an alternative to BT Openreach in a small number of areas of the UK. Hopefully, they will bring this option to more businesses in the future.
As we explain in our guide to YouFibre's home broadband, the ISP is one to watch in the future, but we'd advise companies interested in their business broadband offer to investigate them further if they're already available in their area.