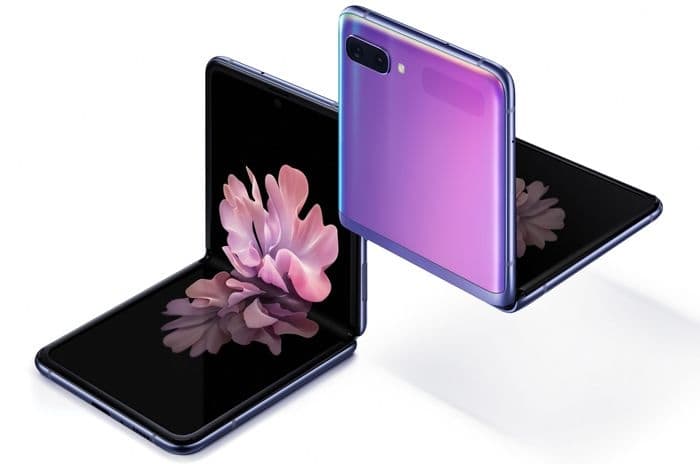 ---
| Pros | Cons |
| --- | --- |
| Compact when folded | Expensive |
| Good for multitasking | Not 5G-enabled |
| Looks futuristic | Battery isn't that great |
---
Prices
Costs £1,300 contract-free
2-year contracts cost upwards of £60 a month
The Galaxy Z Flip sim-free handset costs £1,300. For a 24-month contract, you can expect to pay upwards of £60 a month.
We've listed some of the best value deals from each of the major networks and resellers for the Samsung Galaxy Z Flip:
| | Provider | Minutes | Data | Initial price | Monthly price | |
| --- | --- | --- | --- | --- | --- | --- |
Search for more Samsung Galaxy Z Flip deals here.
---
Display
Folding screen is exciting, though you can see the fold
Generous screen size when unfolded
Some concern over screen longevity
A discussion about the Z Flip's screen starts with the phone folded shut. Why? Because the Z Flip has what Samsung calls a cover screen.
This tiny 1.1-in OLED display shows basic information like the time and any notifications - it's a useful addition, saving unnecessary opening and closing.
When opened, the Z Flip reveals a generous 6.7-inch Dynamic AMOLED 21.9:9 display. With minimized bezels and no notch, it feels impressively immersive.
Unlike other foldable phones - which use plastic OLED displays - the Z Flip uses a new technology they call ultra-thin glass. It looks great, and there's still a thrill in seeing it bend.
However, it's not perfect. There's a noticeable crease that Samsung states 'is a natural characteristic of the screen.' This is most evident when the screen is black.
In practical terms, the folding screen means you can stand the phone up, and use the top half for calling or recording video, and the bottom half for controlling it.
The FHD+ resolution is good, but nothing to write home about. At 2220x1080 pixels, it's far less than the 3040 x 1440 pixels offered by Samsung phones like the S10 and S20.
In practice, most people are perfectly content with FHD+ - particularly as higher resolutions tend to put a greater strain on the device's battery.
As the Z Flip screen is new tech, there are some concerns about how long it will last unscathed. According to Samsung, it's rated for more than 200,000 folds, which is 100 openings a day for 5.5 years.
The screen is protected by nylon fibres in the hinge that sweep dust and dirt away as it's open and closed. The edges of the folding part have plastic caps designed to prevent dirt from getting in that way.
Whether this is enough to keep the screen looking good remains to be seen.
---
Camera
10MP camera at the front and two 12MP cameras at the back
Quick selfie function is fun
Using the Z Flip as a tripod is great with Night Mode
The Z Flip has a 10MP front-facing camera, and a 12MP wide angle and 12MP ultra-wide angle at the back.
The ultra-wide angle camera has a 123-degree field of view and allows you to shoot 16:9 widescreen videos in portrait mode.
If you're just after a quick selfie, you don't need to even unfold the phone. Simply double press the power button and use the volume keys to take photos. These can be previewed on the cover screen - though you'll need to unfold it for a more representative image.
Because the Z Flip can be unfolded into a variety of angles, it effectively acts as a tripod. This is most useful when taking night shots.
Selecting the Night Mode setting blends 14 shots in up to 4 minutes. Alternatively, you can use the Night Hyperlapse setting to create the classic light trail night scene.
Single Take mode works almost inversely to Night Mode, using a single shot to create 14 different photos and videos. You can choose which to keep from a selection that includes time lapse video and bokeh images.
Video is limited to 4K UHD recording, and there's a Super Steady option to make capturing action easier.
Overall, the Z Flip's cameras are good, but not great. If you're looking for quality cameras, you'd be better off checking out the Samsung S20 family.
---
Performance
Screen can divide into separate areas
Not the fastest processor
Given it's price, it's surprising that the Z Flip uses an older Qualcomm chip - the Snapdragon 855+ as opposed to the better Snapdragon 865.
It's fast enough for everyday use, though not really good enough for mobile gaming.
The Z Flip uses Samsung's version of Google's Android 10 operating system. Known as One UI 2, it effectively divides the screen into two, with the top half for showing information and the bottom half for things you can interact with.
This is demonstrated in Flex Mode where, for example, a Google Duo call will show the person you're calling in the top half, and the controls for the call at the bottom. This is great as it means you can use the divide folded at a 90 degree angle so that it stands by itself.
Alternatively, you can have two apps open at once. Thanks to the large screen, this doesn't feel claustrophobic and is great for multitasking.
Given the space limitations on a folding phone, the Z Flip has done away with a 3.5mm headphone jack. Instead, you're provided with a pair of AKG earphones that plug in via the USB-C port. The other option is to go wireless, with a pair of Galaxy Buds, for example.
---
Aesthetics
Clamshell folding is an attention-grabber
Choice of two colours
Exclusive designer option available
The look of the Z Flip will be, for many, its key feature. A foldable phone attracts attention from other people. They'll want to know what you're using and where to get one.
Samsung are cashing in on this by offering a yet more exclusive device in partnership with the Thom Browne fashion brand. For £2,280 you can get a Z Flip, leather cover, watch, and Galaxy Buds, all emblazoned with Thom Browne styling - which effectively looks like an elongated French flag.
The standard Z Flip, meanwhile, comes in two colours - both of which have an eye-catching mirror effect. The options for the UK market are black and purple.
---
Storage and battery
256GB of storage (equates to 37,600 photographs)
3,300mAh battery just about makes it through the day
The Z Flip comes with 256GB of storage on board, which is a decent size. However, there's no micro-SD slot to expand, so this is all you'll ever have.
The Z Flip's 3,300mAh battery is a bit of a let down. It's significantly smaller than the 4235mAh offered by the Galaxy Fold. Nevertheless, you should be able to get a day's use out of it, but there's a risk of it dying by night-time.
The Z Flip has relatively slow 15W charging, which takes approximately two hours to fully charge.
---
Summary
As far as foldable phones go, the Z Flip is a great device. It's better-engineered than its competitors and has the bonus of being more portable. The glass screen is a great improvement on the Galaxy Fold, and the device just feels pleasing overall.
However, the Z Flip doesn't compare well to a non-folding device like the cheaper Samsung Galaxy S20. It has a slower processor, smaller battery, lower resolution screen and worse camera.
We'd opt for the S20 every time given the choice. For some though, the novelty of a foldable phone will outweigh anything else and, in this scenario, the Z Flip is currently the best available.