The Netgear Nighthawk R7000 AC1900 wireless router is one of Netgear's last routers available with a built-in DSL modem, as the company has now moved away from combined models to focus on full-fibre connections.
While it no longer features in our guide to the best routers to increase broadband speed, it's still a good option for anyone on FTTC or ADSL connections who wants to upgrade their free router.
Netgear aren't making this model anymore, but it's still available to buy new from Amazon, as well as marketplace site eBay.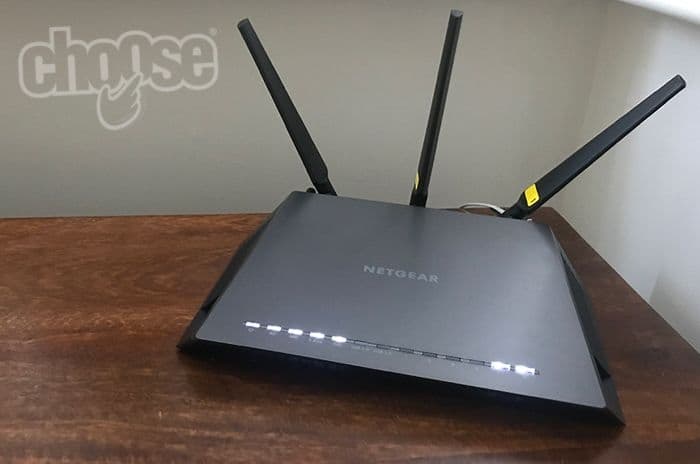 © Choose
---
| | Device | Price | Wi-fi | DSL modem | LAN ports |
| --- | --- | --- | --- | --- | --- |
| | Netgear Nighthawk R7000 AC1900 | £150 | Dual band | Built-in | 4 |
Not all broadband connectivity issues are going to be the fault of the provider-supplied router, however, while some are pretty good, as free products they're not always the best in class option.
Upgrading our broadband router can make a big difference to download speeds, wi-fi range in the home and accessibility for multiple devices.
---
Compatibility
The Netgear Nighthawk R7000 AC1900 is a wireless router with a built-in ADSL/VDSL modem, which means it's suitable for use as a replacement device for Internet connections provided over the phone line, including both standard ADSL as well as fibre to the cabinet (FTTC).
Compatible broadband providers include BT, TalkTalk, Plusnet, EE, Sky and any others providing broadband over the phone line to your property.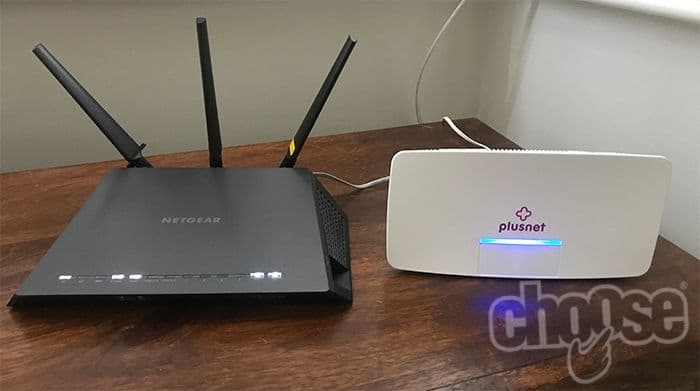 The Netgear Nighthawk router versus Plusnet's free supplied fibre router.
Most provider-supplied routers for ADSL and FTTC broadband connections come with a built-in modem that connects to the Internet. So, for most people a straight swap of their existing device is all that's required.
People who have Virgin Media, or who have upgraded to full fibre broadband - where the fibre line comes into the property - will need a different type of router. See our guide to best broadband routers here.
---
Why is it faster?
When people experience slow broadband they're often quick to get angry at their service provider - and while it can sometimes be caused by factors outside of their house, with so many homes using wireless routers it's one of the first steps ISPs will suggest when diagnosing slow broadband complaints.
Wireless routers are prone to signal interference and congestion, and it can often be congestion on wireless channels that causes broadband to slow at peak time, as much as congestion on the network itself.
In addition, most provider-supplied routers don't have the same technology as best in-class routers for extending wireless coverage around the home. So sometimes a poor or flaky signal can also be to blame.
Some providers, such as BT, offer more advance routers with automatic channel switching and dual wireless channels, but even the BT Home Hub doesn't have the same capabilities of improving wireless performance as the latest routers from companies such as Netgear and TP-Link.
---
Netgear Nighthawk R7000 AC1900 specifications
The Netgear Nighthawk, as one example of a potential router upgrade, offers improved wireless technologies such as:
Beamforming: focuses the wifi signal sent out by the router to travel more directly to devices and not become weaker over distances.
Dual band wi-fi channels: simultaneously provides two separate wireless channels on 2.4Ghz and 5Ghz frequencies, meaning less devices need to share a channel when using the Internet at the same time.
Wireless signal boost: larger radio amplifiers provide stronger signals.
Advanced quality of service: can be used to prioritise Internet traffic for certain applications, such as online gaming or for ethernet LAN ports.
Dual core processor: for faster processing times, which can help speed up streaming and online gaming.
Router upgrades can also help to provide enhanced security, to protect customers from router hacks as has happened in the past with Hyperoptic, Virgin Media and TalkTalk supplied routers.
The Netgear Nighthawk provides the following security features:
Double firewall protection: NAT and SPI. NAT ensures local computers and devices aren't reachable from the Internet, and SPI in an additional layer of protection which monitors for patterns of Internet traffic which are similar to known hacker techniques.
Denial-of-service attack prevention: Helps prevent denial-of-service attacks or DDOS where hackers send many data requests to an IP address in order to overload the system or network and prevent use of the service.
Wifi protected access: WPA2 - PSK (AES) - this ensures the wireless network is password protected. While the latest version is now WPA3, connecting devices also need to be compatible. Netgear also offer a mixed WPA2 - PSK (AES/TKIP) option for backwards compatibility - although it's not advisable to use unless you really need to, as TKIP is less secure.
While its true broadband providers are offering increasingly advance routers, for example, it's now typical to see dual band wi-fi in provided-supplied routers. It's still worth being aware they may lack the latest tech, especially those from budget providers.
---
Broadband speed results
Since experiencing slow and often intermittent broadband, which worsened during peak hours around 5pm-7pm, I decided to upgrade my provider-supplied router to see if that would solve the problem.
After switching to the Netgear Nighthawk it immediately made a difference.
My download speed leapt to the advertised fibre broadband speed of 36Mb, and since upgrading I haven't had one instance of slow or patchy broadband.
I tested the speed difference using Ookla both at 3pm and the previously unusable time of around 5pm for both routers. For the tests I placed the routers in the same location and used the same microfilter.
The Netgear Nighthawk outperformed the provider-supplied router, although the most noticeable difference was the intermittent slow speeds of the provider-router rather than it being consistently slow.
The 5Ghz wi-fi channel of the Nighthawk provided the biggest speed boost - which is useable for devices that support the wireless 'n' protocol.
The speed of my broadband connection using wireless on the provider-supplied router:
Speedtest.net test performed at 6pm using the provider-supplied router.

Speedtest.net second test performed at 6pm using the provider-supplied router.
And after upgrading to the Netgear Nighthawk router:

Speedtest.net test performed at 6pm using the Netgear Nighthawk router, 5G-channel.
---
Verdict: Is it worth upgrading your router?
Costing over £100 for a mid-range router, it's not exactly a cheap upgrade, but when you consider how much time you spend online either streaming TV, gaming or even working from home - and how frustrating slow broadband can be - it can be a worthwhile investment - and one you can keep even if you switch ISPs for a better deal.
There are options available for both ADSL, fibre and cable customers - and a range of options offers even those on a budget the ability to improve their wireless tech.
Since upgrading to the Netgear Nighthawk R7000 AC1900 I've been able to enjoy the broadband speeds I'm paying for - and while it's a niggle broadband providers don't provide better routers to begin with - it's understandable this could be cost prohibitive without charging customers more for set up.
Overall the Netgear Nighthawk solved my broadband speed problems and allowed me to enjoy the advertised download speed of my fibre broadband package.
For more information, check out six of the best wireless router upgrades in 2022.