Loop Energy Saver offers ways to help us cut down on energy costs. The first is by monitoring our energy consumption and the second is by offering us cheaper alternative energy tariffs based on our actual, rather than estimated, usage.
Here we'll review how effective the Loop Energy Saver was in helping us save money. We'll cover the main features of the device, the installation process and more; providing an insightful, hands on review for anyone looking to purchase a Loop device.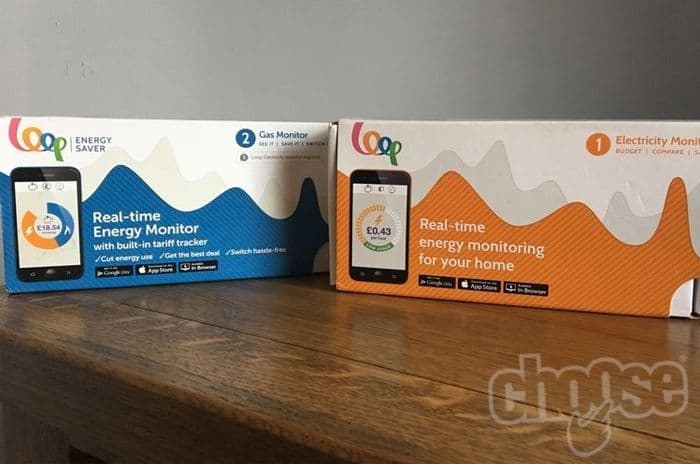 © Choose
---
| | Loop Energy Meter |
| --- | --- |
| Cost | £69.99 |
| Power consumption | 2.5 Watts (keeping it on all year will cost £3) |
| Connectivity | Wi-Fi required |
| Installation | DIY - relatively easy |
| Features | Energy tracking in real time, budgeting, low usage calculator, tariff comparison |
| Can Loop be switched off over night? | Yes |
Installation
To install the device, we took our cue from the Loop box and headed to the company's website where we followed a number of steps to attempt connection.
Now, despite the instructions being easy to follow, we hit a problem at the very end of the installation process; our meters weren't being picked up by Loop due to a connection issue.
To resolve the issue we had to place a call to the Loop helpline. The call centre was, rather frustratingly, only open 9am to 5pm Monday to Friday. However, once we were able to get through to the customer service team, we found them to be incredibly helpful and diligent. They talked us through the installation process and troubleshooted our connection issue in no time at all.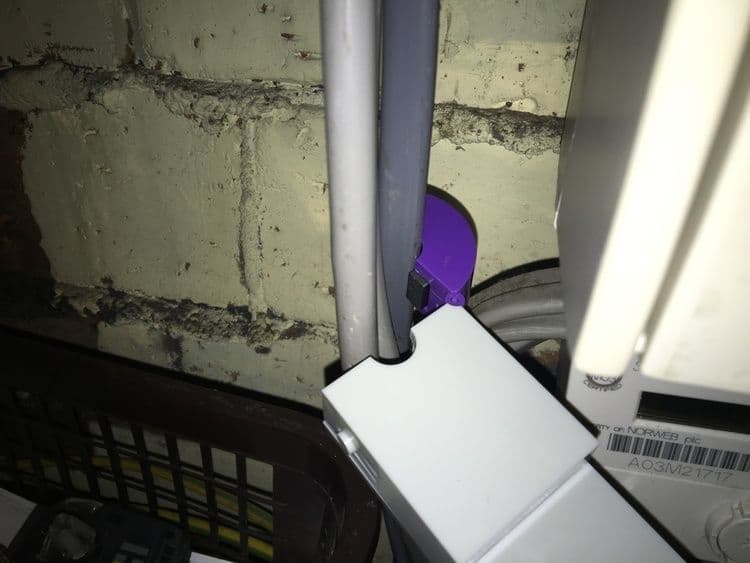 The Loop Electricity in situ on correct meter cable.
It's very important to connect the Loop receiver and the electricity transmitter before installing the gas transmitter. We attempted to do things in reverse and were advised by the Loop customer service agent that this was why our device was unable to pick up a signal.
We were also pointed in the direction of two very helpful installation videos on YouTube (one of the electricity meter and one for the gas). Both helped make the entire process even easier. We were unsure exactly which cable, on the electricity meter, we needed to connect the electricity Loop reader to, but the video helped us locate the correct one.
We were worried about what would happen if we accidentally unplugged the receiver connected to our Wi-Fi box but the people at Loop were quick to advise that the device stores data for up to 30 days. This means it's possible to switch it off overnight, over the weekend or even for a few weeks if you're going away. Some features may be affected, such as real time energy and budget features, which require an active internet connection.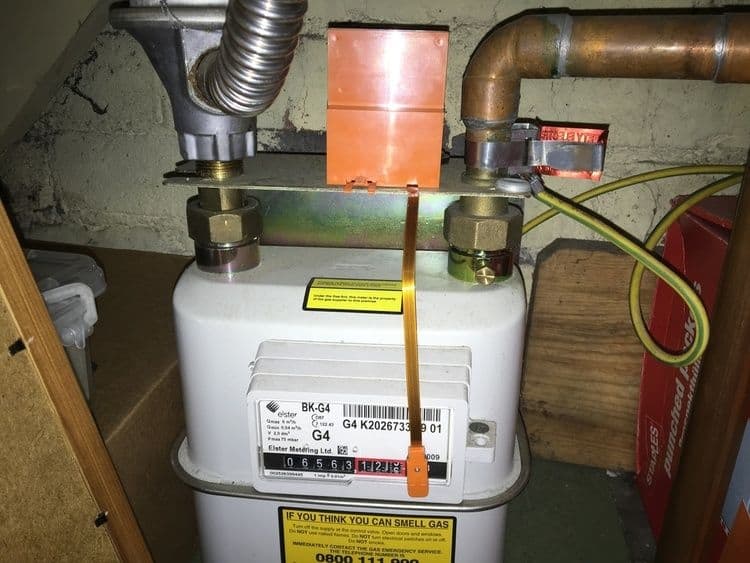 The Loop Gas transmitter in situ.
Exploring energy usage and spending habits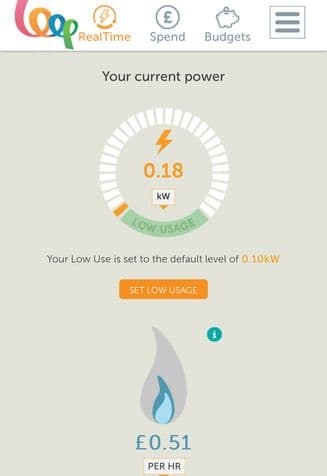 Users can check their real time usage online.
To provide the most accurate readings, users will need to enter the details of their current gas and electricity provider and the tariffs they are currently signed up to using their online account. Most of the UK's major energy providers and their current tariffs are listed, including British Gas, SSE, E.ON, EDF, Npower and others. This allows the device to not only monitor and display our usage in kilowatts, but also in terms of money spent.
The basic dashboard displayed on the homepage of our online account shows us how much gas and electricity we're currently using. The electricity usage shown is in real time while gas usage is on a 15-minute delay.
In addition, the online account offers a variety of ways for us to track and analyse our energy usage. We can see how much we've spent on gas and electricity over the week and compare this to how much we spent last week.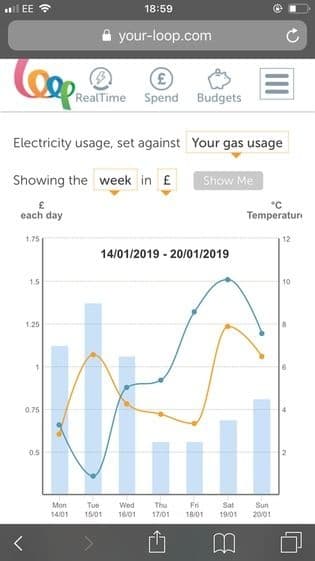 Users can compare their usage over weeks, months and years.
For more detail, we can use the Explore section of the account to view our energy usage in various graph formats over specified time periods, including daily, weekly, monthly and yearly options.
We've not been using the device long enough to make use of the monthly and yearly graphs, but we did find it extremely useful to see our usage broken down over hours, days and weeks.
Activities to help reign in energy usage and spending
For the most part, our energy usage conformed to our expectations; low usage in the day when out at work and higher energy usage in the mornings and evenings. Our gas usage was generally higher than our electricity given that we have gas central heating, which was being used often during the testing period.
However, it's was interesting to see how much more gas we used when using the heating for an extra hour or using devices such as the hairdryer and hoover.
Tracking our usage provided some useful insights into our consumption habits and enabled us to identify steps we could take to reduce it.
Ordinarily, the heating is timed to start around an hour before household members arrive home from work in the evening. After having seen how much this adds up to over the course of a week, we decided to cut this back to just half an hour before we arrive home instead.
We must confess we also became a little more frugal with our hairdryer when seeing the spark in usage it created.
Setting weekly budgets
Another handy feature is the ability to set weekly energy budgets. We were able to set individual targets for both the gas and electricity. This is flexible so if you set an unrealistic budget to begin with or it's a particularly cold week and you need to increase the budget you can do so at any time.
Users can use their online accounts to see how they're doing in relation to their budget.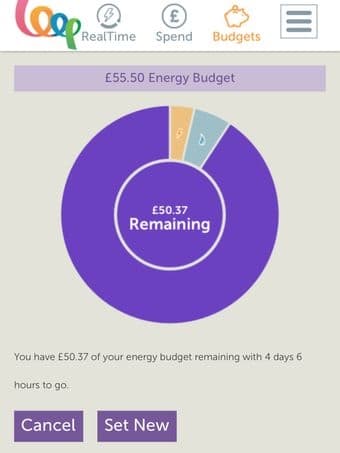 Setting a weekly budget for their usage.
Plus, Loop sends notifications advising how close or far we are from achieving our weekly budget amount.
It also saves data related to our weekly budget so that we can compare our performance over the weeks, months and years.
Within reason we weren't too bothered about holding to a weekly budget. However, it was satisfying to see that we stayed well within our limits.
We can see how useful this option is for those on a tight energy budget. The regular notifications will ensure they're notified in advance of reaching their budget; they then have the option to alter their budget or cut down on their energy usage.
The problem is though, it isn't always feasible to cut down on energy just because they're approaching their budget. They'll still need to usage energy for essentials such as heating and lighting.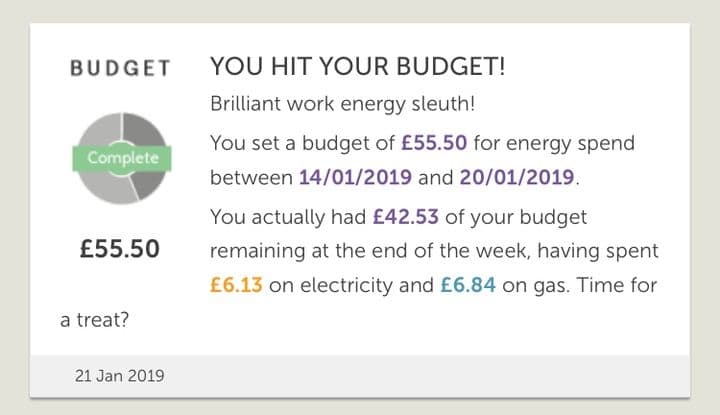 Budget notifications.
Change Provider
Most of the features listed above, such as budgeting and displaying cost and usage, are offered by other energy saving devices, such as Geo Minim. However, where Loop differs from other devices is that as well as helping customers save money on energy by monitoring their usage habits, it also helps them to pay the lowest price for their energy.
After gathering sufficient data (around three to four weeks worth) it will compare the cost of our actual energy usage with alternative tariffs and providers and suggest ones that could help us save money.
While this is no doubt a useful feature that has the potential to help users save significantly on their annual energy bills, depending on their current deal, the information it provides can be found on most comparison sites, like the Choose comparison tool available here.
Verdict
For those looking to save radical amounts of money on their annual gas and electricity bills, Loop is likely to fall short of expectations.
Its strengths are enabling users to better understand their usage habits so they can take small steps to reduce energy costs via its tracking and budget-setting functions. We found these to be great fun to play around with and incredibly insightful. We cut down our weekly energy costs with little effort. However, the overall monetary saving was minimal.
The energy tariff comparison tool could by comparison help us save much more in the long-term. However, this feature is probably more suitable to those coming to the end of their current energy deal, who will thus face limited inconvenience switching suppliers.