While Huawei have been slow to enter the smart speaker market they're now making up for lost time. Following in the footsteps of their competitors at Amazon and Google, Huawei have introduced a sophisticated, sleek home smart speaker that boasts AI technology that responds to voice requests.
However, unlike their rivals, they've also added an Ethernet port and an LTE SIM slot so that it can also act as a home Wi-fi router and 4G hot spot.
We look at these features and more in our hands-on review of the AI Cube.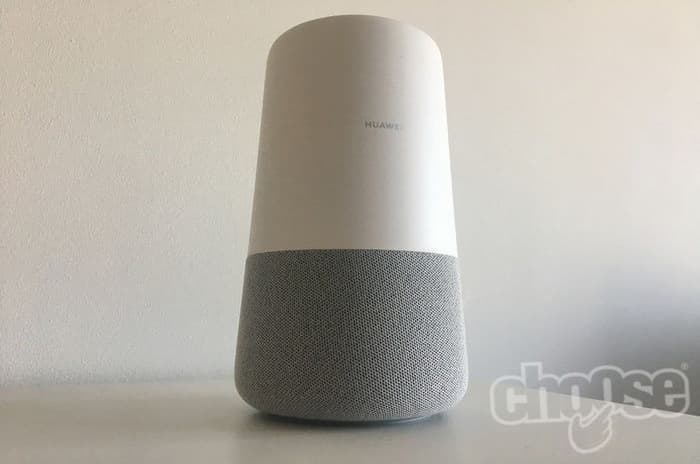 © Choose
---
| Pros | Cons |
| --- | --- |
| Excellent sound and audio quality | Expensive |
| Multi-functional | Needs mains power |
| Fast internet | |
| Alexa built-in | |
---
Design
Despite the suggestion of the name there's nothing cube-like about the Huawei AI Cube. It's actually a cylinder with a grey speaker around the bottom and a plane white, plastic finish on the top half.
Whilst it may look a little slicker and hi-tech compared to most home broadband routers, the design looks pretty standard next to other smart speaker models. Indeed it's a similar shape and size to the Amazon Echo and Google Home devices. It's 18cm tall and has a 13.5cm diameter.
There are a number of touch sensitive buttons located on the side and top of the device, including power, WPS and mute buttons. The Ethernet port and SIM card slot are hidden in the base. There are also flashing lights that illuminate around the top of the device when the AI function is activated.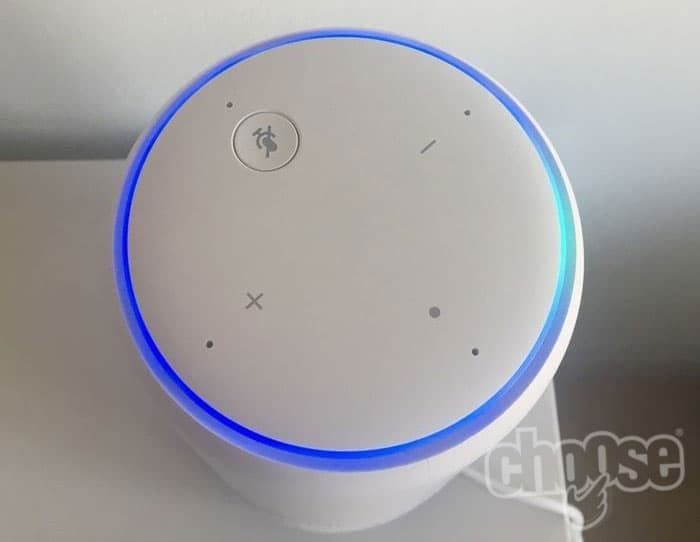 The top of the device lights up when the speaker is activated; either when switching the device on, changing the settings or voicing a command.
It comes in two colour options - silver/grey and red. We'd have preferred it in black to go with the TV and router we sat it next to. However, silver and white are fairly neutral so it'll blend into most colour schemes.
The only design downsides for us were that it's a little weighty (930g) and requires a mains power connection - so it's not convenient to travel with.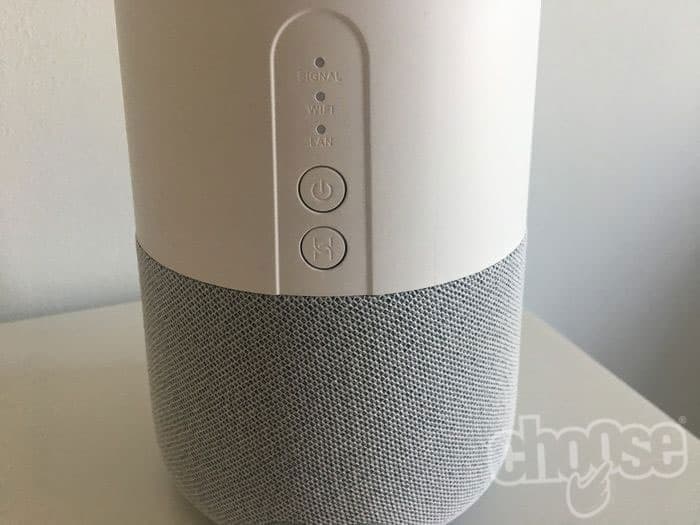 The device can be activated by buttons on the side and top
---
Functions and performance
AI
For the Cube, Huawei have joined forces with Amazon in order to provide AI assistance in the form of Alexa. In this sense, it provides a similar service to other Amazon/Alexa products by responding to voice commands for information and assistance.
The AI Cube has four microphones and far-field voice recognition. We were extremely impressed with the performance of this feature, the speaker seemed to pick up our voice requests easily and responded instantly upon hearing us call "Alexa". We even found it to be super responsive when the TV was turned up or there was considerable background noise from other house members.
It's possible to connect and control other smart home devices via the AI Cube. However, we didn't have any others set up to test alongside it.
Sound
Huawei promised "big sound" from the AI Cube and we can confirm that on this front, they have delivered. The sound quality was excellent and immersive, filling the room. No doubt this came courtesy of the 360-degree speaker and 400ml sound cavity.
We were able to request for songs to be played using Alexa, which beats manually shuffling through our phones any day. Music played at a reasonable volume and we didn't notice any distortions in the sound, even when playing tracks with heavy bass sounds.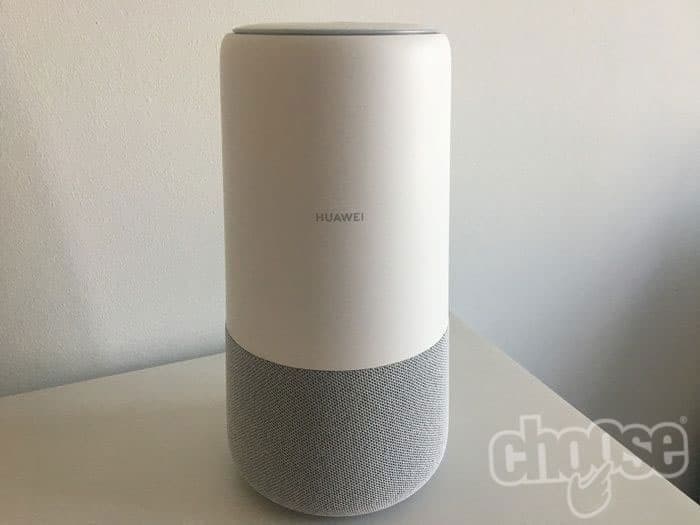 The device has been designed with a 360-degree speaker as part of the body and this makes for great sound quality.
Wi-Fi and 4G
4G broadband can reach speeds of up to 300Mb using the AI Cube. This is delivered without the need for a phone line or cable, meaning it could be used as an alternative to home broadband.
The set up process was easy for 4G. It's simply a case of slotting in the SIM card, switching the AI Cube on and connecting your devices.
We found it super easy to connect both our phone and then our laptop and we're pleased to report that the signal remained constant and strong over the few days we tested the AI Cube.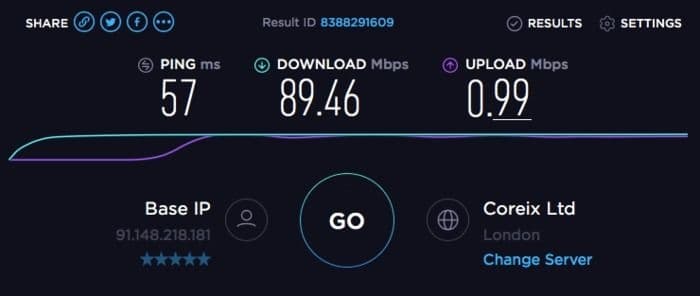 We checked our speed when using the Huawei AI Cube device and found it reached an average download speed of 89Mb.
We used the Ethernet port to set up a direct internet connection between the device and our laptop too. The set up process on this occasion required following a few more steps. However, this was due to the more demanding procedure of our MacBook Air for establishing a new connection.
Once up and running we noticed an impeccable connection with no disruptions. Apparently connecting through the Ethernet port the device can provide speeds of up to 1,200Mb. While the service we experienced was fast, it didn't seem that much faster than the 4G connection.
It's worth noting that Huawei state that the AI Cube is capable of connecting up to 64 devices without compromising the quality of the connection.
---
Price
Given the many advantages of the AI Cube it feels like there's been a but coming for some time and here it is - price.
At the time of writing, the Huawei Ai Cude can be taken out on contract with Three for either 12 or 24 months. The monthly amount is fairly reasonable and probably the best option. Otherwise it costs £259.99 on Pay As You Go, which is considerably more expensive than other smart speakers. Just to provide a rough comparison, the Amazon Echo and the Google Home speakers can currently be purchased for around £90 each.
---
Verdict
Those looking for a high-end smart speaker will not be disappointed with Huawei's AI Cube. It has a built-in Alexa voice assistant, a speedy and reliable internet connection via 4G and Ethernet connection, great audio and sound quality, plus a sleek design.
The only real drawback is the price. However, as already mentioned the AI Cube is unique in that it's multi-functional. As there aren't another other devices offering these combined services it's difficult to assess the price comparatively.
On the other hand, those looking for a simple smart speaker without 4G technology will be able to pick up a much cheaper option from Google or Amazon.