However, when we switch to another provider or cancel our package, the rules around our email service may change.
Sky and Plusnet offer a free ongoing email address, while BT provides a free one or a paid upgrade and TalkTalk have a paid upgrade option.
Of the main broadband providers in the UK, Virgin Media's policy is the most restrictive and customers will lose access to their email 90 days after leaving.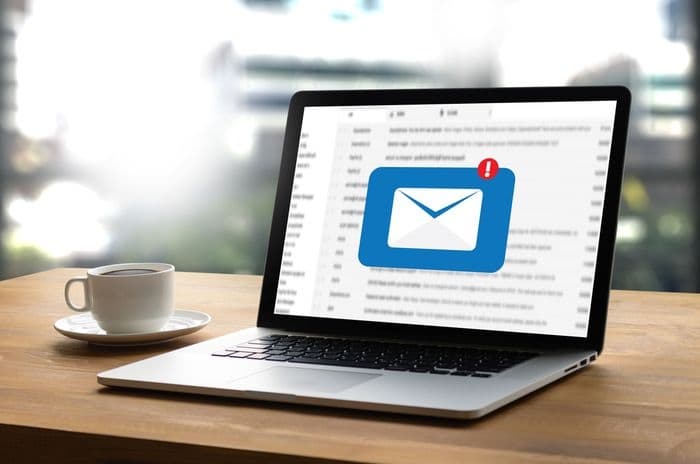 Credit: one photo/Shutterstock.com
---
Switching and emails: the rules
Five of the biggest broadband providers in the UK offer email addresses to their customers.
Here's a quick overview of their policies before we go into more detail below:
| | BT | Sky | TalkTalk | Virgin Media | Plusnet |
| --- | --- | --- | --- | --- | --- |
| Email address available after leaving? | Yes | Yes | Yes | No, deleted after 90 days | Yes |
| Free access? | Basic service is web-based | Yes | For two years | N/A | Yes |
| Same features for free? | Full access through Premium at £7.50 per month | Yes | Full access through Mail Plus for £5/mth or £50/yr | N/A | Yes |
BT email
Customers with email from BT will have one of the following email suffixes:
@btinternet.com
@btopenworld.com
@talk21.com
The type of email that comes with BT broadband is known as Standard.
A BT broadband account holder can create up to 10 additional email addresses for themselves or other people, meaning there could be multiple addresses active when we end a BT broadband contract.
When we end a BT broadband contract, we can choose to do one of two things:
Pay £7.50 per month for Premium mail when we leave
Downgrade the email to Basic when we leave
Premium has the same benefits as the Standard email but it's available to customers who don't have BT broadband, so we can use it when we're no longer a customer. Anyone can sign up for Premium, whether they've been a BT broadband user in the past or not.
However, Basic email from BT is a little different:
We can only have one email address, although any others that have been created will still work
It can only be accessed via the BT website and not with an email client on in an app on a device
So, while Basic email is a good way of keeping hold of an email address, it's not the same as the BT email we might have been used to and it will be trickier to access it than previously.
Note: We must order the Basic email from BT when we tell them we're cancelling. It can't be added later.
There's more information about BT email and the different options on the BT website.
Sky email
Sky email addresses end with @sky.com.
Sky have long been a market leader when it comes to keeping our email addresses if we decide to leave their broadband services behind.
This doesn't cost any money per month, so we won't have extra bills to pay to keep our email from Sky as we do with BT Premium email.
However, Sky customers must regularly log into their email address in order to keep it, otherwise it may be flagged as inactive as deleted.
The key thing to remember with email from Sky is you must use it or lose it.
Plus, it's worth highlighting that this is Sky's policy now. While it's been the case for many years that Sky allows customers to keep their email when they leave, it might not always be sure to read the small print when leaving a broadband plan.
TalkTalk email
Customers who have TalkTalk broadband will receive a @talktalk.net email address while they keep a broadband package.
Once a customer leaves TalkTalk, they have access to their email for 24 months, but there are a couple of things to note:
Customers will not be able to access the My Account feature during the 12 months, so they won't be able to change passwords or manage the email account as they used to
Accounts left inactive for six months will be deleted automatically
This option for TalkTalk customers, then, is not very useful if a customer wants to keep hold of their email address - it will be deleted within two years.
However, TalkTalk have introduced another option called Mail Plus. This plan provides
10GB of storage
Security and spam filters
Accessibility on all devices
It fulfils the functions of TalkTalk's standard mailboxes but it's available to non-broadband customers.
The catch with TalkTalk Mail Plus is that it costs £5 per month or £50 per year. While they point out this is much cheaper than BT's package, it's still a hefty fee for an email account.
Virgin Media email
Virgin Media email addresses can include the following suffixes thanks to their company's acquisition history:
@virginmedia.com
@ntlworld.com
@blueyonder.co.uk
@virgin.net
Virgin's policy is very strict: they give former customers 90 days from the date their services end to set up a new account somewhere else, move everything they need across, and inform everyone of the change. After that, Virgin will clear out our contacts and messages, remove our personal data and reclaim the email address - potentially for recycling.
This is frustrating for customers but it's Virgin's long-standing policy to clear email accounts of ex-customers, and it's unlikely to change anytime soon.
Plusnet email
Customers with Plusnet broadband will receive a @username.plus.com email address with their broadband plan.
Just like their parent company, BT, Plusnet allow customers to keep their email address after leaving - and Plusnet have now removed the fee for this.
It used to cost for this service, but customers can now choose to keep their Plusnet email going for as long as they want.
There is one major caveat to this: customers must request a downgrade to their mail before their account is closed.
This needs to be explicit and forum representatives say that since advisers receive so few requests for this, it's important to double-check the email account is going to be saved.
The Plusnet email mailbox will be resurrected after a customer leaves, so there may be some extra steps to contend with to get it back up and running.
However, it's a free continuous email service, so Plusnet win points for that.
---
Are broadband email addresses worth it?
If we join a broadband provider like BT or Virgin Media and they provide an email address with the broadband package, it's tempting to use it.
For customers who may be signing up to broadband deals for the first time, the idea of a broadband provider email address seems useful.
However, as we've seen, leaving a broadband provider can result in the email address going with it or we may have to pay to access our mail in future.
BT's £7.50 per month service is rather pricey just to maintain an email address. As a point of comparison, their cheapest broadband plans are usually from £26, so customers would be paying around a third of the cost of a broadband plan simply for an email address.
When there are free alternatives, using a provider email address can feel like locking yourself into paying indefinitely or dealing with the hassle of transferring everything to another address later.
So, if there's an email address included in your broadband package, it might be better to simply use it for broadband account emails or not at all.
Telecoms regulator Ofcom admits they don't directly regulate email services, but they reviewed the services offered by broadband providers in 2021 in case they were putting people off switching broadband provider. They said:
It's important the options about email addresses are clearly explained to customers when they cancel their contract
They were concerned BT and TalkTalk were not making things clear enough but they have since updated their communications
While their review found only 1% of people who wanted to switch but didn't were worried about losing their email address, there is plenty of anecdotal evidence on forums from people who weren't aware they would lose their email address when they switched.
Switching email address
Anyone with an email address provided by their broadband company can take steps to change their email address before switching provider.
There are a few things to remember when making the change:
Importing email and contacts can help keep existing messages and email addresses
Forwarding and automatic reply can be set up on an old email account to help manage the change
Updating an email address on the most important services like online banking, utility bills and paid streaming services should be a priority
It can be a great opportunity to unsubscribe from annoying marketing emails
Bear in mind the tips from our guide to staying safe while using email to ensure you don't fall into any scam traps with your new email address.
Alternatives to ISP email addresses
There are various providers out there offering free email addresses (and some paid upgrades if customers want them).
Here are four big names to consider:
Gmail (Google)
Outlook (Microsoft)
Yahoo
iCloud
Just remember to sign up directly via the email provider's website and it's important to note that these services are free as standard - don't be duped into paying for a free service.
---
Summary: Get a free email address
Email addresses supplied by broadband providers were useful for some customers before switching ISPs became commonplace.
It's also true that maintaining mailboxes for customers is a hassle that most providers don't want these days, perhaps accounting for the steep costs of keeping an email address with BT or TalkTalk when we leave.
So, we should always consider free email addresses instead but, if we already have an address linked to our broadband provider, we should explicitly ask them the following questions when we cancel:
What happens to my email address when I leave?
Is there a free version of mail to downgrade to?
Are there premium upgrade options?
How many days do I have to sort out a transfer to another email address?
For the 1% of people put off from switching because their email address is linked to their provider, it can be a daunting process to transfer an email address.
However, doing it once now to a free provider will ensure that we won't be caught out if a provider ever decides to change their policy and stop offering email addresses altogether.