Edifier's R1280DB speakers are powered speakers with a built-in amp and the ability to receive sound both wirelessly over Bluetooth and via standard connections including RCA, optical and coaxial.
This makes the R1280DB speakers ideal for a range of uses including as speakers for a TV set-up, as Bluetooth speakers to play music using your phone or tablet, or even as part of a music studio or computer set-up.
In this hands-on review we spent some time testing the speakers to find out how good they really are and whether they're a worthy consideration.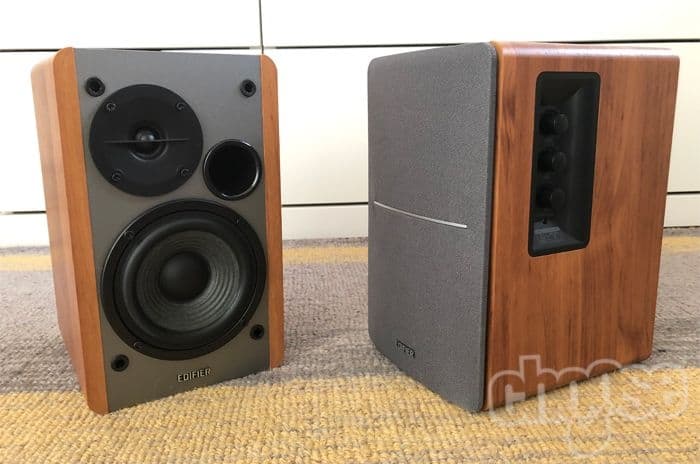 © Choose
---
At a glance
The key details of Edifier R1280DB speakers are:
Connect via Bluetooth, RCA/AUX, Optical, Coaxial
42 watt total output power (21 watts per speaker)
55Hz to 20KHz frequency response
4-inch bass driver & 13mm silk dome tweeter
Front-facing bass reflex port
Choice of black or walnut finish
Compact size: 14.5cm x 24.1cm x 17.8cm
---
Build & Design
The Edifier R1280DB speakers are available in both a black and Walnut finish. They look just like standard unpowered speakers and while compact they have a high-quality finish.
Despite both colour ranges having a wood finish - the speakers are built entirely in MDF, which is one of the best materials for speakers as it has a very low resonance allowing it to dampen out any unwanted vibrations.
One of the speakers has a built-in amp, and this speaker also has treble, bass and volume control buttons nestled into its right side.
We like that these controls aren't proud of the speaker which keeps the look clean and uncluttered. With the remote control they're also not strictly necessary either, so it's not a problem if you want to place the speakers out of reach or tucked into a bookshelf.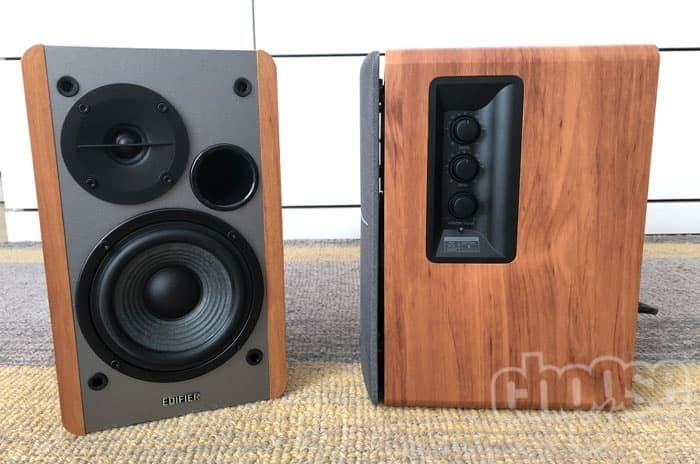 The equaliser controls on the side of the right Edifier R1280DB speakers.
The speakers are more compact compared to most standard bookshelf speakers, measuring just 15cm wide x 24cm tall, and 18cm deep.
The speakers boast a bass driver, tweeter and a front-facing bass reflex port.
Overall, we like the look of these Bluetooth speakers, they look just like standard bookshelf speakers, albeit a little bit smaller.
---
Features
The Edifier Bluetooth speakers offer both digital and analogue inputs - with 2 RCA inputs as well as optical and coaxial connections, and of course Bluetooth.
RCA is typically used to connect turntables, as well as CD players. Whereas the optical and coaxial connections allow these speakers to be used with a TV or DVD player.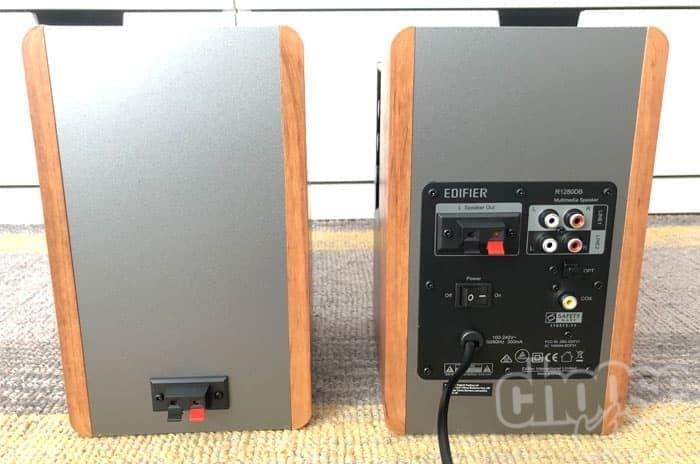 The Edifier R1280DB speakers can be connected via Bluetooth, RCA/AUX, Optical and Coaxial.
The speakers also come with a handy remote control, it's small but allows you to turn the speakers on/off, select the input, increase or lower the volume, skip tracks, and play or pause.
We liked how the remote control means these speakers can be placed up high out of the way without any issue of needing to reach a power button.
However, while bass and treble can be individually adjusted using the dials on the side of the speaker, equaliser controls are missing from the remote.
---
Sound Quality
The Edifier R1280DB Bluetooth speakers offer a combined 42-watt speaker output, which means each speaker delivers 21 watts.
The speakers each have a 4" bass driver, and a 13mm tweeter, alongside a front-facing bass reflex port.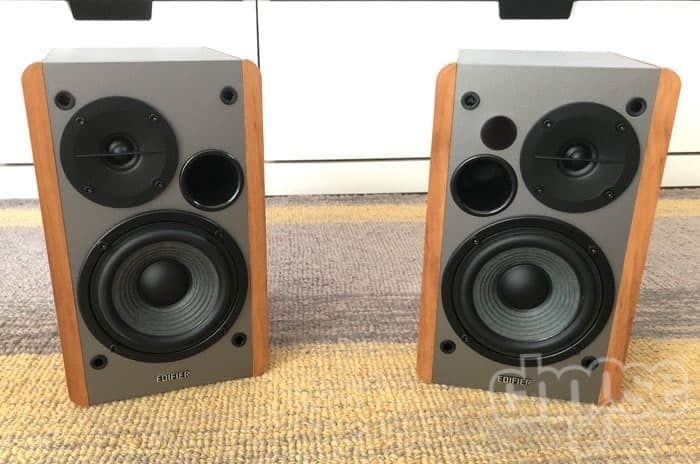 The Edifier R1280DB speakers have front-facing bass reflex ports.
While it's generally considered that a rear facing bass port offers a purer sound, opting for front facing ports Edifier allow this bookshelf speaker to be placed closer to a rear wall.
The frequency response range of these speakers is 55Hz to 20,000Hz. 20KHz is the standard top-end for audible treble response, and 55Hz is a good lower range for bass. 20Hz is the minimum the human ear can hear with anything lower than this creating a more vibrational feeling than an actual sound.
---
Performance
In terms of actual performance, the Edifier speakers offer a warm, clear, detailed and defined sound, with clarity between the treble and bass.
Listening closer, in our work setup, the music had much more detail than we've previously experienced when comparing smaller Bluetooth speakers. In fact, the Edifier far surpassed them in sound quality, opening up and revealing much greater detail in the songs we were testing.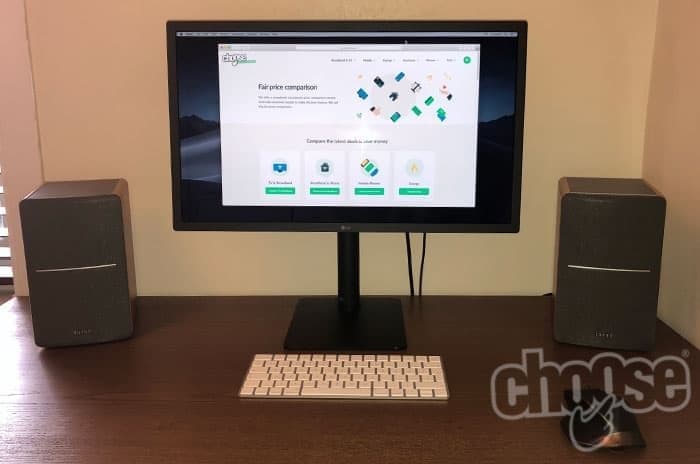 The Edifier R1280DB speakers sounded great but felt a little over powered for our work station.
It's hardly surprising they sound better when you consider these speakers are mooted as studio speakers, but it is considering they're no more expensive than some of the more portable devices.
The only downside we felt, was the front facing bass reflex port, removes some of the depth from the sound we'd expect to hear from rear facing ports.
Sometimes the bass also feels a little heavy when sitting close to the speakers, but this can be easily rectified by using the equaliser knobs.
They're loud for the size and would easily fill a large room and offer a greater volume than most people would need to use, anyone with neighbours in any case!
In fact, the power of these speakers meant we really wanted to position them further away from our listening position, and felt they're almost a bit much to be used as computer speakers - although there's certainly nothing wrong in doing so.
---
Our verdict
There are a lot of options for bookshelf styled Bluetooth speakers available at the moment, and many are around the same price point, so it can be hard to decide which is the best speaker to buy.
For anyone with the room for a decent pair of speakers, we'd choose these over 'portable' Bluetooth speakers any day for depth and detail. They definitely carry the ability to be used as studio speakers, as well as room fillers.
We almost felt they were a little too much for computer speakers, but they're a much nicer choice than the typical 'computer speaker' design, so we wouldn't discredit them for this use.
The Edifier R1280DB Bluetooth speakers both look great and sound great too - plus we think they're reasonably priced for the performance at just under £120.
All in all, these Edifier speakers offer a big detailed sound in a small package that's well worth the money.