We review Degoo - a new free online backup service
Ah, the joys of peer-to-peer networks. Whether it's money, music or messaging, the share-and-share alike ethos is more popular than ever before.
The latest application of this anarchic architecture is Degoo, a free online backup service.
Founded in 2009, the Swedish outfit makes use of multiple interconnected peers, who each make a portion of their disk storage directly available to other network participants, removing the need for expensive centralised servers.
Invitation to Degoo
Exclusion invitation to download
Degoo for Choose readers:
For 20% more backup sign up
before Friday 18 October
Download Degoo
Unlike competitor Dropbox, which offers 2GB for free, Degoo provides customers with up to 100GB for free. So far, so good. But what's it like to use?
Getting started
Downloading and installing the program is easy and presents the user with a simple interface with just three tabs: 'backup', 'restore' and 'preferences'.
The backup tab allows users to either 'add' or 'remove' folders. Adding a folder requires nothing more than selecting it and clicking 'ok'.
Backup begins automatically, but isn't instantaneous.
At the time of writing, my 20GB-worth of pictures was given an estimated two days before it would be backed up. Smaller folders in the tens of MB take a minute or two.
Once a folder is backed up, Degoo updates the backup automatically when any file is added, edited or removed.
Preferences
Users can specify how much space they are willing to share based on how much free space they have available on their hard drive.
It is therefore possible to reach 100GB in backup space, even with very limited time online, if you have enough free space available to share.
There's also a tick box that allows users to share their computer's processor when it isn't being used.
In return, users receive double the amount of storage space.
Security
The thought of spreading your precious files across multiple hard drives might seem a little worrying. In practice, however, spreading the files around actually reduces risk.
"We replicate all files across tons of different computers all across the globe and that makes it much more reliable than having all your files in a single data center like you would with the traditional approach," Degoo Founder, Carl Hasselskog, told us.
"For instance, during the storm Sandy many people lost all their files when data centers where flooded."
The files themselves are compressed, encrypted and fragmented into tiny parts before they are offered up to the system.
For those that like specifics, the encryption mechanism used is 128 bit AES, which is based on a symmetric-key algorithm and uses the Rijndael cipher. This is bolstered with CBC and PKCS5 padding.
Degoo claims that an 'advanced mathematical model' ensures that files can still be retrieved, even if one or more of the fragment-containing computers is offline when the files are called for.
In practice, this does indeed seem to be the case.
There were no problems retrieving any of the files I had backed up. The process was easy enough - click the 'restore' tab, then 'start a new restore'. Specify an empty folder (or create one) and then choose the file to be restored.
Retrieving my, admittedly small, file was pretty much instantaneous.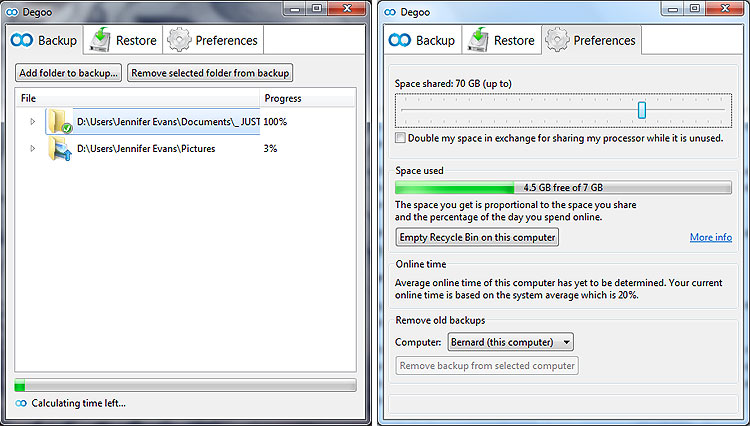 Sharing is good
Degoo rewards sharing. Those that keep their computers online - and therefore available - get more storage. Although the relationship is proportional, there isn't a minimum requirement for being online.
As a new user with an estimated 20% online time, I was given 7GB of space to play with.
Someone who spends 40% of time online and shares 100GB of their hard drive will get 20GB. For each 20% more time spent online, the amount of reward storage increases by 10GB. Someone online all day every day will get 50GB.
And how do you get 100GB? By sharing your processor, not, thankfully, while you're using it but during the time that your computer is on but idle.
This processor sharing is managed by a third-party - Plura Processing - who 'harness the collective power of unused processors' and sell it on.
Plura, as stated in their blog, hope to sell to customers in the world of financial modelling and oil and gas exploration. This all makes me feel a little uncomfortable, so I personally won't be sharing my processor.
Alternatively, Degoo does sell hard drive space - perfect for the meanies who are happy enough to use other people's hard drives but who don't want to share their own.
Support
Although they're a Swedish company, Degoo offers good English tech support.
Questions are seemingly answered quickly on the company's social media pages and via its website.
Conclusion
Although there are a number of cloud-based storage solutions available, Degoo is a good option for those seeking a low-cost, long term storage solution.
Those who care about the environment will be pleased about being able to bypass server farms, which consume massive amounts of electricity to run.
Degoo's easy-to-use interface and lack of insistent adverts asking you to upgrade make it one of the most appealing of the options doing the rounds.
Its potential downside is that users who don't spend much time online are unlikely to get much free storage. But, then again, such light users are less likely to have 100GB of data that needs backing up in the first place.
If, like me, you don't feel comfortable with sharing your computer's processor, however, it is a little galling to have that free 100GB headline figure cut in half, though 50GB worth of storage for sharing my hard drive still isn't half bad.
20 October 2017
19 October 2017
17 October 2017
Follow us or subscribe for FREE updates and special offers