What are the best cheapest places to live in the UK?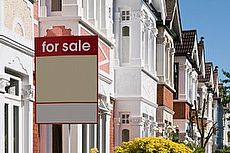 HOUSE prices grew on average by 4.5% in 2016, making the UK's housing stock already less affordable to buy than it already was.
However, while the inflation-beating ascent of housing costs shows no sign of stopping anytime soon, most of the increase is being seen in the southern and eastern parts of the UK, particularly those areas in and around London.
By contrast, other parts of the country - particularly outside the south and east of England - are witnessing smaller increases, while the Office for National Statistics (ONS) quality of life index has been finding that many of these places feature among the happiest in the UK.
As such, here's a rundown of ten of the best - yet cheapest - places in the UK to live, where people have a good chance of settling happily without necessarily having to pay through the nose.
Pershore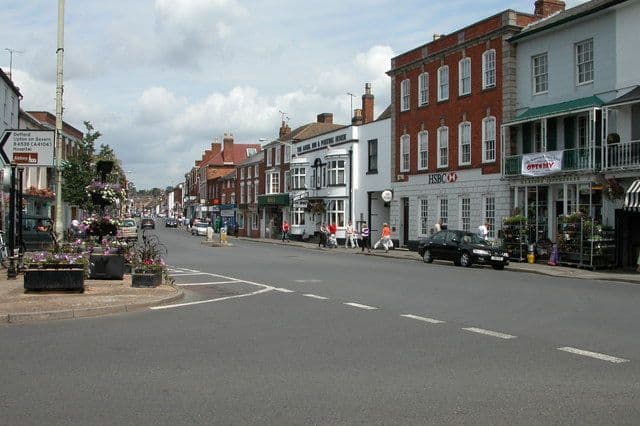 ©Philip Halling Source: Wikipedia
First off is Pershore. It may not be on the tips of everyone's tongues when it comes to desirable places to live, yet the bucolic market town on the banks of the River Avon in Worcestershire holds many charms.
Not only is it located in the Wychavon district - which scored an 8.11 out of 10 for life satisfaction - but it was also included by the Council for British Archaeology in their list of the 51 British "Gem Towns", owing to its beautiful Georgian architecture.
And while it isn't the cheapest place to live on this list, its average house prices run comfortably lower than those of many less attractive places in the south of the UK. According to the Land Registry's UK House Price Index, the average house in Pershore was sold for £244,271 in February 2016, making it over £50,000 cheaper than the £295,613 buyers would have to pay for an average home in the South East.
Bideford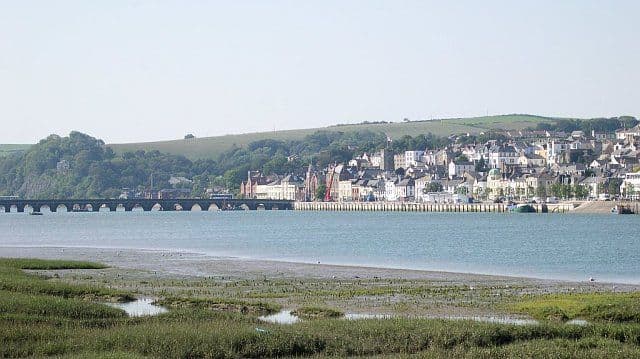 ©Tony Atkin Source: Wikipedia
A historic port town, Bideford lies on the estuary of the River Torridge in North Devon, although its local government district is Torridge, which was given an above-average 7.93 out of 10 by the ONS for life satisfaction.
It may be small, and it may be 15 minutes away from the nearest train station, yet its maritime, coastal ambiance is sure to win over many converts. Its cosy pubs offer the chance to drink a pint while staring off into the sea, and it provides a plentiful supply of friendly locals to share that pint with of an evening.
Not only that, but its ascending and descending terraced houses have that very unique, seaside appearance to them, while its schools are all rated "good" by Ofsted.
And compared to homes in other coastal towns in the south of England, property is refreshingly inexpensive. As of June 2016, homes were selling for £206,009 on average, around £9,000 cheaper than the UK average and some £26,000 lower than Bournemouth, for instance.
Newark-on-Trent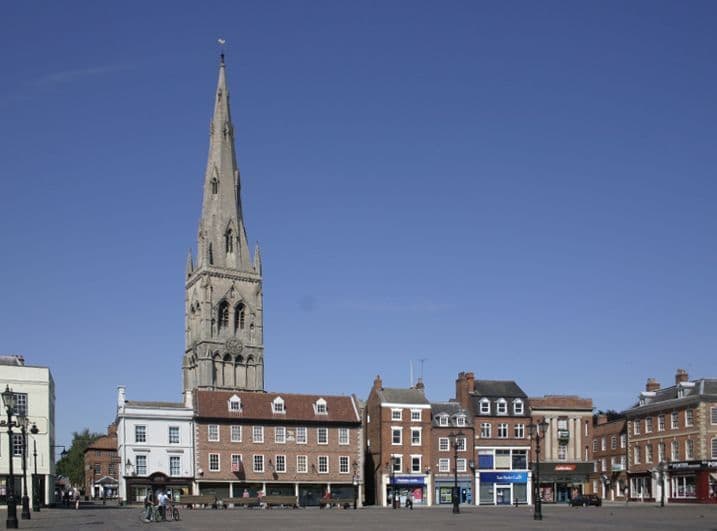 ©Marcin Floryan Source: Wikipedia
Located in the Newark and Sherwood district, which scored an 8.11 out of 10 for happiness in ONS' well-being survey, the historic market town of Newark-on-Trent in Nottinghamshire is one of the East Midlands' best kept secrets.
It offers pretty Georgian architecture, a bevy of independent shops, and the Grade I-listed Church of St Mary Magdalene, which is where the nudist protester Lady Godiva once lived with her husband, the Earl of Mercia.
Added to this, the town is well connected to transport links, lying just off the A1 and being 30 minutes away by train from nearby Lincoln, Nottingham, Peterborough and Doncaster. It also features a selection of excellent schools, with Chuter Ede Primary School and Barnby Road Academy Primary and Nursery school both ranked as "outstanding".
More importantly, the house prices sit comfortably below the national average, with the typical home in Newark and Sherwood going for £169, 462, according to the Land Registry. This is some £50,000 less expensive than the national average of £219, 544.
Melton Mowbray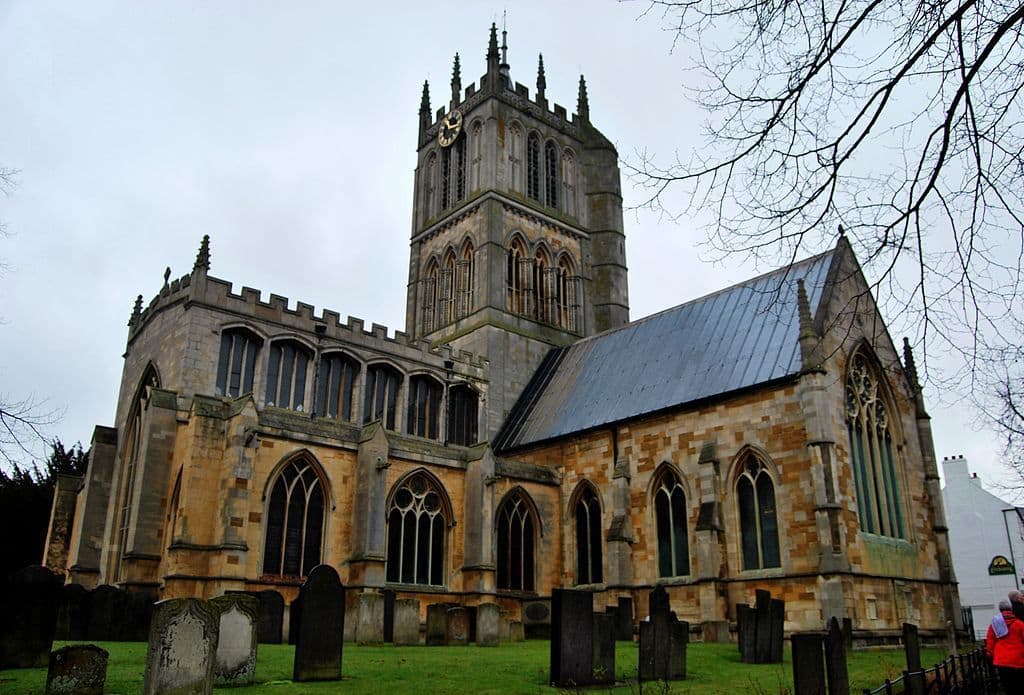 ©Russ Hamer Source: Wikipedia
The home of the Melton Mowbray pork pie, and one of only six places in the country allowed to make Stilton cheese, Melton Mowbray is perhaps one of the more overlooked urban centres in the UK. A Leicestershire town, it's located in the Melton district, funnily enough, which was given an 8.05 out of 10 for life satisfaction.
Without being funny, this isn't just because its residents are within arm's reach of all the authentic pork pies they could ever possibly eat, but also because the "Rural Capital of Food" is spoiled by a wide range of restaurants, pubs, and coffeshops.
These are all located in an urban environment that has a sleepy, welcoming air to it, with a purpose-built theatre-cinema called the Regal and the Stapleford Miniature Railway being some of its many highlights.
And to top it all off, property prices aren't too steep either, with homes in the town selling for an average of £210,524, which is £9,000 cheaper than the UK's average.
Sleaford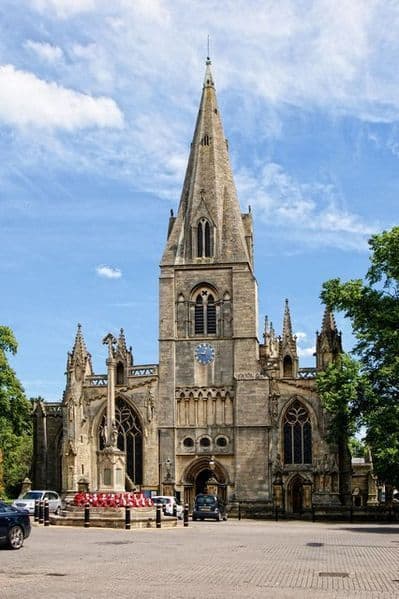 ©Dave Hitchborne Source: Wikipedia
The Lincolnshire market town of Sleaford has witnessed settlement since pre-Roman times, something which perhaps gives an indication of its status as an attractive place to live. However, an even better indication is provided by the 8.31 life satisfaction score given by the ONS to North Kesteven, which is the town's local district.
This high score follows largely from the town's postcard surroundings, which take in the River Slea, St Deny's Church, and the Manor House, dating back to 16th Century.
Yet aside from its historic landmarks, the town also benefits from a range of "good" and "outstanding" schools, including William Alvey School and Church Lane Primary School. It also has the advantage of being situated in one of the safest districts to live in Britain, with North Kesteven having the lowest crime rate in the UK in 2014.
Just as importantly, it's also very affordable, with the average house price in North Kesteven standing at £183,158.
Lytham St Annes
©Thecamperman Source: Wikipedia
Once two separate towns, Lytham and St Annes were merged together in 1922 to become an exceedingly alluring coastal town and seaside resort. The result is that both are now even more appealing than they were previously, with Fylde - the town's district - receiving an 8.03 from the ONS for happiness.
As can be expected from a coastal resort, Lytham St Annes features charming housing and architecture as well as beautiful scenery, especially in the summer.
It also sports a number of unique landmarks and attractions, including the Lytham Windmill, two sprawling golf clubs, and several cultural festivals (including music and beer-oriented events). And for the children, its schools are almost all rated as "good" by Ofsted, with four rated as "outstanding".
Normally, such living standards would come at a price, yet in Fylde the average house price was £185,191 in December 2016, falling snugly below the national average.
Llandrindod Wells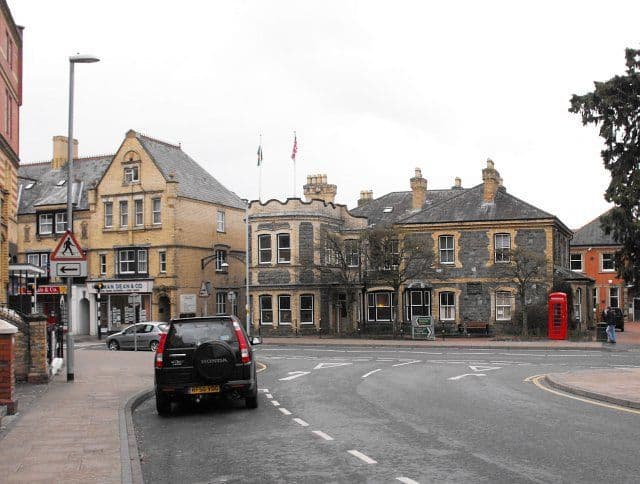 ©Penny Mayes Source: Wikipedia
Voted the happiest place to live in Wales according to a 2015 survey taken by rightmove.com, Llandrindod Wells can be found in the border district of Powys, which scored an above-average 7.81 out of 10 for life satisfaction from the ONS.
Part of its appeal resides with its close access to the rolling hills and dales of the Radnorshire countryside, yet it also has its fair share of Victorian and Edwardian architecture on display, including several notable hotels as well as the Albert Hall theatre.
However, while it's certainly a beautiful town in an almost perfect semi-rural location, it doesn't provide much in the way of good schools, with Llandrindod High School being put into the "special measures" category in 2014 after a disappointing inspection. Together with the fact that jobs have recently been disappearing from the area, this means that it's more of a town for retirees than for young families and single professionals.
Still, for such an endearing town, Llandrindod Wells is very cheap, with the average house price being valued at £168,006. It's therefore perfect for those who aren't raising children and/or who can work remotely from home.
Kirkintilloch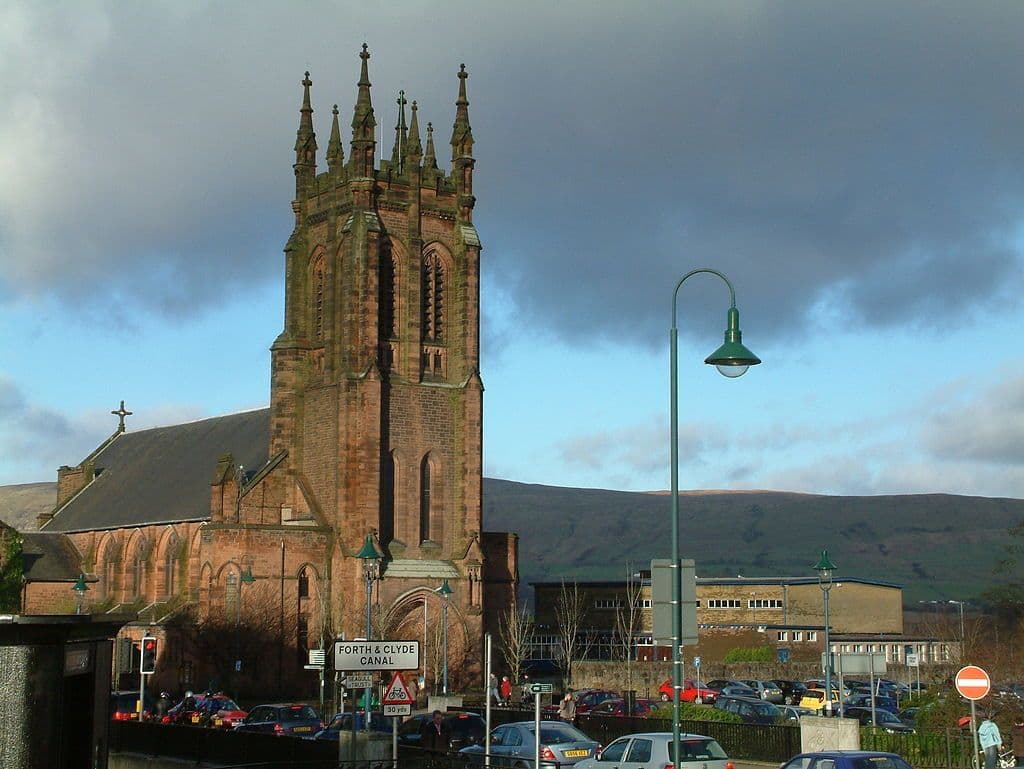 ©StaraBlazkova Source: Wikipedia
8 miles out of Glasgow, Kirkintilloch is the administrative centre of the East Dunbartonshire district, which a 2007 Reader's Digest poll voted the best place to raise a family in the UK. And even now, the ONS give it a 7.96 for life satisfaction.
Chief among Kirkintilloch's redeeming features are a low crime rate, a number of award-winning pubs and restaurants, and its proximity to Glasgow, which makes it perfect for commuters.
However, if younger families want to send their children to one of the better schools in the district, they'd do well to apply to the nearby Bishopbriggs, Bearsden and Lenzie academies, since these are all rated higher than Kirkintilloch High School for pupil achievement.
That said, Kirkintilloch remains the cheapest of these East Dunbartonshire towns. As recorded by the Land Registry, the average price for a house in the district as a whole is £181,151, while in Kirkintilloch it's £182,492 (according to rightmove.com). This is considerably more affordable than the averages for Lenzie and Bearsden, which stand at £250,516 and £319,194 respectively.
Beeston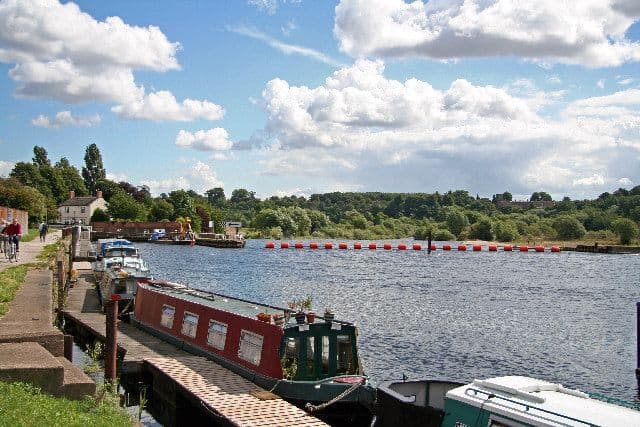 ©Christine Hasman Source: Wikipedia
Another town lying within Nottinghamshire, Beeston is situated within the borough of Broxtowe, which gained an 8.22 for life satisfaction from the ONS, as well as an 8.33 out of 10 for "worthwhile", which according to the ONS translates to "feeling that what one does in life is worthwhile".
The town boasts a number of historic buildings, including the listed Anglo Scotian Mills and the parish church of St. John the Baptist, which dates back to the Middle Ages. It's also home to the picturesque Wollaton Park, where red and fallow deer can be found herding, and where the Splendour rock & pop festival is held every July.
As for schools, a selection of those deemed "outstanding" by Ofsted include: Meadow Lane Infant School, Fernwood School, Bramcote Hills Primary School, George Spencer Academy and Technology College, South Wilford Endowed CofE Primary School, Oak Field School and Specialist Sports College. That there are so many shouldn't perhaps be so surprising, since Beeston lies very close to neighbouring Nottingham.
Finally, when it comes to prices, Broxtowe's average home was valued as £164,162 in December 2016, making it surprisingly cheap for such a pleasant town that lies so close to major urban centres.
Belper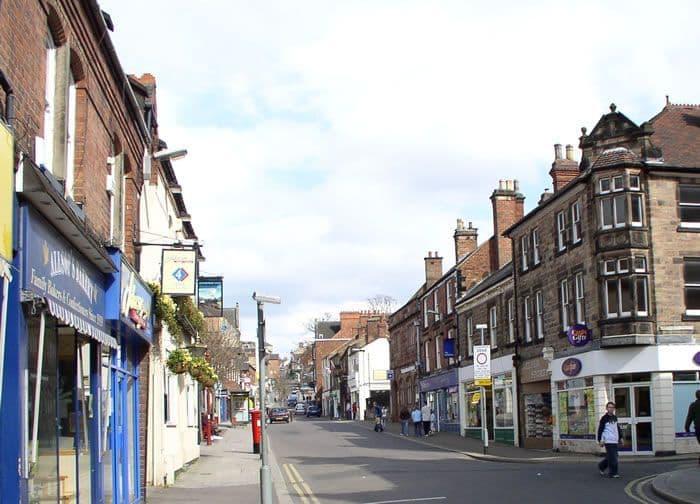 ©chevin Source: Wikipedia
Nestled in the Amber Valley, Belper is a civil parish that's fast becoming one of Derbyshire's most coveted places to live. And this isn't simply or mostly because it scored an 8.13 for life satisfaction and a 7.93 for happiness.
For the most part, it's because Belper is a historic town that provides its residents with access to lush rural surroundings and spectacular countryside views. Yet it's also because it was once an important industrial town that formed part of Derwent Valley Mills, whose status as a World Heritage Site now endows it with cultural resonance and appeal.
And if history isn't of much interest to newcomers, they can always visit its bustling, independent-led high street, which won the 2014 British High Street of the Year award in the category for market towns.
Such awards mean that property prices have been rising relatively quickly in recent years, yet Amber Valley's average house value still comes in at £159,617, as of December 2016. This makes Belper one of several excellent candidates for those who want to get away from the more overpriced parts of the country.
'Life satisfaction'
But for those who do want to get away these parts, some words of caution are in order. Namely, while the foregoing list of pleasant yet affordable towns was meant to promote the idea that living somewhere nice in the UK doesn't necessarily have to cost an arm and a leg, it wasn't meant to be exhaustive or authoritative.
Perhaps the main reason for this is that, even though inclusion in the list is based on ONS ratings for quality of life, such ratings are averages, and therefore won't be representative of everyone's experience.
They're also based on highly subjective criteria, in that feelings such as "life satisfaction" and "happiness" aren't necessarily the product of a particular geography and particular physical surroundings. They're as much about people's lives and personal circumstances, such that simply moving to a place with high "life satisfaction" won't suddenly make someone happy.
Nevertheless, the list does manage to show that there are a number of places in the UK where people are generally more satisfied and happier than the national average, and that these places are cheaper than many other supposedly more appealing towns and cities.
And if readers would like to discover other cheap yet nice towns for themselves, they could simply follow this guide's methodology, which involves doing two things.
Firstly, they should access the Office for National Statistics' personal well-being map of the UK and search according to local authority. Secondly, once they've found a district with high enough well-being, they should then move to the Land Registry's House Price Index, which will allow them to search for that district's average house price.
By doing this, they'll be able to quickly draw up a similar list of other affordable places to live. And perhaps, they'll also be able to find the find the hometown of their dreams.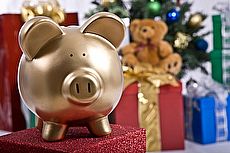 8 December 2017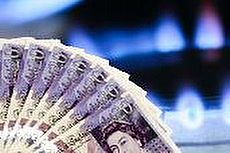 8 December 2017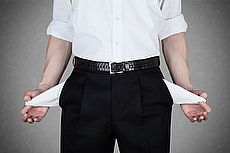 7 December 2017
Follow us or subscribe for FREE updates and special offers