From Fitbit bracelets to Garmin pods and from Samsung smartwatches to Motiv Rings, we're spoilt for choice when it comes to wearable fitness devices. But which one offers the best features and the best value for money? It can be difficult deciding.
We decided to test two popular options, the Garmin Vivosmart 3 fitness bracelet and the Apple Watch Series 4 smartwatch. We compared them according to design, features, price and more, to help give readers a better idea of the pros and cons of each device.
Note given that we are looking at the devices primarily as fitness trackers we've focused more on activity and health-related features.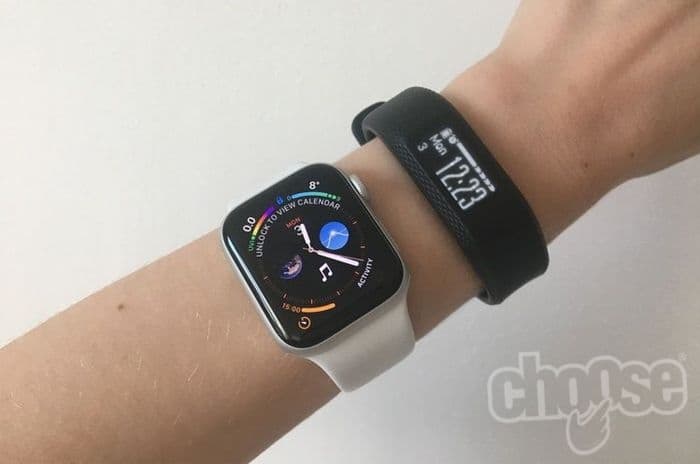 © Choose
---
| | Apple Watch Series 4 | Garmin Vivosmart 3 |
| --- | --- | --- |
| RRP Price | £399.99 to £529 | £99 |
| Battery life | 18 to 24 hours | 5-6 days |
| Screen size | 40mm or 44mm | 18.5mm |
| Multisport tracking | Yes | Yes |
| Automatic activity tracking | Yes | Yes |
| Connected GPS | Yes | No |
| Cellular capabilities | Yes (with the more expensive models) | No |
---
Design
The Series 4 stays true to the trademark minimal yet stylish Apple design. Its black, OLED screen has rounded edges and an aluminium case. Overall, we felt proud to wear it, seeing it as a fashion accessory as well as a means to track our fitness.
With the Garmin Vivosmart 3, however, we were well aware that we were wearing a practical, fitness-tracking device rather than making any fashion statement. The design is quite basic - a silicone band with a black OLED display screen.
The Apple Watch Series 4 offers much more variety in terms of design too. It's available in different sizes and compatible with a wide range of straps. While the Garmin Vivosmart 3 is available in a range of colours, black, purple or blue, that's as much choice as we get. The display screen is embedded within the wristband so there's no option to change the strap for a different design.
The Garmin wins in terms of comfort and practicality though. We kept the Garmin on a loose fastening and thanks to its thin, lightweight design and soft, supple and stretchy feel, we forgot we were wearing it at times. We especially appreciated this aspect of the design when working out and sleeping; it never felt uncomfortable or like it was getting in our way.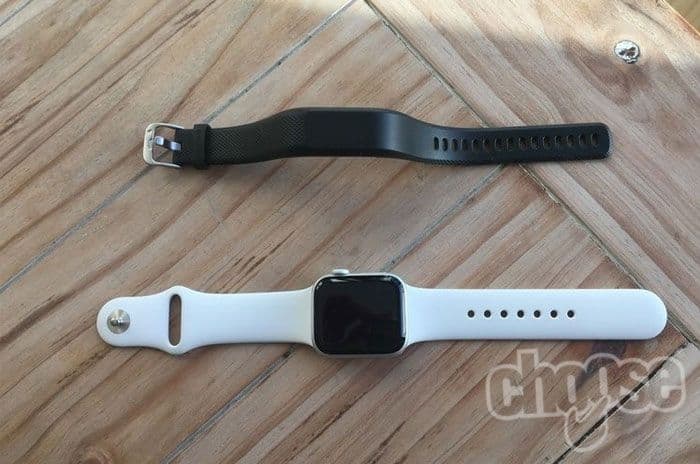 The Garmin Vivosmart 3 has a thinner, lightweight and overall more comfortable design than the Apple Watch Series 4.
With the Apple Watch, however, we felt like it was too nice to wear during a sweaty workout and its larger and heavier feel made it more uncomfortable to wear in bed.
Display screen
The compact, lightweight design of the Garmin is in large part due to the smaller display screen, which has a width of 18.5mm.
The Apple Watch offers a choice of two display screen sizes - 40mm or 44mm.
Whilst the smaller screen of the Garmin is a benefit in terms of wearability it can be a hindrance in terms of practicality. The text and icons appear small and hard to read. Plus the buttons are small too, which we found led to us to make selection errors.
The basic format doesn't help with readability either; white text on a black background.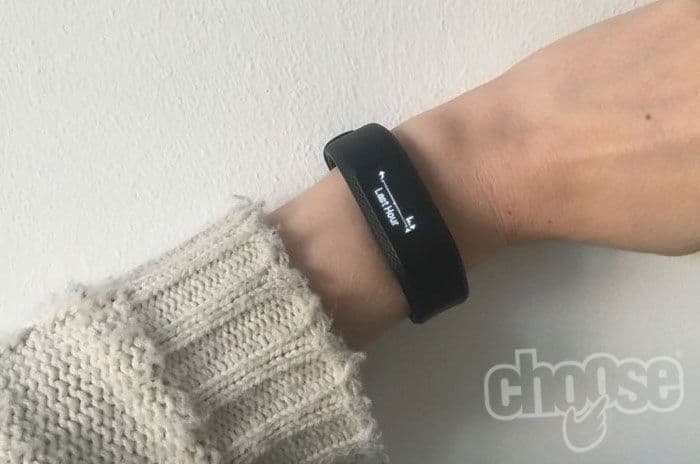 The Garmin's screen is basic with white text.
The Apple Watch, on the other hand, has a large, colourful display screen with detailed icons and large buttons. This just adds to the overall more appealing design of the device and makes it more user-friendly.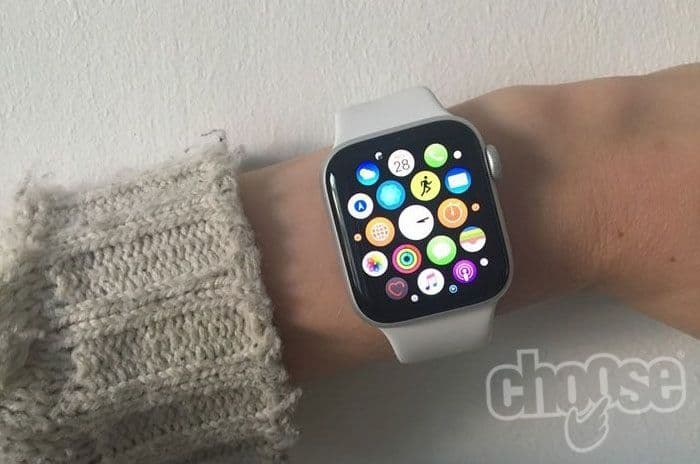 The larger and colourful display screen of the Apple Watch Series 4 is more user-friendly than the Garmin's basic black screen with white text.
Both the Apple Watch and Garmin display screens can be activated by touching, tapping or turning them. The Apple Watch also has a digital crown that can be used to scroll and select functions.
We found the Garmin to be a little more temperamental; swipes were too often misinterpreted as taps, which meant we ended up in the wrong setting. This was especially frustrating during workouts when we wanted to activate or stop certain features easily.
Both display screens also have a handy raise to wake feature and timeout after short periods of no use.
---
Notifications
Both devices send notifications to remind users to move at set intervals in order to achieve daily fitness goals, which we found to be encouraging if not a little annoying sometimes.
One synced with your phone, both devices will also feed through notifications from various phone apps, such as Messages, Instagram and even news apps like the Guardian.
With the Garmin, notifications only come through if our phone is nearby as the device relies on a Bluetooth connection to receive them. The basic Apple Watch, however, will receive notifications when connected to Bluetooth or wi-fi.
While the more expensive Apple Watch that comes with cellular capabilities receives notifications even when we're away from our phones or wi-fi. This meant we could still keep up with messages when out running.
---
Basic activity tracking
Both the Apple Watch Series 4 and the Garmin Vivosmart 3 do a good job of tracking basic activity, such as steps, distance travelled, calories burnt and flights of stairs mounted.
To check accuracy, we not only compared data across both devices but also compared their stats to what was recorded on a third, "benchmark tracker", the Fitbit Charge 2.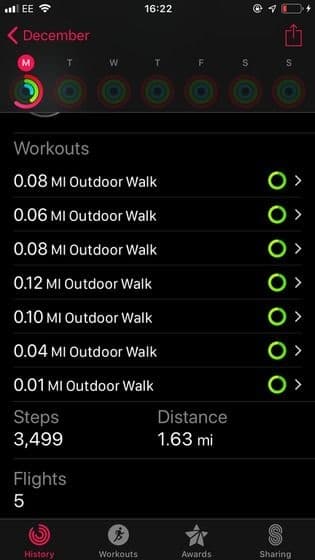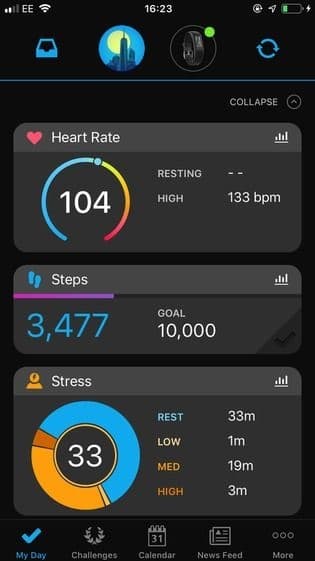 We found the Garmin slightly underestimated the number of stairs we climbed and the Apple Watch overestimated the number of steps we'd taken.
There were a few instances where the flights of stairs we'd walked up weren't accurately recorded on the Garmin and a few occasions where the Apple Watch overestimated the number of steps we'd done but otherwise the stats on all three devices were very similar.
---
Heart rate tracking
Both devices track heart rate when we're resting and active at set intervals. They also show the various fluctuations in heart rate throughout the day via a graph. While Series 4 wearers can view this graph on the Watch's display screen, Garmin users will need to go to the app to view it.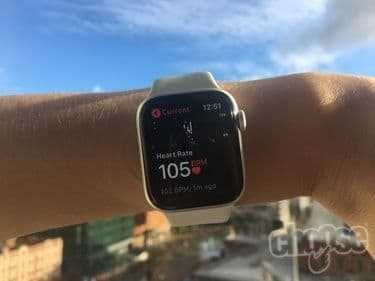 The Apple Watch shows users their heart rate fluctuations throughout the day. Garmin users can only see current their heart rate or over the last hour for more detail they'll need to visit the Garmin Connect app.
To compare heart rate fluctuations over weeks and months and across activities, Garmin users can visit the Connect app on their phone while Watch wearers can go to Apple Health app's Heart section.
While the heart rates recorded across the devices were generally in sync, the Series 4 tended to be a little higher than the Garmin's on occasion.
In addition to tracking heart rate, the Series 4 will also alert us if our heart rate is too high or low. For us this function didn't seem that useful; we only received one alert when our heart rate was a little low post-exercise.
However, this feature could be a valuable way for users with heart conditions to monitor their heart health.
Apple plan to expand this function soon so that the Series 4 can detect irregular heart rhythms and perform electrocardiograms, which will only further enhance its value to anyone who wishes to monitor their heart health more closely.
---
Fitness tracking
Alongside tracking basic steps, both the Garmin and the Series 4 track a variety of other activities such as running, cycling, hiking and even yoga.
Plus, as both devices are water resistant up to 50 meters, they can also be used to track our activity when swimming.
During any activities, the devices track distance, heart rate, time and calories burnt. We're unsure exactly how intelligent these tracking capabilities are and whether they are truly reflective of the specific activity being performed.
For instance, we'd expect that 30 minutes of yoga would burn slightly more calories than a 30-minute walk due to the activity level being more intense. We found the Apple Watch to be a little more intuitive in this respect. The Garmin recorded more calories burnt for a 15-minute slow walk than it did for a 15-minute intensive yoga session.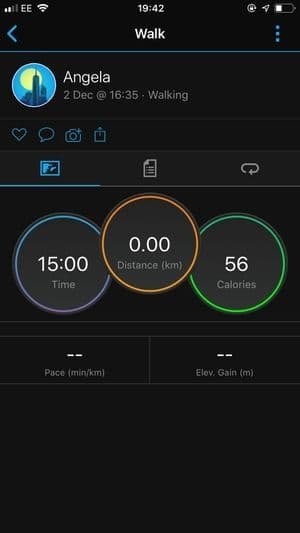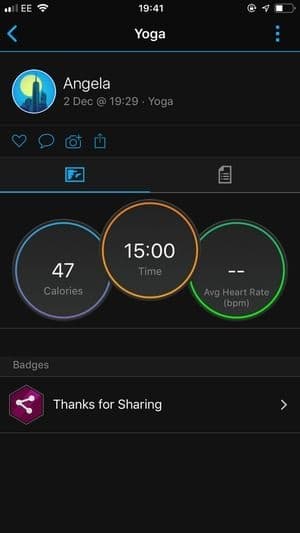 Screenshot on the left of the Garmin's stats for our walk and on the right our stats for a 15-minute yoga session.
Automatic fitness tracking
Both devices also boast automatic fitness tracking capabilities, which is great for the forgetful (like ourselves). When running or walking, the device will recognise our activity and ask us if we want to record it.
The parameters for when the automatic tracking feature kicks in can be set manually via the Garmin app. We set ours up to automatically track any walk or run longer than 5 minutes.
With the Series 4, parameters are already set by Apple and cannot be manually changed. The auto-detection for walking doesn't kick in until 15 minutes into a walk, which means walks that last less than this won't be tracked automatically.
Frustratingly short walks are the ones we could do with the device picking up automatically. A quick trip to the shops or the commute to the bus stop are the types of activity we might forget to log manually as they are so ingrained into our daily routine.
When running, the Series 4 detected 6 minutes in and asked if we wanted to record this activity. One problem though was that it didn't seem to record those first six minutes that accurately. It recorded a much faster speed compared to what was recorded by the Garmin and Fitbit Charge 2.
GPS
Inbuilt GPS is one of the biggest advantages the Apple Watch Series 4 has over the Garmin Vivosmart 3. It allows us to track our running and walking routes. Although the Garmin does record distance, we found these to be less accurate than those recorded by the Apple Watch.
We really enjoy tracking our running and walking routes so to circumvent the Garmin's lack of GPS we ended up taking our phone out with us too. Yet the Garmin Connect app can't even connect to GPS via our phone so we ended up having to track our routes on a different app altogether.
We found this to be quite a set back as it seemed to defeat the purpose of having a specific device dedicated to tracking fitness.
---
Other activity tracking features
Sleep tracking
The Garmin also comes with a sleep-tracking feature, which is a great addition. It really complements the other health and fitness tracking features and gives us a more rounded picture of overall health.
Plus, not only did the Garmin track how many hours we slept for, but it also calculated how long we'd spent in different sleep stages (i.e. deep/light sleep, etc.).
Again, the data it recorded for our sleep activity seemed accurate; it correlated with our manual estimates and those recorded by the Fitbit Charge 2.
Disappointingly, the Apple Watch Series 4 doesn't have a built-in sleep-tracking feature. Yet the beauty of having an Apple device means it's possible to download an app that will enable us to fill the sleep tracking void.
Stress tracking and VO2 Max
The Garmin Vivosmart 3 has more advanced tracking features. It calculates our stress levels and enables us to monitor these throughout the day via the Garmin Connect app.
It also has a VO2 Max feature that measures the amount of oxygen in our system and then uses this to work out our fitness age. The idea here being the lower your fitness age is compared to your actual age the better, and vice versa. What's more, the Garmin app enables us to set fitness goals to help lower our age. We can also use the app to monitor our fitness age over time and see how we measure up against other users.
The Series 4 doesn't monitor our stress levels or offer a VO2 Max feature, however, it does boast some advanced features that we'll discuss later (link to other features).
Guided breathing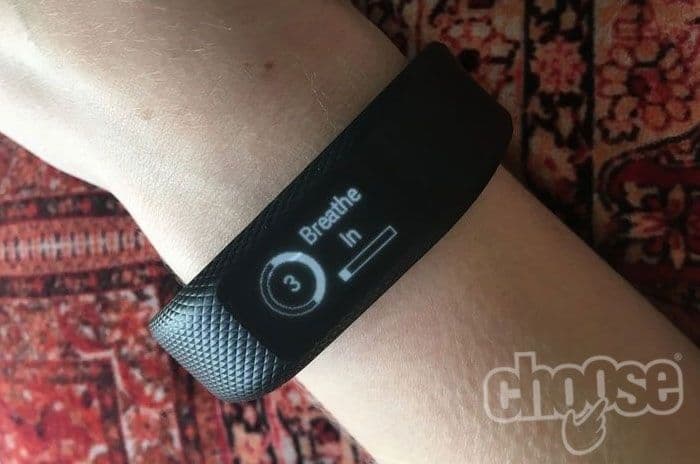 Garmin's guided breathing function in action.
We really enjoyed the Garmin's guided breathing feature. It's a great way to relax after a workout, before falling asleep or during periods of stress, which the wristband helps us identify.
Users can select how long they'd like to carry out a guided breathing exercise for then they simply breathe in and out as instructed by the Garmin. The device vibrates during the exercise so that users don't need to keep their eyes fixed to the display screen.
The Series 4 also has a guided breathing function called Breathe. It operates in a similar fashion to the Garmin's guided breathing setting; users are prompted to breathe in and out by the motif on the display screen and vibrations that the Watch gives out.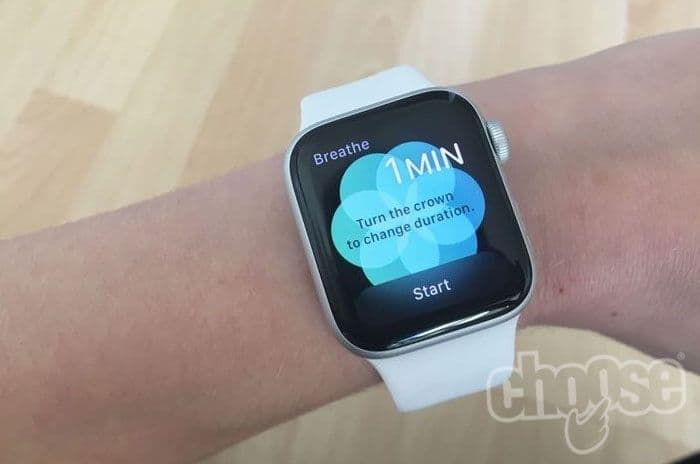 Apple's Breathe guided breathing app.
The only advantage the Apple Watch's version has over the Garmin's is the fact that users have a little more control. They can set "Breathe reminders" to prompt them to carry out breathing exercises a set number of times a day and select a target number of breaths to take per minute.
---
Other features
Overall the Apple Watch has way more features than the Garmin. Some of these may provide added value to the device as a fitness tracker.
For example, those with GPS models can use the Maps app to plan exercise routes. While the Music and Podcasts, apps can provide listening material to entertain us when running or walking.
Those with the cellular models can access even more functions, such as the ability to make calls, send messages and voice notes via Walkie Talkie mode. Yet many of these apps aren't really relevant to users who just want to track their health and fitness.
---
Usability and apps
We found that both devices were easy to set up. By following a series of simple steps users can have their device up and running in just a few minutes.
To access additional settings and for an overview of activity and health stats, users should use the respective smartphone apps. The Garmin Connect app is available to both Android and iPhone users whereas the Apple Watch apps are only compatible with the iPhone 5 or above.
The Activity app that automatically downloads after we'd synced the Series 4 with our phone was quite basic. It provides overviews of our activity according to three categories move, exercise and stand. For more detail, we can use the Health app, which displays insightful graphs and other data based on heart health and activity levels.
Despite many other review sites describing the Garmin Connect app as overly complex we actually preferred it to the Apple apps. For starters, all the information we need is located in just the one app. Plus, we felt it had a more user-friendly layout that required less clicking through to get to the data we wanted to view.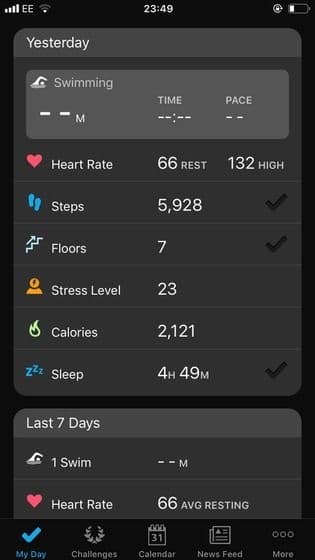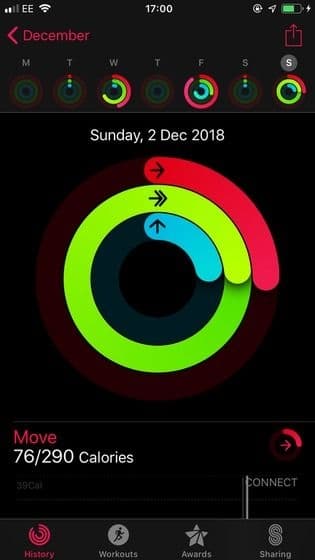 Screenshot on the left from the Garmin Connect app shows more stats. On the right we have a screenshot of the Apple Activity app, with its more basic overview.
As we've touched upon above, one of the best things about the Apple Watch is the wealth of readily available apps we can download instantly to enhance its existing features via the App Store. The Garmin doesn't work in the same way and so we're limited to the features it comes with.
---
Battery life
The Garmin wins hands down when it comes to this category. The official estimate is five days use, but it could be slightly more or less depending on how often the wearer exercises and how many of the apps and features they use. For example, we managed an average of six days despite exercising at least once per day, using several features and having notifications activated the entire time.
The Garmin only takes around an hour to charge too and it comes with a USB adaptor that can be plugged into a compatible device to charge.
Contrastingly, one of the biggest criticisms we had of the Apple Watch Series 4 was its limited battery life. Apple estimate an average of 18 hours of use.
Again, it depends on how often and how many of its features are used. We were able to get two days out of it on occasion but this was during 'lazy days' mainly spent inside and using minimal features.
Most days we used it to track at least one workout, monitor heart rate and steps, check updates from our iPhone, track sleep and use Maps to navigate when out and about. After a 24-hour period, the Watch would still have around 20-30% battery left, which is in line with Apple's 18-hour estimate.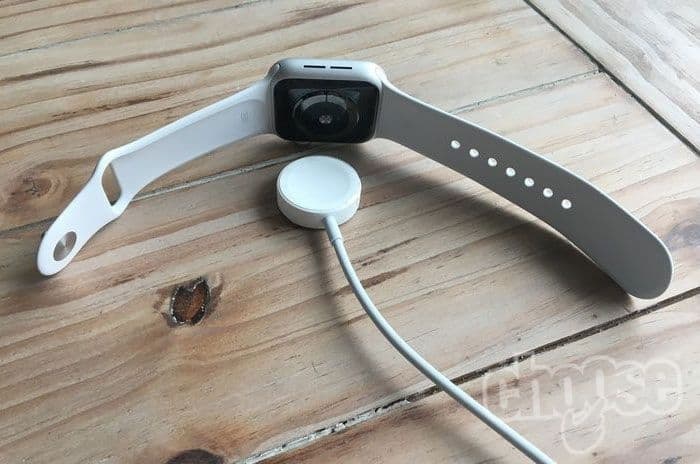 The Apple Watch Series 4 charger attaches via a magnet.
The charger that accompanies the Series 4 is pretty neat. It's a cable with a magnetic disc that attaches to the back of the watch to charge it. It has both a USB and plug attachment. Placing the Watch near the magnet will force it to snap into place effortless. Even if the magnet isn't aligned perfectly, the Watch will still charge.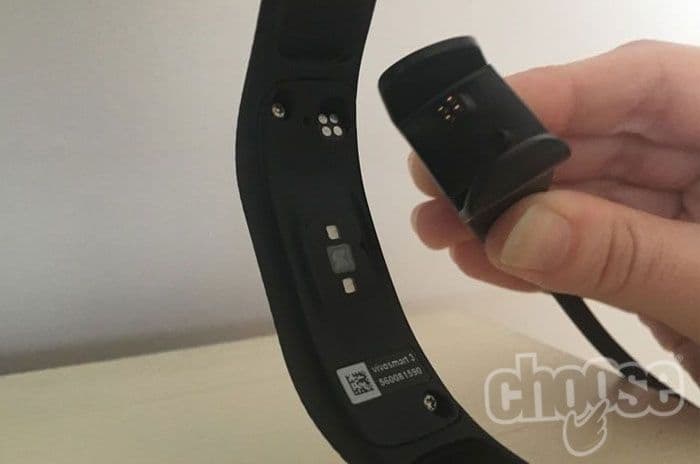 The Garmin Vivosmart 3 charger needs the connection more carefully aligned.
The Garmin charger, on the other hand, needs to be perfectly attached to the metal prongs of the charger to work. The first time we used the Garmin, the alignment was slightly off and so the device didn't charge at all.
The Apple Watch Series 4 also takes longer to re-charge, between 1.5 to 2 hours. Although up to two hours isn't bad really, it's just that the Garmin recharges so quickly.
---
Price
This area is perhaps where the devices differ the most. The Garmin Vivosmart 3 is reasonably priced for a fitness tracker at around £99. The Series 4, on the other hand, is one of the most expensive smartwatches on the market. The smaller 40mm model without cellar capabilities costs around £399, while the 44mm model with cellar goes for around £529.
| | Apple Watch Series 4 | Garmin Vivosmart 3 |
| --- | --- | --- |
| Amazon | - | £64.99 |
| John Lewis | From £399.00 | £79.99 |
| Currys | From £399.00 | £79.99 |
Note also that the Apple Watch 4 can be purchased on a data plan contract from network providers EE and Vodafone, with the cost of the device spread over a 24-month period - we cover this in more detail in our dedicated hands-on Apple Watch Series 4 review here.
---
Verdict
Garmin is no doubt more limited in terms of overall features but in its defence, that's because it's primarily a fitness tracking device whereas the Series 4 as a smartwatch is expected to offer more.
Both devices track a wide range of activities, including running, walking and swimming and track important health and fitness stats, such as heart rate, distances covered and calories burnt. Yet the Garmin does all this for a much cheaper price. Therefore for those who aren't too hung up on the design we'd recommend the Garmin.
For us, the only reasonable justification to fork out the additional cost for an Apple Watch is if the user requires GPS or cellular capabilities to track workouts or utilities non-fitness related features such as calls and messages. Or if the user has a heart condition and requires more detailed heart rate monitoring capabilities.