INTERNET service providers (ISPs) are preparing to launch a legal challenge against BT's plans to deliver the universal service obligation (USO) voluntarily, according to reports surfacing in The Times.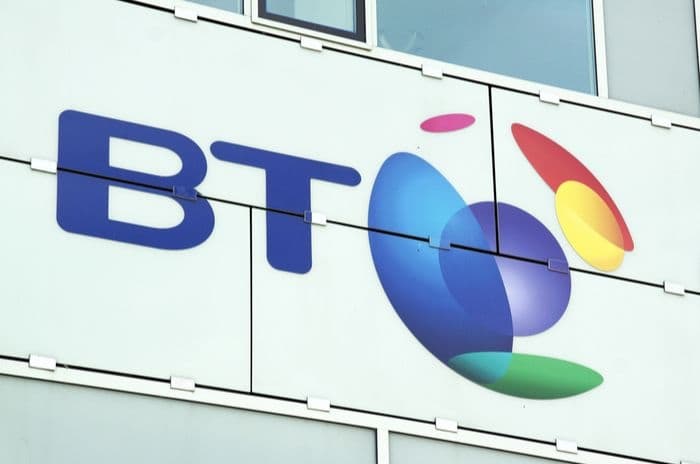 Credit: JPstock/Shutterstock.com
The ISPs - including Hyperoptic, Sky Broadband, TalkTalk, and Gigaclear - are reportedly unhappy with BT's voluntary proposal to guarantee speeds of at least 10Mb to the entire UK population by 2020, with an industry source claiming that this would only increase BT and Openreach's dominance of the broadband market.
Certain companies within the group have therefore taken legal advice on what they could do to stop the plans, which they would prefer to be replaced with a legally binding and regulated alternative.
However, their aims may be undermined by the Government, who have today acted to remove one of the main obstacles to BT delivering on their voluntary proposal: a price cut being planned by Ofcom on Openreach's "up to" 40Mb fibre-to-the-cabinet (FTTC) broadband product.
Industrial warfare
While the precise details of any legal challenge are unclear, what is clear is that many of BT's rivals don't appreciate the effect a voluntary delivery of the USO may have on their ability to compete with the former state monopoly and their legally separate network arm, Openreach.
According to the unnamed source quoted by The Times, "The law is very clear on how a USO should be delivered. BT and government can't simply call the USO something else and hope the law doesn't apply".
They're worried that making the universal service obligation "voluntary" would essentially give BT and Openreach the leeway to fail to deliver it without being punished.
We strongly believe that a regulated universal service obligation is the only way to guarantee a competitive marketplace.
Matthew Hare, Gigaclear
Added to this, the likes of Sky, Hyperoptic and TalkTalk are also worried that a voluntary USO fulfilled by Openreach will simply allow the network to strengthen its hold on the market, which sees it supply as much as 85% of the UK's broadband connections.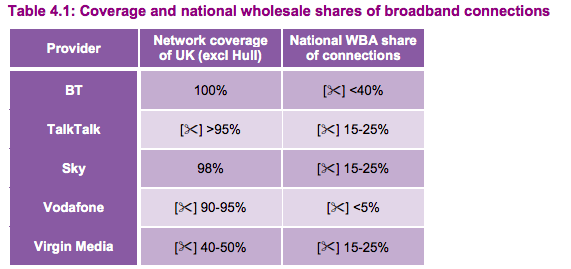 Source: Ofcom, Wholesale Broadband Access
Market Review, June 2017; BT, Sky, TalkTalk and Vodafone all run on the Openreach network
Matthew Hare, the chief executive of Gigaclear, spoke of this danger explicitly. He said, "If the government were to go with BT's voluntary deal, this would effectively stifle competition".
Not only did he comment on the negative effect this would have on customer choice, but he added that it would hurt the UK's digital infrastructure: "Competition is vital ... to secure the future of this country's digital economy".
Government backing
Given that the Government have repeatedly emphasised in recent months the need for the UK to have a strong, future-proofed broadband network, it might seem as though they'd be sympathetic to such concerns.
However, this assumption was undermined over the weekend by a letter written to Ofcom by Karen Bradley, the Secretary of State for Digital, Culture, Media and Sport.
In it, Bradley questioned Ofcom's decision to cap the "up to" 40Mb FTTC broadband product Openreach sell wholesale to ISPs, a decision which Ofcom ostensibly made in order to keep prices down for customers.
She wrote, "I am concerned that price suppression could reduce demand for better services, such as fibre, and so will disincentivise investment in the network".
It was reasoned that the dropping of such "price suppression" was a vital precondition of BT making their offer to deliver the USO voluntarily, even if it would result in customers paying more.
As such, the fact that the Government are directly encouraging Ofcom to reconsider the price control is evidence they have little intention of pulling back from BT's proposal, and that any threat from rival ISPs to launch a legal challenge will seemingly have little effect.
Legally binding
And quite apart from any chances the cabal of ISPs realistically have of derailing BT's proposal, their threats and mutterings are questionable in other respects.
For one, Matthew Hare of Gigaclear made the following threat, "If BT persuades the government to ignore the legal framework, they could face years in court".
However, when the proposal was first announced, the Department for Digital, Culture, Media and Sport said, "The Government will now work with BT over the coming months to develop the proposal - which, if it is accepted, will be legally-binding" (our emphasis).
In other words, the USO framework being proposed by BT seemingly won't just be some vague promise of covering 100% of the UK with at least 10Mb speeds, but will be a formal commitment regulated by law.
On top of this, it's possible to make the criticism that no other ISP or group of ISPs besides BT has so far presented their own plans to deliver the USO, with none making any commitment to contribute their own funds.
Because of this, while Openreach's delivery of the USO may only cement their dominant position, the Government seemingly have little option but to go with BT's plans, since the alternative would be to leave the final 2-3% of the UK without a usable broadband connection.