TalkTalk, which is the UK's leading value for money broadband provider, is now offering superior speeds, signal and connectivity through the home Wi-Fi Hub.
The Wi-Fi Hub will be the default option for new Fibre customers, and will be a second option for non-fibre Fast Broadband customers to purchase.
Phil Amy, Director of Product at TalkTalk, said: "We've developed our most sophisticated router ever, packed with the latest technology so customers can enjoy even stronger connectivity in more corners of the home and on more devices...this Wi-Fi Hub is our fastest, strongest and most reliable router yet."
TalkTalk
What is the Wi-Fi Hub?
There's no doubt that TalkTalk's Wi-Fi Hub offers customers a number of improvements over the standard Super Router.
Not only does the Hub provide a connection speed that's twice as fast as the Super Router, it is also a better option for larger households with high demand - such as those with between five and nine connected devices. It's even possible to connect a massive 50 devices to the Hub. This means it can comfortably cope with any household's signal demands without compromising on connection quality.
In addition, the signal strength is very strong, reaching all corners of the home. This is aided by dual-band technology, which automatically selects the best wi-fi channel at all times. The Hub also uses next-generation wi-fi technology to automatically adjust the signal level within a house to prioritise devices that have high-signal demands. Even better, the Hub is actually optimised for the TalkTalk network to improve performance.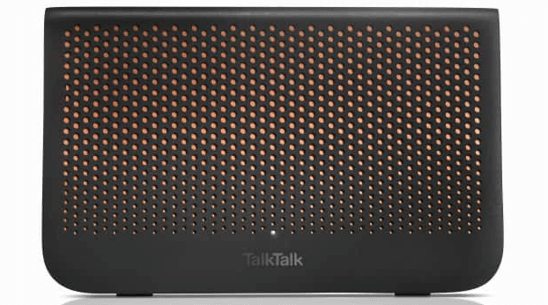 With a simple set up, a removable wi-fi settings card to help connect wireless devices and no password required either, customers should also find it user-friendly.
Another perk is that its subtle design makes the Wi-Fi Hub an unobtrusive item for the home. TalkTalk are so confident in its appeal that it can even be wall mounted. It also fits through the letterbox and so can easily be delivered without customers having to wait in.
Available packages
The Wi-Fi Hub is available for free as default to all new Fibre customers.
New customers can currently get the Unlimited Fibre Broadband package with over 30% off - that's just £22.50 a month for 18 months, including line rental. There are also no price rises guaranteed for the duration of the contract. A £30 set-up charge applies, but the powerful Wi-Fi Hub is included.
Those existing Fibre customers who have a standard Super Router can upgrade to the Wi-Fi Hub for a reasonable £30.
New Fast Broadband customers - who are signed up to TalkTalk's non-fibre package - are supplied with the Super Router as default.
At present, customers can get the Unlimited Fast Broadband package with over a 35% saving, for just £17 a month. That's for 12 months, including line rental, and with no mid-contract prise increases and no upfront costs.
However, any new Fast Broadband customers that want to upgrade to the Wi-Fi Hub can buy one for an additional £30 at the TalkTalk checkout.
Additionally, TalkTalk say that anyone who needs a Wi-Fi Hub - for example, because their current router is broken - will receive one. Any Wi-Fi Hub that is faulty will also be replaced on a like-for-like basis for free.
For more information on TalkTalk's budget deals, take a look here.
Plus, we've got an in-depth review of TalkTalk broadband available in this guide. Take a look to find out everything you need to know about broadband deals, special offers and customer service.