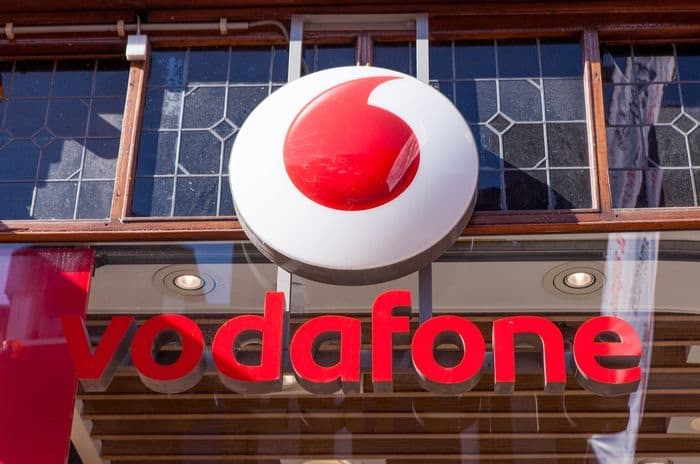 Credit: StockStudio Aerials/Shutterstock.com
---
At a glance
| | Superfast 1 | Superfast 2 |
| --- | --- | --- |
| Price from | £20.83 | £25 |
| Setup price | Free | Free |
| Download speed | 35Mb | 63Mb |
| Upload speed | 10Mb | 19Mb |
| Router | Smart Router | Smart Router |
| Anytime calls | £6.67 inc mobiles | £6.67 inc mobiles |
| Minimum term | 36 months / 24 months | 36 months / 24 months |
Special offers
Vodafone Business superfast broadband is often available with special offers for new customers. Here are their current deals:
Offer
Terms

Get this offer

25% off all 24 month Vodafone Business Broadband plans with no upfront costs.

Offer ends 4 January 2024

24 month minimum term. No set up fee. Monthly bill will increase by £3 after 24 months. Price excludes VAT.

Get this offer
---
What broadband packages do Vodafone Business offer?
Vodafone Business currently offer two basic superfast fixed line broadband options for business across the UK. These prices exclude VAT:
| | Package | Broadband | Monthly price | Upfront price | Contract term |
| --- | --- | --- | --- | --- | --- |
| | Business Fibre 1 | 35Mb average | £20.50 | Free | 36 months |
| | Business Fibre 2 | 63Mb average | £23 | Free | 36 months |
Unlike some business broadband providers such as Plusnet, Vodafone advertise their business broadband with average speeds rather than 'up to' speeds (these are still permitted in business advertisements but not in home broadband ads). This means customers can clearly see the broadband speeds up to 50% of customers receive.
Two things to note here:
No upfront costs for equipment etc
36-month contracts
The lengthy contract may be off-putting for some businesses just starting out, and there are more flexible options available elsewhere.
Vodafone do offer 24-month deals that cost slightly more every month. However, these may still be too much of a commitment for some businesses.
Line rental is included within Vodafone's pricing, although there are different call plan options. We cover those in more detail below.
Essentials and Premium plans
The business broadband plan we've detailed above are what Vodafone calls Essentials plans. They also offer Premium versions of both:
| Package | Essentials price | Premium price |
| --- | --- | --- |
| Superfast 1 | £20.83 | £34.82 |
| Superfast 2 | £25 | £39.82 |
For this extra money, customers get more features. This is the breakdown of the differences:
| Feature | Essentials | Premium |
| --- | --- | --- |
| Support level | Standard Support | Support Plus |
| Call plan | Pence per minute rates | Unlimited anytime minutes per month to UK mobiles and landlines |
| Mobile Wi-Fi device | £15 one off fee | Included |
| Anytime UK unlimited calls | £6.67 | Included |
| Smart Divert | £4.50 | Included |
| Support Plus | £3.00 | Included |
The major selling features of the Premium plan are the enhanced support and anytime calls - but both of these can be added separately to Essentials plans.
To take an Essentials Superfast 1 plan with Support Plus and Anytime UK unlimited calls would cost £30.50 per month (before VAT), over £4 cheaper per month than signing up to the Premium version of the plan.
So, it may make more sense for businesses to layer on the services they actually need rather than take the all-inclusive Premium package.
All the following features/extra costs are available to both plans:
Dynamic IP as standard
Static IP available on request
Content Control
Inclusive calling features - 1471 (last calling number), 1470 (present withheld number), 141 (number conceal) and 1475 (remove last calling number)
1571 (voicemail) available on request
Directory entry
International 300 calls for £4.17 per month
Multiple static IPs for £7.50 per month
The following call features are billed monthly:
| Feature | Monthly price |
| --- | --- |
| Voicemail Plus | £2.21 |
| Voicemail Premier | £5 |
| Call Management Bundle | £2.08 |
| Ring Back When Free | £2.50 |
| Business Caller Display | £2.50 |
A couple of features can be charged per use:
| Feature | Cost per use |
| --- | --- |
| 3-Way Calling | 25p |
| Last Number Calling Return | 8p |
| Ring Back When Free | 8p |
Again, it depends on which features a business needs, and it's worth adding up all the charges to see if your company can afford the features.
Complete Connectivity
There's also another tier of Vodafone Business fibre broadband: Complete Connectivity from Vodafone Business.
This costs £70 per site per month (excluding VAT) and the cheapest options are on 36-month contracts, although 12-month and 24-month plans are also available.
Vodafone say Complete Connectivity includes the following features:
Next level security
4G Mobile backup in the event of a broadband failure
Intuitive online dashboard and mobile app
Simple guest wi-fi
Secure remote working
Scalable solution for multiple premises
This is solution for larger businesses or those with multiple sites who need to keep track of usage across multiple locations.
It's also worth pointing out no phone line is available with Complete Connectivity.
---
5G business broadband
Vodafone Business also offers GigaCube, a 5G alternative to fixed line business broadband at three price points (all excluding VAT):
Package
Data
Monthly price
Upfront price
Contract term
GigaCube 100GB
100GB
5G
£25
£83.33
24 months
GigaCube 200GB
200GB
5G
£33.33
£41.67
24 months
GigaCube Unlimited
Unlimited
5G
£50
£41.67
24 months
As we can see, there are upfront costs associated with GigaCube, as well as higher monthly bills for limited amounts of data (for the first two plans).
Vodafone GigaCube is 4G and 5G capable, but Vodafone 5G coverage is still patchy since the service only launched in July 2019.
Vodafone themselves point to several benefits of opting for GigaCube:
5G speeds available over WiFi even if businesses don't have 5G-ready mobile devices
It's a portable option
It's easy to set up
Up to 64 devices can be connected
30-day rolling contracts are also available with the GigaCube, although details of the pricing don't seem to be available on Vodafone's website - expect both upfront and monthly costs to be more expensive.
---
Comparing Vodafone Business broadband
Vodafone Business broadband leans towards the cheapest end of the price range.
As most providers offer a higher superfast package the 60Mb to 80Mb mark, we'll compare some deals by other business providers in that tier:
Package
Broadband
Monthly price
Upfront price
Contract term
Business Fibre 2
63Mb average
£23
Free
36 months
Complete Superfast Fibre
76Mb average
£26.95
Free
24 months
Offer: Save £192 over 24 months + Free P&P (was £9.95)

(Ends 12/12/2023)

Superfast 80Mb Full Fibre + Unlimited calls
80Mb average
£30.95
£9.99
24 months
Offer: Free Super Router + 50+ Exclusive free features
Fibre 76 Enhanced + Digital Line
76Mb average
Free
for 6 mths,


then £54.95

£29.95
24 months
Offer: Black Friday: First 6 months free + Includes enhanced support and 4G back-up

(Ends 03/12/2023)
On price alone, then, Vodafone is the cheapest in this table.
It's worth noting some providers will run introductory pricing offers which may average out across the length of a contract to be around the same as the providers listed above.
What's clear is that Vodafone's strategy to be one of the cheapest broadband providers across extends to their business packages too - and it's a compelling reason for start-ups and SMEs to choose them over their competitors.
Read our guide to the cheapest broadband for business for more price and feature comparisons.
---
How fast is Vodafone Business broadband?
Vodafone Business broadband provides the same speeds as Vodafone's home broadband, so we have a little more information about their speeds than dedicated business-only providers.
This is because Ofcom require home broadband providers to advertise the average speeds at least 50% of their customers can receive.
So, we can estimate that Superfast 1 customers can receive average speeds of 35Mb and Superfast 2 customers can receive average speeds of 63Mb.
These predictions are slightly more accurate than the up to speeds of 76Mb offered by XLN but, that said, all connections are different, and Vodafone speeds may not be the most reliable option for your business.
Upload speeds
Upload speeds are important to all customers, but businesses rely on them more than domestic customers.
Vodafone's upload speeds are reasonable for the price, coming in at up to 10Mb and 19Mb respectively.
For many businesses, these will be sufficient upload speeds, but companies needing something faster should consider packages with symmetrical download and upload speeds.
---
How good is Vodafone Business's router?
The router offered to Vodafone Business broadband customers is the same one provided to Vodafone's home broadband customers.
It's a Huawei HHG2500 and has the following features:
4 Gigabit Ethernet ports
7 antennae
Beamforming technology to improve directionality of signal
2 USB ports
It's worth pointing out that, while the router appears to be a very capable router, it doesn't have as many bells and whistles as the highest spec routers. Nevertheless, it's a good option for many businesses.
---
What extras does Vodafone Business broadband offer?
Along with the Premium calling features and extras we've already discussed above, there are some other features to be aware of.
Vodafone Broadband app
The Vodafone Business app allows companies to manage their Wi-Fi and customise the controls easily from their phone or tablet.
One Net Anywhere
Businesses can set up a virtual landline number which diverts straight to your mobile. In addition, calls can be made from the mobile as the virtual landline.
This can give businesses more credibility, with customers more willing to trust calls from a recognised landline and ensures your business doesn't miss a vital call.
Note: One Net Anywhere is Vodafone Business's solution for up to nine employees. Businesses with more employees than that should look at One Net Business.
V-Hub by Vodafone Business
V-Hub is designed to support small and medium-sized businesses which includes free one-to-one support from a business adviser by phone or web chat.
It also includes access to Business Unusual with Claudia Winkleman which incorporates podcasts, blogs, webinars and other resources.
Cloud solutions
As an extra, businesses can choose cloud and security business solutions from Vodafone alongside their business broadband package.
They can advise on moving businesses into the cloud and then assist with the move. They offer a range of solutions tailored to the needs of specific businesses:
| | | | |
| --- | --- | --- | --- |
| Digital services | Co-location | Private cloud | Public cloud |
| Cloud storage | Professional services | Microsoft Office 365 | G Suite |
Vodafone say their cloud and security solutions offer the following benefits:
Easy usage with convenience and support
Cost-efficiency
Innovation capabilities
Flexibility
Reliability with global footprint and local presence
End-to-end business solutions and services
For many businesses, these options will be beyond the scope of what they're hoping to achieve in their organisation, but for businesses hoping to scale in the future with the help of the cloud, the ability to move forward with their existing broadband provider may be an attractive option.
---
What's Vodafone Business's customer service like?
We don't have any official figures dedicated to Vodafone's business broadband operations as these aren't routinely collected.
While Vodafone have a poor customer service record on the home broadband side of things, it's worth remembering there are significant differences between support for businesses and support for home broadband customers.
Business customers are often given priority for broadband support, with providers recognising the internet is vital to many business's operations.
Plus, the mention of business advisers in relation to V-Hub suggest there are different teams dedicated to supporting business clients across different areas.
There is no definite way of extrapolating Vodafone's business customer service from their general customer service record even on sites like Trustpilot because these review sites often combine all services from a provider.
---
Our verdict: budget business broadband
Vodafone Business broadband offers the best of two worlds: it's a budget broadband option for businesses looking for the cheapest available deal, plus it can be enhanced with premium features and scalable solutions to grow as your business does.
It's a little disappointing that faster business broadband from Vodafone isn't available in the cities where they have switched on their Gigafast network, yet this may be in the pipeline.
We'd recommend Vodafone Business broadband for:
Businesses looking at a budget option with room to expand
Those looking for a free static IP as standard
Companies keen on some premium features like anytime calls
However, there are a few downsides as we've touched on in this Vodafone Business broadband review:
Only two speed options to choose from
Extra monthly costs for calls etc can soon add up
No dedicated business router
Yet Vodafone Business offer a comprehensive business broadband solution which works no matter the size of the company they're working with.
It's good to see features like One Net Anywhere being designed for small companies with scalable options for medium and enterprise level organisations too.
It suggests that small businesses are as important to Vodafone Business as landing huge clients, and there are plenty of indications on their website that they are focused on SMEs such as the V-Hub and similar resources.
Overall, Vodafone Business is a good option for any SME looking for budget broadband for their company.