Garmin's third iteration of this fitness tracker, the Vivosmart 3 is likely to appeal to a wide-range of fitness fans.
Its mid-range price point shouldn't put off novices or first-timers, and it'll also make it an appealing option for fitness devotees. That's especially the case when we consider just how much is rolled into this smartwatch and fitness tracker.
It ticks all the boxes for heart rate and activity tracking, and there are some nice additional features - such as automatic activity tracking and stress monitoring.
We tested the Vivosmart 3 by looking at the following areas: design, touchscreen and controls, battery, tracking features, notifications and the Garmin Connect app.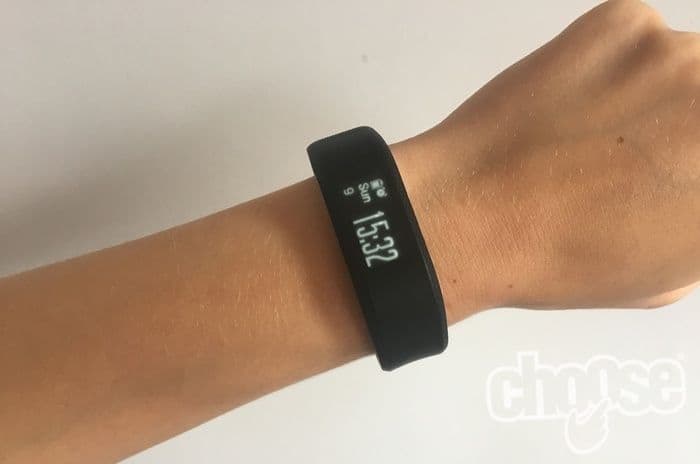 © Choose
---
| Pros | Cons |
| --- | --- |
| Good battery life | Lack connected GPS |
| Automatic activity tracking | Can't change straps |
| Swim proof | App can be difficult to navigate |
| Lightweight and comfortable | |
| Reasonable price | |
---
Design
The Garmin Vivosmart 3 is an understated and simple tracker that looks good on the wrist. It features a lightweight but sturdy silicone strap, available in a choice of black, purple and blue. The OLED screen is completely integrated with the strap - which is a width of 18.5mm - eliminating bulk and giving this tracker a sleek aesthetic.
To cater for all, the Vivosmart 3 comes in two sizes: small/medium and large. It also has a lot of buckle holes in the strap, so finding the right fit proves very easy. To wear, the Vivosmart 3 is incredibly comfortable. In fact, it's so comfortable that I almost forgot I had it on.
The only downside I found in the design is that because the screen is integrated with the wrist strap, there's no option to change the strap for a different design. This is unlike Fitbit trackers, which have a range of straps for different occasions and tastes.
---
Touchscreen and controls
The Vivosmart's screen is fairly small at 9.6mm x 19.2mm, with a resolution of 64 x 128 pixels. A nice feature is that the screen isn't permanently on, which can be a distraction with other trackers. I did find that it took quite a purposeful movement to active the screen, which could be an annoyance. However, a double tap also turns on the display nicely.
The Garmin Vivosmart 3 has a small screen that comes on when double-tapped by the user
The Vivosmart 3 also has an ambient light sensor, which dims and brightens the screen based on the surrounding light conditions. When out in bright daylight, I thought that the screen was well lit and readable. But note that it does take the sensors a while to adjust to different light conditions.
When using the touchscreen display, I didn't have any problems with the tapping or swiping - both responded very well. The touchscreen even works well in rainy conditions, so this won't be a problem for outdoor workouts.
Not only can the Vivosmart 3 cope well with rain, but it's completely water-resistant to a depth of 50 metres. This is a great feature for swimmers and means it doesn't need to be taken off to have a shower.
---
Battery
Another point in favour of the Vivosmart 3 is that it has a lengthy battery life of five days. In reality, I found that this could easily be pushed to six days - although battery life will completely depend on how much the tracker is used on a weekly basis.
It comes with a USB charger cable that plugs into any USB point for handy charging at home, work and in the car. Also, the Vivosmart 3 was fully charged within just one hour, which I thought was incredibly speedy.
---
Tracking features
Heart rate monitoring
Using its Elevate heart rate technology, the Vivosmart 3 is the first Garmin tracker to offer users a VO2 max estimate. Like its competitor the Fitbit Charge 2, this feature gives an insight into fitness levels by monitoring how effectively the body uses oxygen when working out.
This might sound complicated but I found it a really useful way of understanding baseline fitness. To manually trigger a VO2 max reading, just go for a 15-minute walk while wearing the tracker. The Vivosmart 3 then comes up with a fitness age metric based on heart rate output and the submitted age and weight. Working from the baseline measure, users can then work to improve their fitness age with new workout goals.
Activity tracking
The Vivosmart 3 reliably records all basic activity metrics, such as steps taken, calories burned and intensity minutes. I liked the handy vibrations that offered reminders to move if I'd been inactive for too long.
It also tallies up activity and notifies users when they've reached set fitness goals. I found this to be a nice pat on the back after a long walk or run.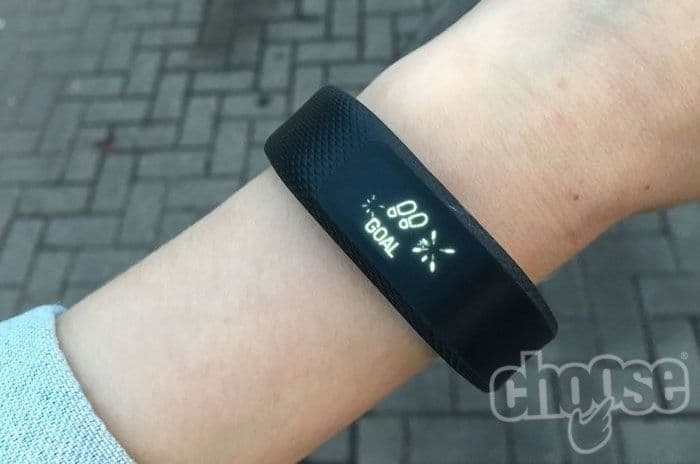 The Garmin Vivosmart 3 notifies users to move at set intervals and also lets them know when fitness goals have been achieved
It also features two activity-tracking sensors to help record as much information about the wearer's movements as possible.
Firstly, the barometric altimeter records floors climbed - which definitely incentivised me to take the stairs more often than the lift. Secondly, the accelerometer is a pretty accurate record of distance travelled in the absence of integrated or connected GPS. I found it helpful to input my stride length as this makes the accelerometer reading much more accurate.
But here's one of the major downsides of the Vivosmart 3. The lack of even connected GPS means that this isn't a great option for runners. It really limits the tracker to use in the gym, at fitness classes or for home workouts, which will be disappointing for many people.
On the plus side, Move IQ is a great feature that's been newly added to this device. It automatically recognises and tracks certain activities, such as walking and cycling, avoiding the need to manually record workouts.
Many people will also be fans of the rep-counting feature for strength training, especially those who often lose count of their reps in the gym. Simply go to the app, select this feature and let the Vivosmart 3 do the thinking for you. In practice, I found the counter fairly accurate, with just a few missed or added reps.
Sleep tracking
A staple with most wearable devices, the Vivosmart 3 also offers sleep tracking to give users a better idea of sleep quality and duration.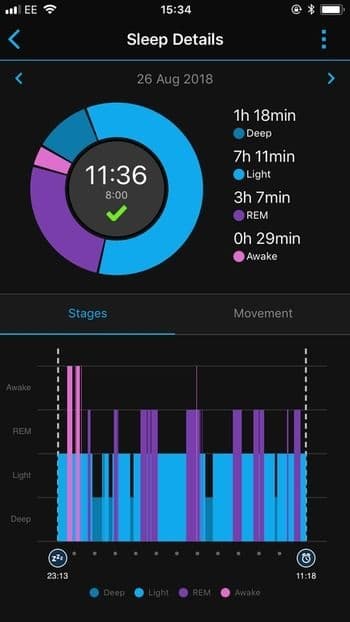 The Garmin Vivosmart 3 tracks sleep movement and provides useful stats about sleep stages
Using its Elevate heart rate technology and integrated movement sensors, the device tracks total hours of sleep, sleep stages and sleep movement to provide a thorough nightly report. I found it interesting to check the app in the morning and see if the recorded information correlated with how well I felt I had slept the previous night. I did notice that I felt significantly more tired on days where I'd had minimal deep sleep the night before.
A recent Garmin update has also made improvements to this feature. In addition to basic heart rate, the Vivosmart 3 now tracks heart rate variability - which is the time between heart beats - to give a much more accurate picture of how heart rate impacts sleep.
---
Additional features
Stress monitoring
Possibly my favourite aspect of the Vivosmart 3, the all-day stress tracking feature proved a really useful tool for understanding and managing everyday stresses.
The device uses the Elevate heart rate variability measure to track the time between heartbeats. Less time between beats means that the heart is beating faster and indicates an increase in stress.
Stress is displayed through a user-friendly on-screen bar graph. However, I found it better to look back at the day's stress levels in the Garmin Connect app.
That's because constantly checking minute variations in stress throughout the day can be distracting and misleading. The app software gives a much better indication of stress peak times by flattening out small variations and providing a daily overview of when stress occurs.
The Vivosmart 3 then offers the Relax feature, which is basically a guided breathing exercise to tackle the effects of stress on the body. I found this a nice feature that genuinely helped me to relax - simply because it forced me to take a few minutes out of the day and concentrate on nothing but my breathing.
The bracelet vibrates to remind users when to breath in and out, which means I didn't have to stare at the device during relaxation sessions.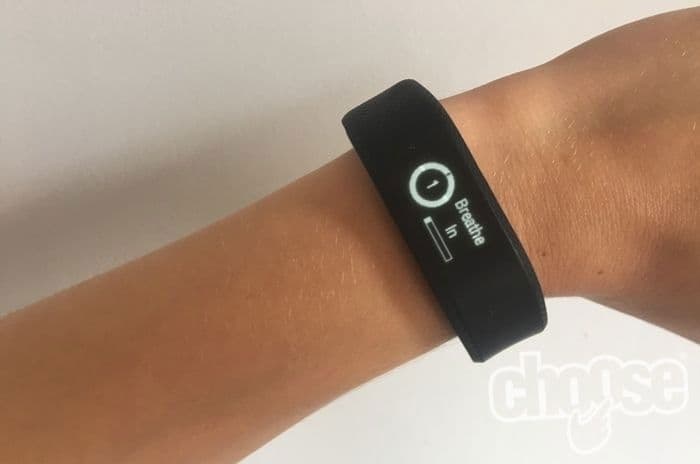 The Garmin's Relax feature is great for calming the breath post exercise or pre sleep.
Notifications
The Vivosmart 3 is compatible with both iOS and Android devices, and features both Bluetooth and ANT+ connectivity. When connected to a smartphone, it provides lots of useful notifications, such as weather, emails, text messages and social media alerts. It also lets wearers control their smartphone music.
The Vivosmart 3 also has lots of basic watch features, such as time and date (including automatic daylight saving), stopwatch and alarm clock.
The only small downside that I noticed was that the slim screen often made reading notifications quite difficult - especially if they were lengthy. Plus, there's no way of responding to messages through the device either.
---
Garmin Connect app
Using the Garmin Connect mobile app, Vivosmart 3 wearers can access all of their heart rate, workout, sleep and stress stats. There's easy access on smartphones, but as Connect is cloud-based users can check their reports and data on a desktop or tablet too.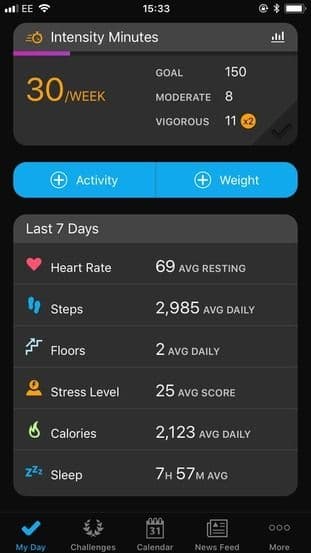 The Garmin app offers lots of useful stats and graphs to help users keep track of their daily, weekly and monthly activity
The Connect app offers lots of information, with detailed graphs and stats about user progress. I occasionally found it quite difficult to navigate to the section I wanted, which could be frustrating. However, the amount of information that's available is impressive for those who are willing to put in a bit of effort.
---
Verdict
The Garmin Vivosmart 3 is the perfect companion for a gym session or workout class.
It's lightweight and tough, making it comfortable to wear but also resilient to knocks while exercising. It's also got a lengthy battery life and charges very quickly.
The heart rate, activity and sleep tracking features are wide-ranging and seem to be accurate on the whole. There's also the nice addition of stress tracking and dedicated relaxation.
However, this device really is limited to the gym or home because of the disappointing lack of connected GPS. Although the accelerometer measures distance travelled, it's not as accurate or versatile as having a GPS connection.
Overall, I thought this downside was outweighed by the fact that the Vivosmart 3 is fully waterproof to 50 metres - a perk which is unusual with a device at this price point. So while it may not be the best tracker for runners, dedicated swimmers could get a lot of use out of it.
Indeed, for the price the Garmin Vivosmart 3 is jam-packed with features and is a really good option for anyone who wants a reliable and unobtrusive tracker for everyday use.