Many of us already have free cloud storage as part of other services we use such as email from Google or Microsoft or due to the fact we own an Apple device.
Our top pick for free cloud storage is Google thanks to the 15GB on offer for free, although customers happy to pay may prefer Microsoft's full suite of apps including cloud storage.
Anyone who has a BT broadband package or an Apple device should make full use of the free storage included with those.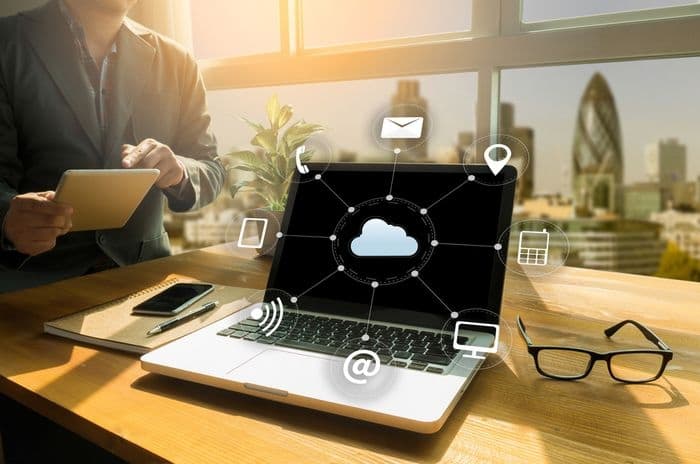 Credit: one photo/Shutterstock.com
---
Who offers free cloud storage?
Free cloud storage is available from several big-name providers in the UK, including BT, Apple and Google.
Many of us will already have access to some free cloud storage from the following providers:
| | Who's it for? | Free storage | Paid upgrades |
| --- | --- | --- | --- |
| BT Cloud | Customers of BT broadband | Up to 1,000GB | Up to 500GB extra for £9 per month |
| Apple iCloud | Apple device owners | 5GB | Up to 2TB for £6.99 per month |
| Microsoft OneDrive | Everyone | 5GB | Up to 1TB for £5 per month |
| Dropbox | Everyone | 2GB | Up to 2TB for £7.99 per month (paid annually) |
| Google Drive | Everyone | 15GB | Up to 2TB for £6.66 per month (paid annually) |
| Degoo | Everyone | 100GB | Up to 10TB for £6.39 per month |
As well as free plans, most of these providers also offer paid upgrades. The more storage we need, the more likely it is that we'll have to pay.
There are a few features to look out for when choosing a free online storage service:
Automatic backup
Some cloud storage services synchronise documents saved in a particular folder on your device with a remote server, updating them automatically each time they are modified.
Security
Cloud storage providers generally use processes such as encryption and two-step verification to strengthen the security of data that's entrusted to them.
While encryption scrambles uploaded data for those who aren't authorised to view it, two-step verification works by sending a code to a registered mobile phone. The code must then be entered online in order for users to successfully login to their accounts.
---
Free cloud storage with broadband
There is only one broadband provider who currently offer free cloud storage alongside their broadband: BT.
BT Cloud offers different storage capacities depending on which broadband package is taken:
200GB free cloud storage on packages up to 50Mb
1TB (1,000GB) free cloud storage on faster packages
If customers want to add more storage to their plan, they can increase their space through one of the following extras:
| Extra storage | Price per month |
| --- | --- |
| 50GB | £3 |
| 500GB | £9 |
These extras are not the most competitively priced options, and BT customers who need more storage than their package offers may want to supplement their cloud storage with one of the other services detailed below.
It's also worth noting that customers must activate BT Cloud - it doesn't automatically switch on when a customer signs up to BT broadband and it needs to be configured.
Existing BT customers should log-in to the BT website using their BT ID and go to their broadband management page: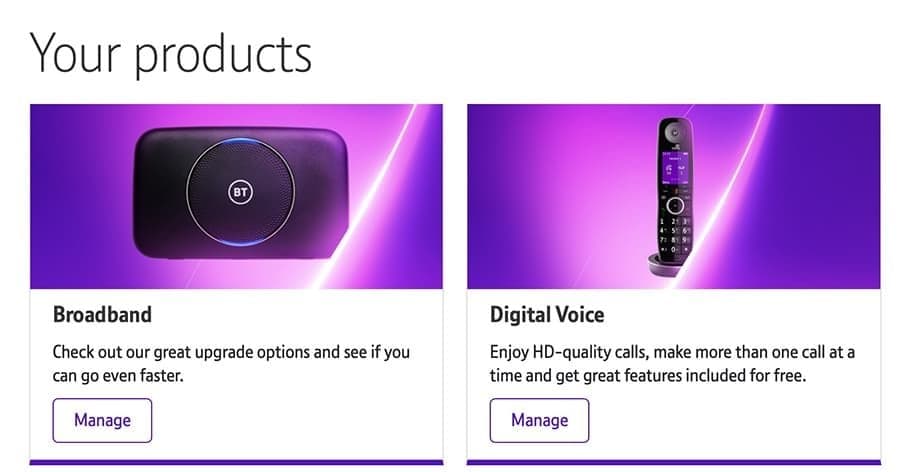 Once there, click to activate BT Cloud and wait for the service to be applied to the account. From there, customers can open a browser window to transfer files or launch a desktop app. There are also apps for mobile devices available too.
As we've mentioned, BT is the only broadband provider to currently offer cloud storage with their broadband - Virgin used to offer Virgin Cloud to customers but they scrapped that service in 2016.
---
Free cloud storage with devices
Customers with an Apple device automatically have access to iCloud storage of 5GB as standard.
This includes owners of:
iPhone
iPads
iPod Touch
Mac
Bear in mind that this is linked to the iCloud ID rather than the device, so customers can't have more than one 5GB free storage plan even if they have multiple devices.
Customers can sign up to iCloud without a device and receive 1GB of free storage, although this is a lower capacity than other free options detailed below.
As well as this free storage, Apple iCloud can also be upgraded to the following paid options:
| iCloud storage | Price per month |
| --- | --- |
| 50GB | £0.79 |
| 200GB | £2.49 |
| 2TB | £6.99 |
These upgrades are useful, especially if customers just need 50GB of data per month - it adds up to less than £10 over the course of a year.
---
Free cloud storage services
Several providers offer free cloud storage as well as paid plans.
These free storage options vary from 2GB up to 100GB, although there are pros and cons to each as we explore below.
Microsoft OneDrive
| Pros | Cons |
| --- | --- |
| Free 5GB storage | Storage upgrades disappear if a customer cancels Microsoft 365 |
| Microsoft 365 customers can get more as standard | 6TB family plan is spread across 6 people |
| Family subscription available | |
This Microsoft service, which anyone with a Microsoft email account can access, offers 5GB of free cloud storage space. This is called OneDrive Basic.
As Microsoft email addresses are free, this means customers can get up to 5GB of free storage, but there are also paid upgrade options if this isn't enough:
| OneDrive storage | Price |
| --- | --- |
| OneDrive Standalone 100GB | £1.99 (per month) |
| Microsoft 365 Personal with 1TB | £59.99 (annually) |
| Microsoft 365 Personal with 1TB per person (up to 6TB) | £79.99 (annually) |
While the first option is a standalone upgrade that just offers storage, the two Microsoft 365 plans include the Microsoft Office suite of apps and so offer a lot more value overall.
It brings the cost of 1TB down to around £5 per month, with a family allowance of 6TB to be spread across six people costing just over £6.50 per month.
Customers who have Microsoft 365 subscriptions can also add extra cloud storage to their 1TB for as long as they remain a subscriber:
| OneDrive upgrade | Price |
| --- | --- |
| 200GB | £1.99 |
| 400GB | £2.99 |
| 600GB | £5.99 |
| 800GB | £5.99 |
| 1TB | £5.99 |
As the pricing structure suggests, once a customer decides they want more than 400GB of additional storage per month, it makes sense simply to opt for the 1TB.
However, bear in mind if customers don't use the other Microsoft services, these options and unavailable and may seem expensive, with services in this list perhaps more appropriate.
The OneDrive desktop application is easy to install and comes preinstalled on Windows computers. Simply create a folder on the computer's hard drive for local storage of any files that need to go in the cloud. These files are then synced across to the OneDrive cloud storage system. There's also an option to automatically save files to the cloud.
Dropbox
| Pros | Cons |
| --- | --- |
| Free 2GB storage | Lowest free storage option available |
| 2TB storage available on paid plans | Maximum 2TB storage per person on family plan |
| Referrals can add extra storage | |
Of the big free storage options, Dropbox offers new users the smallest amount of cloud storage space at just 2GB in their Basic plan. This covers a single user across up to three devices.
Paid upgrades for Dropbox can be billed either monthly or annually, with customers receiving discounts for taking the annual plans:
| Dropbox storage | Price per month (billed monthly) | Price per month (billed annually) |
| --- | --- | --- |
| Plus (2TB) | £9.99 | £7.99 |
| Family (2TB each for up to 6 people) | £16.99 | £13.99 |
So, Dropbox only has a 2TB option that costs £9.99 per month unless customers are happy to sign up for a 12-month period and pay upfront.
The most common way people can increase their free allowance is by referring new members, with Dropbox offering 500MB to a user for every friend they successfully refer up to a maximum of 16GB.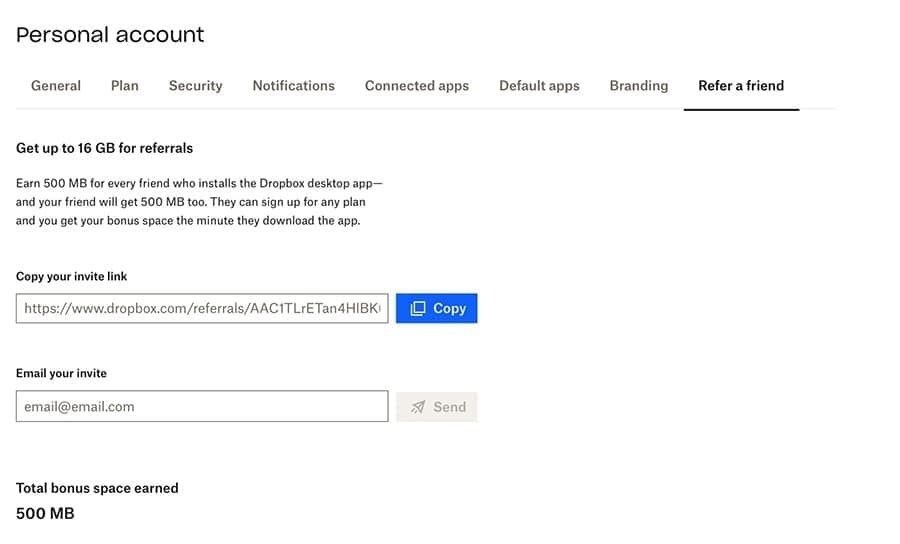 Despite the low data allowance, Dropbox is incredibly popular - mainly because it's really simple to use and it's compatible with almost every device on the market.
Once the Dropbox app has been downloaded to a computer, phone or tablet, all users have to do is copy the files they want to backup into dedicated folders that can be viewed and shared. When connected to the internet, the app will also start synchronising in the background.
Google Drive
| Pros | Cons |
| --- | --- |
| 15GB free storage as standard | Free storage spread across all Google apps |
| Paid plans up to 2TB available | |
| Includes integration with Google Docs | |
Google offer one of the most generous free online storage allowances of the providers listed, with 15GB available at no cost.
Users need to create a Google account to access the free storage, although everyone with a Gmail account already has access. There's easy access from desktops and devices, with apps available for iOS and Android devices.
However, one thing to remember with Google Drive is that the 15GB allowance is spread out over all Google services, including Google Photos and Gmail.
Note also that as well as acting as a desktop backup service, like Dropbox and OneDrive, Google Drive is deeply integrated with Google Docs.
Features include live collaboration on documents between multiple users, the ability to leave comments and feedback on shared documents, and a revision history system - which allows users to go back through changes made to a document at each save.
Customers who want more from Google Drive can upgrade to one of the following plans as part of Google One:
| Google One plan | Price per month (billed monthly) | Price per month (billed annually) |
| --- | --- | --- |
| Basic 100GB | £1.59 | £15.99 |
| Standard 200GB | £2.49 | £24.99 |
| Premium 2TB | £7.99 | £79.99 |
These prices are on par with some other services, but the 15GB free storage is such a standout option that many customers will look to Google Drive for a free service and then consider upgrading if they need the extra space.
Degoo
| Pros | Cons |
| --- | --- |
| 100GB free storage available | Basic version is ad supported |
| Huge 10TB storage option | Targeted mainly at mobiles and photo backup |
| Referral system for extra storage | |
Degoo used to be a little different as a storage solution because it offered a peer-to-peer storage system where users' data was stored on the computers of other users. However, it has now reverted to the standard cloud storage model where data is stored on secure storage.
Customers signing up to Degoo get 100GB free cloud space plus a 5GB referral bonus for each friend they refer (up to a maximum of 500GB in total).
If the amount of storage on offer isn't enough, customers can upgrade to one of the following packages:
| Degoo | Price |
| --- | --- |
| Pro 500GB | £1.89 |
| Ultimate 10TB | £6.39 |
Note that the cheaper Degoo plans come with some caveats:
The Free 100GB is ad-supported and doesn't come with zero knowledge encryption (though it does come with end-to-end encryption).
Both the Free 100GB and the Pro 500GB plans lack the photo storage maximiser available on the highest tier.
Degoo has a mix of positive and negative reviews on Trustpilot, with some criticising the adverts and others complaining about the drag-and-drop requirements of the service.
In one review response, Degoo say they are focused on photos and mobile uploads, suggesting customers who want to save other media and documents may be better served elsewhere.
Degoo works via desktop and there are apps available for iOS and Android devices. Up to five devices can be connected to one free account, while unlimited devices can connect to an Ultimate account.
---
Summary: Free storage available
Cloud storage providers like to tempt users on to their platforms with freebies, yet the ultimate aim is usually to convert us into paying customers.
Price is important when comparing cloud storage services, but it isn't the only consideration. For example, while Degoo offer a market-leading free plan, comments suggest it is mostly useful as a photo repository, meaning customers who want to frequently sync files may be disappointed.
With that in mind, here are some of our top picks depending on what a customer is looking for:
| | Cloud storage provider | Why? |
| --- | --- | --- |
| Best for free storage | Google Drive | 15GB free as standard with no ads or strings attached |
| Best for photo storage | Degoo | Geared towards keeping photos safe with a free 100GB allowance |
| Best for easy synching | Dropbox | Seamless synching between devices, although only 2GB for free |
| Best for Microsoft customers | OneDrive | Storage available as part of the Microsoft 365 suite |
| Best for Apple customers | Apple iCloud | Free 5GB storage and cheap upgrade to 50GB |
| Best for BT customers | BT Cloud | Up to 1TB of storage included for free |
Ultimately, most of us already have access to free cloud storage - whether we use it or not.
If we have an email account with Google or Microsoft, we've automatically got access to free storage with Google Drive or OneDrive. If we have an Apple device, we have a small iCloud allowance for free.
Equally, many BT broadband customers are unaware they have free cloud storage as part of their plan, something that may interest the 9 million BT broadband subscribers in the UK.
Customers who want to maximise their use of free storage without paying could look at mixing and matching services by using one for documents, one for photos and one for music.
This could become complicated, however, and the annual costs of signing up to some services are very economical.
In terms of price, here are plans from each of the four providers we can sign up to without already being a customer:
| | Amount of storage | Annual cost |
| --- | --- | --- |
| OneDrive | 1TB | £59.99 |
| Dropbox | 2TB | £95.88 |
| Google Drive | 2TB | £79.99 |
| Degoo | 10TB | £76.68 |
On price alone, then, Degoo seems to triumph, but we would caution customers on the firm's synching support and focus on photos.
It makes more financial sense to opt for the 1TB of storage offered by Microsoft as part of the personal Microsoft 365 plan - there are capacity upgrades available if a customer needs even more storage space than that.
Another place where the amount of storage we have is important is on our mobile phones, with cloud storage playing a pivotal role for many mobile users. Read more about how much mobile phone storage you need and what affects that in our dedicated guide.