How line rental 'saver' deals are costing consumers
LINE rental prices have increased by over 25% over the past three years and, to help cut the cost, ISPs have introduced pay upfront deals.
These deals allow consumers to make a significant saving on the cost of line rental, up to as much as £60 a year.
But the trade off has been that more and more customers are finding themselves locked into another year's contract, even when they've been with their provider for years.
What's the benefit?
Paying for the entire year in one fell swoop is often the simplest way to make a big saving on line rental.
BT, Plusnet, TalkTalk, Sky and Primus all offer a much cheaper deal on line rental for customers who pay 12 months in advance.
Pay upfront costs
BT: £129 (£10.75/month)
Sky: £119.40 (£9.95/month)
TalkTalk: £114 (£9.50/month)
Plusnet: £113.88 (£9.49/month)
More details here
It makes a difference. For example, BT will ask you to cough up £14.60 every 30 days if you pay for line rental monthly by direct debit and with paperless billing.
Pay for 12 months in one lump sum and the equivalent monthly cost is £10.75 a month.
That's a saving of £3.65 a month or £43.80 per year or nearly 3 months free line rental at the normal rate of £14.60.
That £3 - £4 saving is repeated throughout the market which had led to price rises over the past few months.
Plusnet's Line Rental Saver is set to rise however by an effective £1 per month from 19 June [EDIT: now increasing from July] making it £10.49 a month which I'm sure Plusnet hope won't "be no good for t'business" as they say in, err, Yorkshire.
Plusnet's Line Rental Saver is currently £113.88 per year which works out at £9.49 per month, "aye that's a good proper deal that is" as they say in err, Yorkshire.
Line rental saver deals: the new ARCs?
However, paying upfront for a full year means that though consumers don't have to stay with their phone and/or broadband provider for that full term, there's a strong incentive.
Effectively households sign up for another year even though the minimum contract for broadband services (after which they are able to switch to a cheaper or better provider without penalty) may well have passed.
At the end of last year, Ofcom banned phone and broadband providers from imposing Automatic Renewal Contracts (ARCs) which gave consumers just a small window to switch provider before being locked in for 12 months again.
If consumers want to avoid paying high 'standard' line rental line prices or paying rental twice, once to their new supplier and once to their previous provider, the effect of 'saver' deals is very similar.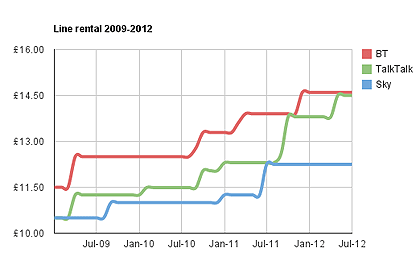 As you can see from the graph, the increasing cost of 'standard' (pay monthly by direct debit with paperless billing) rental is big incentive to pay upfront.
And this is a broadband issue too because some providers, like Sky and Plusnet, require households to take their broadband products in order to qualify for the 'saver' deal and many ISPs, like TalkTalk, ask all of their broadband customers to also take the company's line rental.
Other niggles
In order to keep costs down the providers can also attach certain conditions to the line rental deals which may be unsuitable for some consumers.
These deals nearly always require households to sign up for paperless billing, meaning the account must be managed online, something which may be off putting for some.
BT require a direct debit to be set up to cover the cost of any calls made and at least two chargeable calls must be made every month. If this doesn't happen then a charge of £1.50 is applied to the bill.
Customer service issues can also affect people using this method to pay their bills.
Reports from households which have been billed for monthly line rental despite having already paid for a whole year in advance are not uncommon.
The verdict
Overall, while line rental saver deals do tie consumers into year long contracts, more often than not, this accompanies a broadband or bundled phone calls contract with the same supplier.
That means that the problem of being tied to a provider for line rental but wanting to move your broadband subscription elsewhere is one which doesn't regularly surface.
However, it could leave some consumers unintentionally in a bit of a quandary or having to wait out a line rental contract whilst stuck on a phone or broadband tariff they are not particularly fond of using.
13 October 2017
11 October 2017
10 October 2017
Follow us or subscribe for FREE updates and special offers