BT's "dark fibre" network should be made accessible to other telecoms providers wishing to offer high-speed connections for businesses, Ofcom have suggested.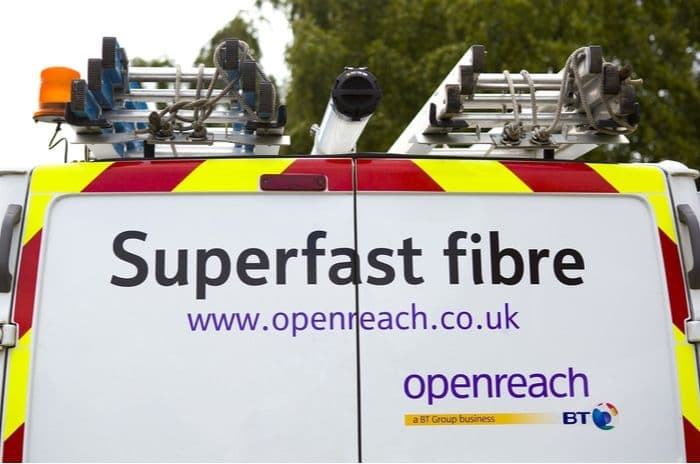 Credit: urbanbuzz/Shutterstock.com
They say opening access to the fibre network would promote competition and innovation in the "leased line" market, which is thought to be worth £2 billion.
Their proposal could strengthen the argument being made by BT's rivals for access to the Openreach infrastructure, albeit in a slightly different way than they might have hoped.
At the same time, Ofcom want to see Openreach raise their game again regarding the installation and maintenance of leased lines, bringing installation times back down to those seen in 2011.
Dark what?
What's referred to as the "dark fibre" network is basically the spare cabling in the fibre broadband infrastructure, which is owned and maintained by BT's partner company Openreach.
It's "dark" because there's no data - in the form of optical light - being passed down it.
It's long been a bone of contention for BT's rivals that no one else has any kind of access to any of that infrastructure, dark or not - and BT seem to have planned for it to be used to increase capacity, rather than competition.
Every ISP selling fibre services - other than Virgin, who have their own closely guarded fibre network - is reselling BT.
This affects both the prices those providers can charge - they need to cover BT / Openreach's wholesale prices - and what they can do for customers when something goes wrong.
But under Ofcom's proposals, the dark part of the network could be "lit" by providers other than BT, installing their own equipment at each end of the cables - then selling their own services using those cables.
Data heavy
Ofcom's Business Connectivity Market Review suggests the opened up lines should be used to create high speed, heavy data, "leased line" connections for business and public institutions.
The leased line market is worth an estimated £2 billion - and BT look after roughly £1.35 billion of that business.
Companies, libraries, universities, schools and so on rely on the lines to maintain their networks across different sites and different cities.
But leased lines are also used by mobile networks to transfer the increasing amount of data private customers - that's us - are consuming via smartphone and tablet.
To that end Ofcom are suggesting that broadband providers and mobile network operators should allow increased access to their networks as well - say, at the junction of cable and mast.
This last suggestion is part a result of Ofcom looking ahead to the implementation of the EU Civil Infrastructure Directive, due to be incorporated into UK law by summer 2016.
That will require all communication and utility network operators to "meet all reasonable requests" for access to their networks when "made with a view to deploying high speed electronic communications networks".
Improved competition
Particularly as BT plan to retire some of their older equipment - such as that providing connections slower than 8Mb - Ofcom say it's important that users have knowledge of and access to other, better, options.
They hope to spark the same kind of competition and drive in the business internet market as happened with home broadband when ISPs were allowed to install their own equipment in BT exchanges.
Ofcom say that as well as increasing competition and choice, opening the market up should also help encourage innovation - although BT were quick to say doing so could well undermine investment in their network instead.
The telecom provider will be pleased to note that the changes won't apply in London, then.
Outside the capital just 15% of businesses have access to at least two other providers when it comes to leased lines.
But as 83% of businesses in London have at least five other networks to choose from, Ofcom say such regulation just isn't necessary there.
Openreach warned
Finally, Ofcom have used the review to issue a couple of performance targets to Openreach.
Since 2011 the average time between a leased line being ordered and Openreach installing it has increased from 40 working days to 46, and last year Openreach only completed about half of those installations on the initial date it gave the customer.
So by 2017, Ofcom want to see the average time between order and installation brought back down to 40 working days.
Before that, however, Openreach must meet original installation dates at least 80% of the time by next year, rising to at least 90% of the time by 2018.
At the same time, they must also improve the maintenance of the lines they install.
That could be something of a sticking point for the other ISPs. Ofcom say, repeatedly, that: "we do not propose to require BT to provide access to its ducts."
That is, they're recommending access to either end of the cables, but not the cables themselves.
That's not quite what Sky and TalkTalk will have hoped to hear; one of the arguments they've used when calling for access to the infrastructure itself is that repairs and maintenance take too long.
But as this is just the opening stage, and the consultation part of Ofcom's review runs until the end of July, we're sure to hear plenty from everyone involved about the pros and cons of greater or lesser access.