Popcorn Time adds VPN to keep users anonymous
© PopcornTime.io
USERS of streaming service Popcorn Time can now anonymise their online movie watching, reducing the chances of being tracked down by copyright holders.
Time4popcorn, one of the many projects that rose out of the ashes of the original incarnation of Popcorn Time, has added the option to connect via a virtual private network (VPN) to the latest developer release of its Windows app.
SOURCE: Choose.net screenshot 22/5/14.
Popcorn Time uses the BitTorrent peer to peer network to stream its video content.
As a result, users connecting directly to the service broadcast their IP address to the rest of the network, that could found by anyone hunting copyright infringers and used to identify them.
As we've reported previously, a new voluntary code agreed in the UK between rights holders and ISPs will lead to broadband providers sending out warning letters to households associated with a IP that has been identified by rights holders.
Lock down for movies
VPNs reroute and encrypts all a user's web traffic through a secure server.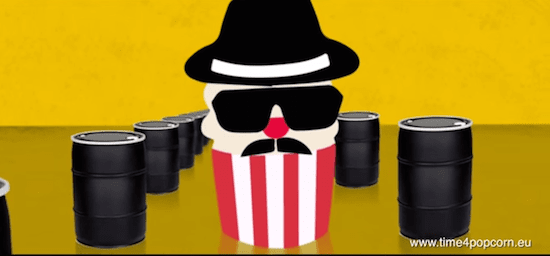 SOURCE: Time4popcorn promotional video screenshot.
This protects traffic from being intercepted and hides the original IP address because the computer makes a request to the VPN server, the VPN makes the request to the website, gets a response and then passes the response back to your machine.
Connecting to a VPN server in another country makes it appear as if your web traffic is originating from that country. This could allow UK users to access USA only streaming sites like Hulu that would otherwise be blocked, for example.
This ability to mask IP addresses makes VPNs very attractive BitTorrent users hoping to anonymise their web traffic and an easy to use VPN feature might be particularly welcome for Popcorn Time users who, as we've highlighted previously, may not be aware that they are broadcasting their IP.
From the people that bought you...
The VPN feature has been released by the developers of Time4popcorn, a clone of the original Popcorn Time service which shut down earlier in the year.
The VPN connection is provided by Kebrum, a provider based in the Seychelles.
Time4popcorn has caused some controversy as it has taken the original source code for the app and rewritten it as well as switching the service to a central server.
SOURCE: promotional video for Time4popcorn.
This raised a number of security concerns among Popcorn Time users although nothing malicious has been found as yet.
Popcorn's privacy problem
This isn't the first time that someone's suggested that using a VPN for Popcorn Time might be a good idea.
Mass adoption of VPNs could present copyright holders with a much tougher task when trying to track infringement but users of VPN shouldn't be lulled into a false sense of security that they are fully immune to being caught out.
How filesharing laws
affect broadband users
VPN services still have to comply with the law and the vast majority maintain logs that, if they were to be requested by law enforcement agencies who detected illegal activity, could potentially identify connections.
Kebrum states on their website that they keep server logs on an "offshore server" as a "necessary evil of protecting our business from legal entanglement", going on to say that "however, we only keep them for three days; if no official complaints regarding unlawful activity are submitted during that time then these logs are automatically deleted".
Kebrum is officially registered in the Seychelles which is said to have stricter privacy law than Switzerland. How likely it is that a copyright holder can execute a search warrant in the Seychelles within three days has yet to be tested.
However, it seems highly likely to frustrate rights holders in the UK and around the world.
13 October 2017
11 October 2017
10 October 2017
Follow us or subscribe for FREE updates and special offers