Loans to make home improvements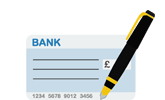 }
Comparing personal loans with us offers you:
Powerful search to find the best deal
Guides and reviews to help you decide
Compare deals on borrowing to finance home improvements using the table below.
Home improvement loans are available from a range of UK lenders. They vary in cost depending on how much we want to borrow, the length of the repayment period, and, of course, the rate of interest charged by the lenders.
To find the cheapest home improvement loans, search by how much you'd like to borrow or how much you'd like to repay each month.