Sky Q: Sky's next generation TV system explained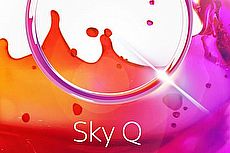 © Sky
IT'S more than 15 years since Sky+ appeared; many of the features that seemed almost revolutionary when it launched are now commonplace.
As other set top boxes caught up - and in some cases - overtook the original smart viewing platform, as HD became standard, as catch-up and on demand content accounted for more of our viewing - Sky+ started to look, well, ordinary.
With the launch of Sky Q in February 2016, however, it became clear that the satellite broadcaster had been hard at work on an update: Sky Q is as far ahead of Sky+ as Sky+ was ahead of everything else back when it launched in 2001.
It's got more tuners than any other box out there, it can stream content to multiple devices and screens, and it might even improve our home wi-fi.
In this guide we look into what it offers, starting with the boxes themselves, the packages and the prices we can expect to pay.
We also look into the extras - those that have been included and those we can add - and consider whether it's worth existing customers upgrading.
The Sky Q boxes
Usually we'd look at the hardware much later on, but as they're the big selling point we'll go into the details of each of the boxes now.
Sky Q 1TB
The Sky Q 1TB box is now the standard box for anyone getting Sky TV. It has a mere eight tuners. Four of these are devoted to what we'd consider traditional TV - watching one channel while recording up to three others, or recording four different channels at once.
A fifth tuner is kept aside for streaming to a single Sky Q Mini box; a sixth looks after streaming to a tablet via the Sky Q app.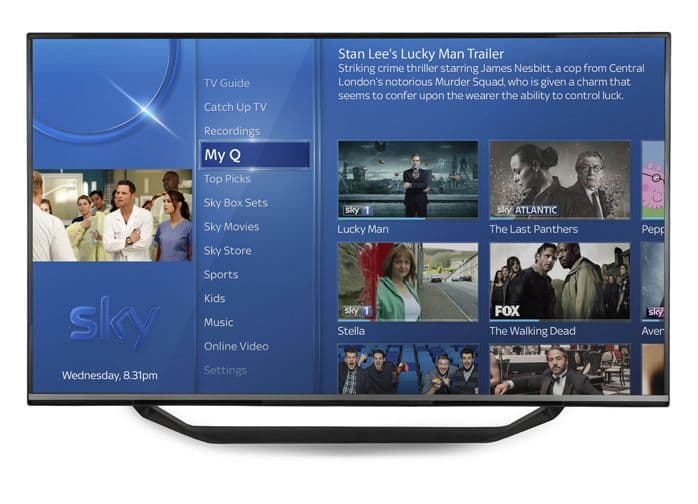 Tuners seven and eight are used to provide a channel preview in the mini guide, and to keep all the data used by the box up to date.
The 1TB hard drive isn't all for use by customers, but Sky say we should be able to store up to 150 hours of HD recordings on the 700GB available to us.
Sky Q 2TB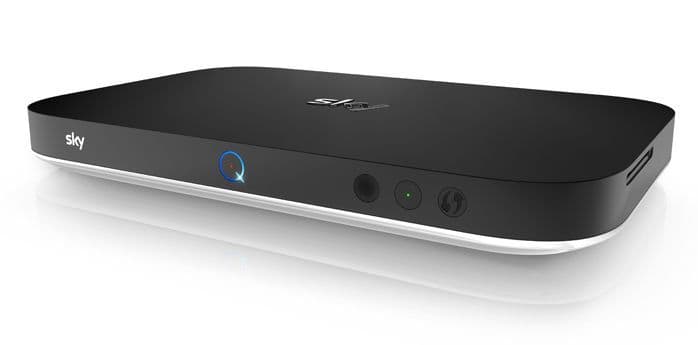 The Sky Q 2TB box is the renamed Sky Q Silver box, pictured to the right.
There are two important things to note about it. The first is that this is the box that's capable of showing Ultra HD content.
The second is that it contains a whopping 12 tuners. At the moment, five of these are for "live" viewing and recording with four reserved for streaming to two Sky Q Mini boxes and up to two tablets at the same time.
As with the Sky Q 1TB box, two of the final three are needed for previewing other channels and keeping the box up to date, and the 12th is there for future use.
From some point later this year, two extra tuners will be devoted to live TV (taking the number of simultaneous recordings possible up to seven). One of these will be the spare mentioned above, but it's as yet unclear which of the others will be rededicated.
Sky say that 1.7TB of the 2TB drive is available to customers to store content- which should be enough for up to 350 hours of HD recordings.
As mentioned above, the Sky Q 2TB box is UHD ready: BT TV may have got there first, but from August 2016, people taking this box with a Sky Q Multiscreen subscription have been able to get what Sky have trailed as "the UK's most comprehensive Ultra High Definition service", with a mixture of entertainment, sport and movies.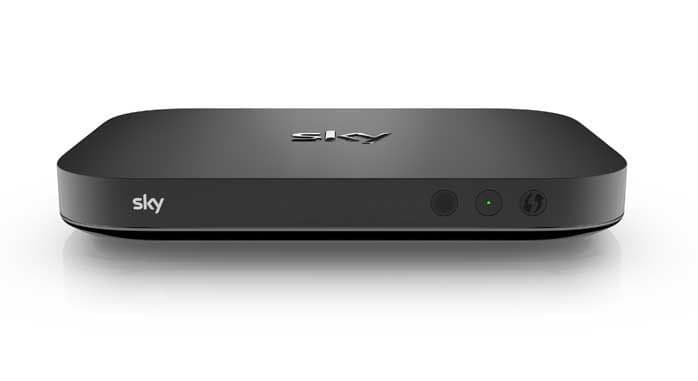 Sky Q Mini
Sky Q Multiscreen relies on customers having one or more Mini boxes. These don't contain any tuners of their own.
Instead they stream content from the main box in the house - and for those with Sky Broadband they act as wi-fi hotspots, boosting the signal from the main router.
All of these boxes are also 3D compatible.
Sky Q Hub
When Sky Q launched, customers had no choice but to sign up to Sky's broadband, but within a few months they removed that restriction - so anyone who's happily using another ISP's network can stay put if they wish.
One advantage that comes with moving to Sky Broadband, however, is that all Sky Q customers get one of Sky's new broadband hubs.
The Sky Q Hub is a much sleeker looking thing than the existing Sky Hub. The 5GHz part of the dual band wireless has been upgraded to support the 802.11ac protocol, and it can support connections of up to 1 Gigabit.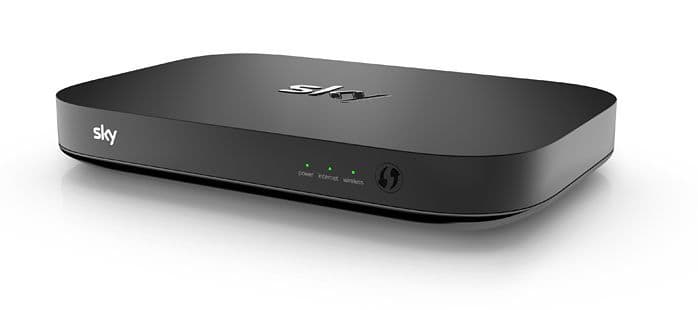 The slimmer shape means it has fewer Ethernet ports than its predecessor - two rather than four - but this is made up for in part by the fact that having one turns every Sky Q box in the house into a wi-fi hotspot.
It - and the other Sky Q boxes - have also been developed to support Powerline technology, which uses the home's electrical wiring to allow devices to communicate with each other without cables trailing between them.
This feature isn't fully available yet - but when it is, it should make streaming via Sky Q and going online everywhere in the house even smoother.
The packages
At launch, the main choice customers had was about hardware, not content; being Sky's premium service, it made sense to launch with their best channel bundle, the Box Sets Bundle (previously known as the Family Bundle).
Within a few months Sky made it available with the Variety Bundle as well - and as mentioned above, the 1TB Sky Q box is now the standard box with every new Sky TV subscription, whatever the channel pack people choose.
If that's not enough, however, there's always the option to upgrade to the Ultra HD compatible 2TB version - or consider going for Sky Q Multiscreen by adding one or more Mini boxes.
This is another change from when Sky Q launched. Previously there wasn't much choice as to whether new customers got a Mini box: those who wanted the 1TB box missed out, while those going for the 2TB box got one whether they wanted it or not.
Because each of the main boxes is capable of streaming to at least one other device, Sky Q is pretty much multiscreen by default - and a full Sky Q Multiscreen subscription will enable users to get the most out of the new service.
But for those who aren't interested in getting a Mini box, the bundles cost the same per month as they do for Sky+ customers:
Package
Kit
Channels
Contract term
Upfront price
Monthly price
Sky Q:
Original bundle
Sky Q
1TB box
286 (11 HD)
Online Video
18 months
£15
£22
Sky Q:
Variety bundle
Sky Q
1TB box
326 (11 HD)
Online Video
18 months
£15
£32
Sky Q:
Box Sets bundle
Sky Q
1TB box
365 (50+ HD)
Online Video
18 months
£15
£38
Those going for an extra box have the following options:
Package
Kit
Channels
Contract term
Upfront price
Monthly price
Sky Q Multiscreen: Original bundle
Choice of Sky Q box
+ Sky Q Mini Box
286 (11 HD)
Online Video
12 months
From £15 to £60
£34
Sky Q Multiscreen: Variety bundle
Choice of Sky Q box
+ Sky Q Mini Box
326 (11 HD)
Online Video
12 months
From £15 to £60
£44
Sky Q Multiscreen: Box Sets bundle
Choice of Sky Q box
+ Sky Q Mini Box
365 (50+ HD)
Online Video
12 months
From £15 to £60
£50
There's more on what's included in each of these bundles, and the extra channels available, in our full review of Sky TV in general, here.
Extra screens
As mentioned above, Sky Q is designed to be a multiscreen service by default, capable of streaming content to either another TV via a mini set top box or to a tablet.
Compare that with the way the Sky+ boxes work, completely separately from, and independently of, each other - so if we've recorded Poldark on one, we can't watch it via another.
Adding one multiscreen box costs £12 a month on both platforms. But add more than one extra box, and things change quickly.
Sky+ customers had to pay another £12 a month for each extra box; Sky Q Multiscreen customers can add another three boxes and not pay a penny more per month:
Monthly price
Monthly price
One box
Two boxes
Three...
Four...
Sky+
From £22
From £34
From £46
From £58
From £70
Sky Q
From £34
Included with subscription
From £34
Sky Q customers do face higher setup fees, however.
Even more screens
Everyone who gets Sky TV gets Sky Go, which allows them to stream content included in their bundle on a range of devices, from computers to mobile phones, wherever they have a good enough data or broadband connection.
All Sky Q customers can stream content from their main box to at least one tablet, but those with one main Sky Q box will need to sign up for Sky Go Extra, at £5 a month, if they want to be able to stream or download content to more than one other device at a time.
Those with Sky Q Multiscreen get the equivalent of Sky Go Extra free of charge, in the form of access to the Sky Q app.
Multiscreen customers can register up to four mobiles or tablets, then schedule recordings or downloads on the main box, or watch downloads and on demand content on all of them at the same time, wherever they are.
For Multiscreen customers with the 1TB box - which can only stream to one tablet and/or one Mini box - it'll give them far more viewing options, even if they are limited to recordings or downloads, and on a smaller screen.
Sky Q HD and Ultra HD content
When Sky Q first appeared, one of the headline features was that people getting Sky Sports or Sky Cinema would automatically get them in HD, another was that the 2TB boxes were Ultra HD ready.
Since then things have changed a little - and not in an entirely logical way.
As we reported when Sky Movies regenerated into Sky Cinema, everyone who takes the premium channel pack - whether on the new platform or on Sky+ - now gets all those channels in HD as standard, for the same price (£18 a month).
But in what seems like something of a backwards move, at about the same time Sky removed the ability for new Sky Q customers to get Sky Sports in HD as standard when adding the pack to any base bundle.
Instead they now have to do the same as those with Sky+ have done for some years - sign up for the Box Sets Bundle, then add the separate HD pack at £6 a month.
Regardless of which bundle they have, customers will have access to a range of entertainment and documentaries in UHD on demand.
Those with Sky Cinema can also expect to find at least 70 movies available on demand in Ultra HD; those with Sky Sports will be able to watch live or record various events, including 124 Premier League fixtures this season and every 2017 F1 race - with no extra subscription or special add-on pack required.
Even better, whereas every other Ultra HD package or service in the UK at present really needs a fibre broadband connection to run smoothly, Sky Q's Ultra HD content is available whatever the speed of our broadband connection.
That's because it's broadcast via satellite, using one of the box's many tuners to receive the content - even if we're watching on demand rather than live content.
As mentioned above, Sky Q boxes are 3D compatible as well as UHD ready. Although Sky closed their 3D channel in June 2015, they do still offer on demand 3D content - mostly in the form of films through Sky Cinema's on demand service and the Sky Store.
Setup costs
The next thing to note about Sky Q is that it represents a shift in the way Sky charge for their equipment.
Previously Sky customers have owned their set boxes - having been given them free when signing up, or buying one of their previous better boxes outright.
Sky Q boxes, however, are only on loan to us - an arrangement that has its advantages. Everyone signing up for Sky Q will get it professionally installed, and can expect free servicing and mechanical fault repairs for as long as they have it.
Early adopters may point out that the boxes didn't exactly feel free, because the setup costs - also known in Sky Q parlance as "Smart Feature activation" - were at least £99, and up to £299 depending on the equipment and other services customers wanted.
Those early adopters might feel a little aggrieved to see how those setup costs have come down:
Equipment
Without Sky Q Multiscreen
With Sky Q Multiscreen
Sky Q 1TB
£15
£15
Sky Q 2TB
£199
£60
Extra Sky Q Mini boxes
£99 each
Note however, that anyone who wants more than one Sky Q Mini box must pay a £99 activation fee for each extra box they add to their bundle - so someone who wants a four room subscription to Sky Q Multiscreen faces setup costs of at least £213.
Sky's other services
Sky haven't been just a TV provider for a long time - and a large proportion of their TV customers also take their phone and broadband services.
While Sky Q customers don't have to take Sky Broadband, there are often benefits to bundling, such as discounts on the cost of the broadband or calls. Here are the offers available to new customers at the moment:
What's on offer?
When you join online for:
Need to know:
Reward Choice: £75 Tesco or M&S voucher or Prepaid MasterCard
Sorry, this offer ended 27 March 2017
Any Sky TV bundle
18 month minimum term. From £15 setup. Reward delivery charge of up to £5.50.
Sky Unlimited Broadband + line rental £18.99/mth for 12 months (then £28.99/mth)
Hurry! Offer ends in 2 days!
30 March 2017
Sky Unlimited broadband
(without Sky TV)
12 month minimum term. £9.95 set-up fee.


Taking Sky Q TV with Sky Broadband also means taking Sky's phone service.
Sky Talk
Sky's line rental costs £18.99 a month, and it doesn't come with any inclusive calls. Customers can add a call bundle if they want, with prices starting from £4 per month:
| | Plan | Contract term | Monthly price | |
| --- | --- | --- | --- | --- |
| | Pay As You Talk | 12 months | £18.99 | |
| | Talk Evenings & Weekends Extra | 12 months | £22.99 | |
| | Talk Anytime Extra | 12 months | £26.99 | |
| | Talk International Extra | 12 months | £30.99 | |
Once they have both TV and a phone line, Sky customers can add on the provider's light use broadband package, Sky 12GB, for £5 a month - but most Sky Q customers are likely to find one of the unlimited broadband deals is better suited to them.
Sky Broadband
Here are the details of those unlimited packages:
Package
Broadband
Contract term
Upfront price
Monthly price
Broadband Unlimited + Talk
Up to 17Mb
Unlimited
12 months
Free
£18.99
for 12 mths,
then £28.99
Fibre + Talk
Up to 38Mb
25GB usage
18 months
£39
£20
for 18 mths,
then £28.99
Fibre Unlimited + Talk
Up to 38Mb
Unlimited
18 months
£39
£30
for 18 mths,
then £38.99
Sky Fibre Max + Talk
Up to 76Mb
Unlimited
18 months
£39
£35
for 18 mths,
then £43.99
It's worth bearing in mind, however, that while Sky TV is available pretty much everywhere in the UK, Sky Broadband isn't.
There's more detail on availability in our main guide to Sky Broadband here.
Sky Mobile
At the time of this update, Sky have not long started selling contracts for their long awaited SIM-only mobile virtual network, using O2 to provide the backbone of the service.
Prices start from £10 a month for 1GB of 4G data - and depending, on whether we have Sky TV or not, unlimited calls and texts:
Data
Calls and texts
Contract term
Monthly price
1GB
Sky TV customer

Everyone else
Unlimited

Pay as you use
12 months
£10
3GB
12 months
£15
5GB
12 months
£20
There's more detail on Sky Mobile in our full review.
I want to upgrade
So now we've explained Sky Q in depth, how much will it cost existing Sky customers to upgrade?
It depends on the package they're after, and the main Sky Q box they choose.
| | Main box | Without Sky Q Multiscreen | With Sky Q Multiscreen |
| --- | --- | --- | --- |
| | Sky Q 1TB | £199 | Up to £49 |
| | Sky Q 2TB | £199 | Up to £99 |
Existing customers who don't have Sky+ Multiscreen but who opt for Sky Q Multiscreen when they upgrade will face the same setup charges as completely new customers - that is, £15 for the 1TB box, and £60 for the 2TB box.
The emphasis on Sky Q Multiscreen may seem unfair at first, but of the three big differences between Sky+ and Sky Q, two of them are intimately connected with the multiscreen option: the ability to stream content from one box to another, and the fact that on a monthly basis, having multiple Mini boxes costs the same as having one.
The third big difference is that Ultra HD capability - but let's not forget that anyone wanting Sky Sports in HD must get the broadcaster's most expensive base bundle, then pay an extra £6 per month on top of that.
In other words, we should expect to have to meet some extra condition to be able to watch 4K HD content - and Sky have gone with the option that we'd say allows users to get the most out of the service.
It's also worth remembering that upgrading means committing to a new contract, of at least 18 months long.
When Sky Q first appeared, we said that the more of Sky's premium services we were interested in, or already had - from on demand and UHD content, to watching wherever and whenever we want - the better value Sky Q would appear, and that remains the case.