Samsung Galaxy Gear vs. Sony SmartWatch 2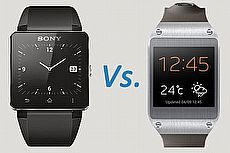 SAMSUNG and Sony have both announced their contribution to the next step in 'smart' technology: smartwatches. Who will come out on top?
Samsung recently revealed its foray into the world of smartwatches at IFA Berlin, with the Galaxy Gear. Whereas, Sony beat the Korean tech giants to market with its Sony SmartWatch last year.
However, after achieving little success and a lot of criticism, it has now released a sequel: the SmartWatch 2 (SW2).
Apple, on the other hand, has completely missed the boat - or has the idea been shelved? The long-rumoured iWatch was nowhere to be seen at the iPhone launch in California.
It's possible that Apple has decided to hang back on the iWatch after seeing the rather lukewarm reception of other smartwatches. That or it just isn't ready yet.
With Apple missing from the ring, who will be crowned champion - Samsung or Sony?
Design
The good news is that the Sony SmartWatch 2 looks very similar to its predecessor - slick, small, light and rather sexy. It features a silicone wristband (we await the news of interchangeable coloured straps, but watch this space) and an aluminium body.
The SW2 measures just 0.35 inches thick and has an almost square face, at 1.65 inches tall by 1.61 inches wide. Thanks to its small size, it weighs in at a very reasonable 0.8 ounces.
Unfortunately, Samsung didn't take the same approach as Sony. It is much bigger and heavier than the SW2. The exact measurements are 1.45 inches by 2.2 inches, with a thickness of just less than half an inch (0.44 inches). You'll also notice a weight difference, with the Galaxy Gear a huge 2.6 ounces.
Samsung has also given the Galaxy Gear a rubber strap, although not quite as comfortable as Sony's. However, it's already been noted that the Gear will be available in various colours, each preceded with an unnecessary adjective: jet black, mocha grey, wild orange, oatmeal beige, rose gold and lime green.
Screen
While the SmartWatch 2 might seem like the better option because of its more wrist-friendly size, this does pose a couple of problems. Most notably the small display screen.
It does measure a reasonable 1.6 inches, but it doesn't seem large enough. And with a measly 220x176 pixels, compared to the 320x320 resolution from Samsung, it is definitely lacking.
Users of the original SmartWatch will be pleased to note that Sony has considered sunlight this time around, giving the SW2 a transflective LCD screen.
It's clear that Samsung has beaten Sony on screen resolution and large 1.63 inch OLED display screen, but it also wows with bright colours and high contrast.
Battery
Sony and Samsung have claimed that their smartwatches will last for very different lengths of time: the Gear has a reasonable 25 hours, but the SW2 apparently keeps going for three to four days.
Impressive: yes. Realistic: no. The original SmartWatch battery was also supposed to last for a few days, but in reality it lasted around 24-36 hours. Samsung don't seem to have overestimated how long the Gear battery will last, but only time will tell.
Either way, it's probably wise to charge the watch daily to ensure you don't get caught out.
User interface
Both smartwatches have an easy-to-use interface, although the Sony SW2 offers something much simpler, compared to the Galaxy's simplified Android UI.
Sony's offering is again very similar to the original SmartWatch (are you sensing a pattern here?), with sliding widgets and a touchscreen. If you pinch the screen, you'll be presented with the app tray, where you can access all the installed apps.
It is possible to change the watch faces - a nice feature, but one that can only be done via the app on the smartphone. One huge benefit of the SW2 is its universal compatibility with the vast majority of Android devices.
This is most definitely where Samsung has failed. At launch, the Galaxy Gear will only be compatible for the Galaxy Note 3. That's it.
Samsung does promise that future updates will allow the Galaxy S3, S4 and Note 3 to work with the watch, but if you're not a Samsung owner, don't expect to get your hands on the Gear any time soon.
Forgetting that minor issue for a minute, the UI is excellent. It's so easy to navigate through the apps and menu thanks to its large tiles and font. Unlike the SW2, which hasn't updated much since last year's SmartWatch, the Gear offers users plenty to play with.
Features
Camera
The first and most obvious difference between these two smartwatches is the camera. The Galaxy Gear packs in a 1.9MP camera in the wristband. It's not just images either; it can also capture 720p HD video.
The SmartWatch 2 either isn't as advanced as the Gear, or the makers behind it thought that the feature wouldn't be used by anyone other than international spies, but it doesn't have a camera at all.
Notifications
Some things that Sony does out do Samsung on are email and social media. It allows users to read the details of notifications from Gmail, Facebook and Twitter, whereas Gear users will need to grab their phone.
Making calls
As well as just receiving notifications, the SW2 allows you to make calls from your wrist. However, as there isn't a microphone or speaker in sight, you'll either have to use the handset or pair up a Bluetooth headset - frustrating.
This is one area where the bulky Gear shines; you can actually make calls from your wrist. You might not fancy a whole conversation through your smartwatch, but it could come in handy when you're in a rush.
Communication
Fans of Sony devices won't be surprised to see the inclusion of NFC (near-field communication) into the SmartWatch 2 - it's a piece of technology they've been touting on their smartphones for a while.
So, instead of having to mess about linking the devices, you just need to tap the two together (provided your phone has NFC technology, of course).
Samsung has also shown a dedication to NFC in its Galaxy smartphones, but hasn't felt the need to incorporate it into the Gear.
Oh, and both have a clock. These are timepieces after all.
Conclusion
The Galaxy Gear comes with a huge £299 price tag - likely to put off even the most eager of Note 3 users. However, if you do happen to be purchasing both devices at the same time, you'll save £100.
It has everything you could expect from a smartwatch at such an early stage in the market, but whether it's worth almost £300 is debatable.
Its main rival (at least for the moment), the Sony SmartWatch 2 is a much more wallet-friendly £120. It's likely to do better than the Gear due to its universal compatibility, but with an outdated UI and lack of features, it isn't anywhere near as advanced as the Samsung Galaxy Gear.
Overall, the Gear is the clear winner in terms of functionality, features, usability and well, just about everything. However, with Galaxy Note 3 users the only ones able to take advantage of such brilliance, the Sony SW2 will have to do - for now at least.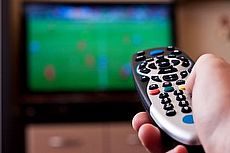 15 November 2017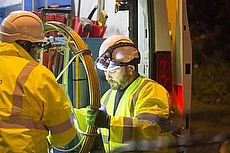 10 November 2017
9 November 2017
Follow us or subscribe for FREE updates and special offers