Lloyds Bank Choice Rewards vs Avios Rewards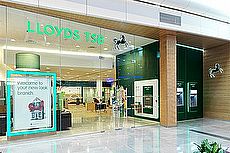 IDENTICAL except for the rewards on offer, which of these cards we'll find suits us better depends on whether we travel or prefer to staycation.
Both come with two cards - an American Express and a Mastercard - but one pin, one account and one bill. Lloyds (and their old stablemates TSB) aren't the only providers to offer this kind of arrangement - the Virgin Atlantic card from MBNA is similar.
The Choice Rewards card gives holders the option of converting collected points into cashback as well as vouchers and other rewards - including Avios.
The Avios Rewards card only allows account to holders to collect and redeem Avios, although these can be swapped for more than just travel perks.
The cards in detail
Before looking at the rewards on offer, let's look at the cards themselves. Here's a quick summary of each:
Lloyds Bank Choice Rewards Card
And the Lloyds Bank Avios Rewards card:
Both of these cards offer a purchase rate of 18.94% per annum (variable) - but with the £24 annual fee that amounts to an annual rate of 23.7% APR representative (variable).
At the time of this update, however, both cards come with the following introductory offers:
0% interest on purchases for the first 24 months (usually 18.94% p.a. variable)
0% interest for the first 24 months on balance transfers (usually 18.94% p.a. variable) made within 90 days of account opening, subject to a 3% fee
Not all customers will get a rate of 23.7% APR representative (variable). Those who aren't will find themselves offered a rate of either 26.9% APR (variable) or 31.1% APR (variable), depending on their individual circumstances.
With both the Avios and Choice Rewards cards, spending on the American Express cards earns points faster - five times faster, in fact.
On the Choice Rewards card, a £5 spend earns 50 Choice points compared to just 10 with the Mastercard.
With the Avios card, Amex usage earns 1.25 Avios per £1 (that's 5 Avios per £4), but spending on the Mastercard earns 1.25 Avios per £5 (that's 5 Avios per £20).
Given that Amex is more widely accepted than many people assume, it's worth keeping the Mastercard handy, but using it only when absolutely necessary.
Here's how the two cards compare against each other:
Lloyds Bank Choice Rewards Amex
Lloyds Bank Choice Rewards MasterCard
Lloyds Bank Avios Rewards Amex
Lloyds Bank Avios Rewards MasterCard
APR representative (variable)
23.7% APR
23.7% APR
Annual fee
£24
£24
Introductory rate?
0% on purchases for 24 months
0% on purchases for 24 months
Balance transfers
0% interest for 24 months when transferred within 90 days (3% fee)
0% interest for 24 months when transferred within 90 days (3% fee)
Cash handling fee
3% or £3 minimum
3% or £3 minimum
Foreign transaction fee
2.95% of the transaction value in sterling
None
Rewards
50 Choice points per £5 spent.
Double Choice points for the first six months
10 Choice points per £5 spent
1.25 Avios per £1 spent.
Double Avios for six months, on up to £2,500 spend per month
1.25 Avios per £5 spent
Other benefits
Points can be exchanged for cashback, at £10 per 10,000 points.
Flight upgrade voucher when £7,000 spent in one year - valid for two singles or one return trip on British Airways
Rates and fees in the table above were correct at the byline date of this article. Visit the provider websites for up to date information.
Note the international flavour of the other benefits available with the Avios Rewards card - no foreign transaction fees and a free flight upgrade once £7,000 has been spent on the card within one calendar year.
Otherwise, this is how we can expect to see our reward points stack up based on how much we spend per month:
Monthly spend
Rewards earned per month
Choice Amex
Choice Mastercard
Avios Amex
Avios Mastercard
£300
3,000
600
375
75
£600
6,000
1,200
750
150
£1,000
10,000
2,000
1,250
250
But what can cardholders do with those points and Avios?
Choice rewards
One of the main rules when it comes to making a rewards card work for us is to find one that gives us benefits we can use.
Although Choice points might not seem as glamorous as Avios, they can be redeemed for a wider range of goods and services.
Collectors can redeem their Choice points for cash, vouchers or gift cards - or for Avios.
Opting for a voucher or gift card will make our Choice points go furthest: a £10 voucher to spend in a participating retailer will cost us 6,650 points, while £10 in cash back requires 10,000 points.
Among the retailers involved in the scheme are Boots, Argos, and Debenhams on the high street, and Amazon and iTunes online.
This is what else points can be redeemed for:
15,000 points: a six-month subscription to various monthly magazines
A yearly subscription to a weekly magazine ranges from 60,000 to 80,000 points.
A £50 gift card weighs in at 33,250 points.
Or, as mentioned above, there's the option to convert Choice points to Avios, with each Avios costing 10 Choice points.
Look at the table above again, showing how many points per scheme spending on each card can earn us. Let's use the lowest monthly spend as a quick example.
Spending £300 a month on the American Express version of the Choice Rewards card can earn us up to 3,000 Choice Points. Converting them all would give us 300 Avios.
Spending £300 a month on the Mastercard would give us up to 600 Choice points, which could be converted into 60 Avios.
Card
Monthly spend
Points earned
...in Avios
Choice Rewards (Mastercard)
£300
600
60
Choice Rewards (Amex)
£300
3,000
300
Avios (Mastercard)
£300
75
75
Avios (Amex)
£300
375
375
That's fewer than we'd earn with the dedicated Avios Rewards card, but for those who want to be able to use their points for everyday treats as well as more adventurous rewards, it's a reasonable rate.
Avios
As mentioned above, the Avios Rewards card is squarely aimed at travellers, with the lack of non-sterling transaction fees adding to the appeal of earning British Airways loyalty points.
Avios aren't just useful for helping holders earn free flights or hotel stays, but the rewards on offer tend to be slightly more Uptown than High Street.
Here are the examples Lloyds offer:
| Avios | Reward |
| --- | --- |
| 3,000 | Health club day pass for two |
| 4,500 | Paintball or Traditional afternoon tea for two |
| 7,000 | The Favourites Six wine case |
| 7,000 | West End theatre ticket (silver) |
| 9,000* | A return flight to destinations like Nice, Amsterdam and Berlin |
| 15,000* | A return flight to destinations like Barcelona, Rome and Venice |
* plus some charges, as follows.
On top of redeeming their Avios, customers also pay either:
airline taxes, fees, and carrier charges
a flat rate of £35 per person return for a Reward Flight Saver ticket
Most Avios credit card holders should qualify for the Reward Flight Saver.
Alternatively, 9,000 Avios is enough for a return trip to Paris on Eurostar - equivalent to the £69 return tickets available - without any pesky taxes or extra payments.
7 August 2017
Follow us or subscribe for FREE updates and special offers