Who will pay for your care in old age?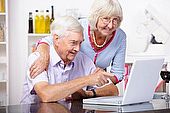 There are more than 10 million people in the UK who are over 65 years old. Three out of four of these will need care when they become physically or mentally infirm.
Types of care available range from a daily visit from a helper to live-in residential care.
Costs, too, vary dramatically. While the average cost of home care is £13.68 an hour, someone in a residential care home can expect to pay around £27,144 a year.
Who pays for this care depends on an individual's monetary situation - their income, savings and, in relation to residential care, the value of their home.
In brief: who pays for care?
Care bills are footed by the state, the individual or a combination of both.
The first step, according to Barbara Davies, Director of The National Careline, is to:
"Establish whether you need to pay for your care at all. If so - do your sums - take account of all the income coming in and ensure that you have claimed all benefits due, subtract the cost of the care from this total, which will then leave you with the amount on which you base your planning to pay for your care."
Funding help at home
There are more than 700,000 people over the age of 65 who rely on home help for day-to-day activities such as dressing, washing, and eating.
Home help can be arranged and funded independently, or subsidised through the council.
At the time of writing, the numbers of people self-funding are roughly equal to the numbers in receipt of council-funded care.
For those seeking help shouldering the cost of home help, the first step is arranging a needs assessment from the local authority.
If the person is deemed to require care under the local eligibility criteria, the local authority has a duty to meet those needs, but can charge for doing so.
The council will calculate the cost of providing the necessary services and then the individual will be means-tested to assess whether they need to contribute anything.
Means-testing takes into account the individual's incomes and savings.
Those deemed to have more than £23,250 in savings and income will have to pay for support. Those with less than that will contribute to the cost.
For home help, the value of an individual's home isn't taken into account.
It's important to note that even those individuals who are not entitled to financial help from the council, are entitled to free advice from their local social services department about how best to meet their needs.
Personal budgets
Personal budgets were introduced across England in April 2013.
They provide recipients with an agreed upon amount of council money that can be used to arrange and pay for care and support, but they cannot be used to pay for permanent care in a care home.
Money is paid to the individual, or to a managed account, and allows them to choose the services or equipment that best meet their needs.
The personal budget gives the individual more freedom, in that they can source carers themselves and arrange for their own meals and other activities.
If an individual doesn't want to manage the money themselves, they can set up a user-controlled trust so that a family member, friend, solicitor or the council can manage it on their behalf.
Attendance Allowance
Attendance Allowance is for people who are over 65 and need help looking after themselves due to illness or disability. The two weekly rates are £79.15 for people who need help both in the day and at night, and £53 for those who either need help in the day or at night.
Attendance Allowance is not means-tested and receiving it doesn't affect any other benefits individuals might claim.
However, those individuals who are already claiming Disability Living Allowance will not be able to claim Attendance Allowance.
Paying for a care home
Care homes are notoriously expensive.
"The average care self-funder currently pays around £35,000 a year for an average of four years - often paid for using the equity in their home," says Nick Kirwan, Director, ILC-UK Care Funding Advice.
"Fifty-eight percent of people currently in residential care pay at least part of the cost themselves."
Another figure, provided by the BBC, states that 10% of people aged over 65 face care costs of more than £100,000 during their lifetime.
Following pressure from campaigners, the Government announced in February 2013 that bills for long-term care in old age would be capped at £75,000 in England.
This will not include accommodation costs, such as heating, food and paying for the room.
It also said that the threshold beneath which people will receive means-tested Government support for care bills would rise from £23,250 to £123,000.
Unfortunately, these measures won't be implemented until 2017.
At the moment, approximately 20,000 people per year are forced to sell their homes in order to meet the bills for long-term care.
This is because the average pensioner has to survive on an annual income of just £13,998.
While the above changes might seem like good news, the average house price in the UK is £238,293, which means that a majority of home-owners will still be above the new threshold of £123,000.
This means it is still likely that many people may have to sell their home to pay for care.
The good news is that once the value of their estate has dropped to the £123,000 threshold, the state will start to pay.
Planning for later life
By 2050, the number of over-65s is expected to reach 19 million, or roughly one-in-four people.
This will put quite a burden on the state - an estimated extra £10 billion a year for every additional one million people over working age.
With this in mind, it's wise to prepare in advance. At the moment, the maximum state pension is a relatively measly £110.15 per week, a figure that is unlikely to get proportionately better as the years progress.
Paying into a personal pension is therefore vital to ensuring good quality care in old age.
Worryingly, the Pensions Policy Institute reports that as of 2009/2010, just 37% of women and 40% of men were paying into a non-state pension.
Those who do manage to reach pension age with a bit of money behind them should take further precautions, says Nick Kirwan.
"Making the right choices about your private pension when you retire is critical: once you've chosen an annuity, you're stuck with it for life.
"It's also a good idea to make a living will and a power of attorney: if your family need to help with your care, medical and financial affairs, it could be a lot more difficult and expensive without these."