Broadband for all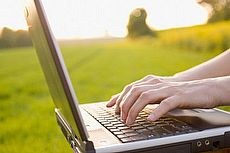 100% broadband coverage, otherwise known as "broadband for all" and, more recently, "superfast broadband for all", has long been an ambition of the UK's Government and regulators.
How are we doing?
Households with broadband
According to the most recent Ofcom figures, 98.7% of households can access fixed line broadband in the UK.
1.3% are in "potential broadband notspots", usually because they're too far away from the exchange to receive an ADSL service.
It could be that this small minority are covered in other ways - by mobile or satellite broadband or through a community WiMax project - but there's no way to know for sure.
Households with 2Mb+ broadband
Some 97% of existing connections can access what is currently considered "basic broadband" of 2Mb.
The Government is aiming for universal speeds of at least 2Mb by the end of 2016 - a cut-off date that's slipped several times already.
In addition, about 85% of households can access standard broadband of at least 10Mb.
Households with superfast broadband
On top of that, 75% of UK premises can access superfast broadband services - although the definition of superfast varies tremendously - jump ahead to see what we mean.
However, take-up is still pretty low. In early 2013, just one in ten households that could get a superfast service took it - the equivalent of 7% of households overall. In their 2014 infrastructure report, Ofcom said that had risen to 22%.
Compared with Europe
These figures generally put the UK on a par with comparable EU nations.
The Digital Agenda project wants to see speeds of at least 30Mb for 100% of European households, and take-up of at least 50%, by 2020.
According to European Commission data for the period until the end of 2013, 15 of 31 European Union countries have fixed broadband coverage of at least 97.2%, and 27 of the 31 have coverage of more than 90% of households.
At the same time, access to superfast broadband technologies had spread to 62.0% of households across Europe, with Malta managing 100% coverage, and Belgium, the Netherlands, Lithuania, Luxembourg and Latvia all reaching more than 90%.
The UK is lagging in comparison - but not as much as France, Hungary, Greece and Italy, none of whom had reached 50% coverage by the end of 2013.
Why 'broadband for all'?
In the UK, the drive for universal service seems only patriotic: this is national infrastructure after all, so everyone should have access, just as they do to phone lines.
Advocates of universal coverage like to compare broadband to other big infrastructure projects.
"In the 19th century we built the railways," George Osborne, the then-Shadow Chancellor, commented in early 2010. "In the 20th century we built the motorways. In the 21st century, let's build the superfast broadband network that will create hundreds of thousands of jobs for Britain."
By the end of the year, however, he was finding building the digital railways easier said than done.
"Broadband helps more people, provides more benefits per pound and is greener than even the most modern railway," scolded Tim Johnson, Chief Analyst at Point Topic. "George Osborne needs to shave another billion or so out of other investment programmes to give us a truly modern economy."
That's the universal service problem in a nutshell.
It's a noble aim, but the cost of supplying the most hard-to-reach premises is high considering the amount of people that will actually benefit.
And Osborne and Johnson weren't only talking about universal service there. As we struggle to get some premises connected at all, they and others are clamouring for better service.
Both Ofcom and Defra say the minimum acceptable broadband speed should be 10Mb, with Defra also calling for the "last 5%" of premises slated for superfast coverage to become the priority.
In addition, there's an argument that infrastructure is a fairly poor barometer of a country's overall digital health. It's not lack of cables, but lack of skills and resources that cause the most digital exclusion - an argument we look at further here.
Meeting the 2Mb for all target
In 2009, the Government's Digital Britain report set out a Universal Service Commitment of 2Mb broadband to all UK households.
In 2010, the Government pushed back its own target to deliver broadband of 2Mb to all UK citizens from 2012 to 2015 - and as we noted above, that's slipped again, to the end of 2016.
Communications Minister Ed Vaizey noted at the time that estimates of the cost to deliver even basic broadband to all UK residents had doubled, and could well continue to rise.
"Discussions with industry indicate that the shortfall may be even greater," said Mr Vaizey.
The £530 million earmarked for phase one of the Government's superfast broadband roll-out was "not nearly enough", analysts Point Topic said at the time.
They estimated that more than six million households in the UK would need subsidising in order to access superfast broadband services economically.
In comparison, at that point, the French Government was proposing to spend 660 million Euro every year for the next 15 years to deliver 100% superfast fibre broadband coverage.
That's more than the UK Government proposed to hand out during the entire Spending Review period. In addition, the French are planning on another 200 million Euro a year from local Government and European funds.
Bearing that in mind, even the extra £260 million of funding pledged for Phases Two and Three of the UK's programme seems a little stingy.
However, while the UK rollout of superfast broadband is paid for with some EU funds in poorer rural areas, the majority is funded by a mixture of sources, including more than £300 million from the BBC licence fee.
Superfast for all?
Superfast is defined by Ofcom and the European Digital Agenda as broadband capable of speeds of 30Mb or more.
In general, that means fibre of varying kinds, as ADSL2+ is only notionally capable of up to 24Mb. Meanwhile 4G and 4G+ mobile broadband may be capable of doing the job, but their coverage is still limited and reliability isn't good enough as yet.
Superfast has also been defined as "above 24Mb", "above 15Mb" (see below) and in even more vague terms by MPs.
Just look at this brave statement made by Mr Vaizey in 2010:
"Superfast broadband means broadband of sufficient speed and quality to deliver the services that will lead to Britain having the best broadband network in Europe."
Ah, right.
Superfast coverage faces the same problem as broadband coverage in general, in that supplying urban areas is fairly simple and economic for private providers, but there's a big gap when it comes to more rural areas.
A 2010 Government report found that next generation broadband networks were likely to reach just 70% of the UK population by 2017 if driven purely by the market.
Indeed, the largest non-national provider, TalkTalk, said in 2014 that it wasn't going to extend its network to any more exchanges, because those remaining serve too few people to justify the cost.
So that extra 30% has required extra investment and policies aimed at encouraging private companies to invest - hence BDUK and the three-phase Superfast Broadband Rollout.
The decision to chuck a load of money at "broadband cities" also angered many of those dedicated to universal superfast.
Lowering the standard
There has in fact been significant investment in this area, though it has often seemed to aim low.
In July 2011, for example, Broadband Delivery UK (BDUK), the body in charge of the £790 million set aside for delivering next generation access, released a tendering document that said that for suppliers to be able to access subsidy money, any "superfast" broadband infrastructure will need to deliver speeds of at least 15Mb.
That minimum was far below the Government's own definition of superfast broadband which was a connection of at least 25Mb, faster than the fastest possible ADSL2+.
That leads us again to Defra's 2015 assessment that efforts to provide a minimum broadband speed of 2Mb are nowhere near enough - despite apparent complacency about the target.