Best Ultrabooks of 2015: Top 5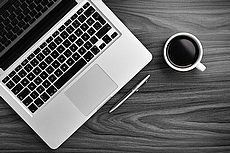 ©iStock.com/rustemgurler
ULTRABOOKS are, as the name suggests, the ultimate in laptops - slim, super powerful, stylish machines that punch well above their (reduced) weight.
Intel stipulates that the newest ultrabooks must be no thicker than 23 mm, should have a battery life good enough to power six hours of HD video playback, and come out of hibernation mode in a maximum of three seconds.
While not a make or break specification, ultrabooks also tend to have solid state flash drives - much neater, quieter and faster than traditional metal hard disk drives, but offering far less storage space.
But such demanding specifications don't come cheap. It's possible to get a good ultrabook for £600, but the majority come in at around £1,000.
So anyone thinking of investing in one needs to be sure it's the best ultrabook for them. That'll depend on whether it's going to be used for things like office work, gaming, video and picture editing or as an all-rounder.
Here's our guide to five of the best rated performance laptops.
1. Apple Macbook Air 13 inch
RRP Price: £849
Launch: May 2015
Our rating:
The cheapest of the ultrabooks in this review, it comes with an Intel Core i5 1.6GHz processor, 4GB of RAM, and a 128GB SSD. That's not a huge amount of storage these days.

It's also lacking HDMI and Ethernet ports, although it supports Bluetooth and 802.11ac wi-fi. Both the USB ports are 3.0 compatible, and it also has Thunderbolt and an SD card reader.
However, the build quality is second to none, and users report getting a whole day out of the battery on a single charge.
The 13.3-inch screen has a resolution of 1,440 x 900, and the backlit keyboard is solid and quiet. The laptop itself is thin, light - at 1.4kg, the second lightest in this review - and has a brushed aluminium body.
Long term Mac users seem to love it, and it's done a good job of converting many a former PC user.
2. Lenovo Yoga 3
RRP Price: £1,299.99
Launch: Nov 2014
Our rating:
Lenovo make a big deal of their Yoga laptops' four "operating modes" - set angles at which the computer works best.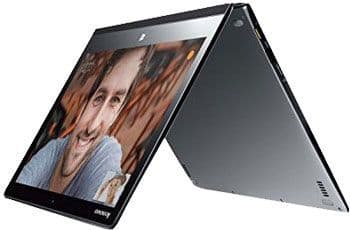 As well as being used as a standard laptop, the 360-degree hinge allows for conversion to a slightly bulky tablet.
But there are also "tent" and "stand" modes. In "tent" mode, the laptop is like a flipboard; in "stand" mode, the keyboard faces the desk, useful for working on the screen at closer quarters.
On the Yoga 2 series, that was the big feature. On the Yoga 3, the rest of the specs have been raised too. It's packing an Intel Core M processor, 8GB RAM, and a stunning 512GB SSD - and the screen has a resolution of 3200 x 1800.
It has two USB 3.0 ports, a DC-in port with USB 2.0 functionality, micro HDMI port and an SD card reader - as well as a gigabit Ethernet connection, Bluetooth and supporting the newer
802.11 a/c wireless protocol.
Given some of the other Lenovo Yoga laptops are more a case of form over function, this is an impressive piece of kit.
3. HP Envy 4-1103EA C1X26EA
RRP Price: £899
Launch: October 2012
Our rating:
The HP Envy is the bulkiest of our ultrabooks, at 23mm thick and 2.1kg in weight - but its brushed aluminium shell means it still looks sleek.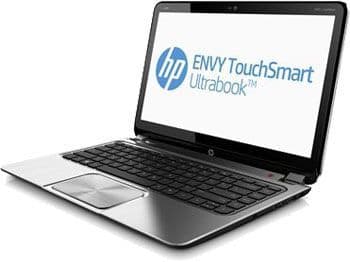 It has a touchscreen. The 14-inch 1366 x 768 HD resolution is already pretty impressive, offering sharp and bright colours - but touchscreen computers tend to cost far more, while this is one of the cheaper models we're featuring.
Being an HP computer, it features Beats Audio technology which gives much richer sound than you'd usually expect from a laptop.
The 500GB HDD gets a bit of support from a 32GB SSD; the latter isn't ideal for storage as such, but instead can be used to store and run the Windows 8 operating system quickly and quietly.
The Intel Core i5 1.7GHz processor is supported by 8GB of RAM, which should make office multitasking and watching HD movies much smoother.
It boasts VGA and HDMI ports, as well as an SD card reader, two USB 3.0 ports, and a USB 2.0 port through which other devices can be charged even when the laptop is switched off.
Being a slightly bigger laptop, it also has a full size keyboard, backlit too.
4. Dell Latitude 14 7000 series
RRP Price: £1,463
Launch: October 2013
Our rating:
The Latitude is marketed as a business ultrabook, so while it's expensive it's packed with extra features. But how useful these are depends on what the laptop's going to be used for.
For example, the Intel i7 processor and 8GB of RAM, three USB 3.0 ports, HDMI, mini display port and gigabit Ethernet port make it a great choice for anyone who values fast, reliable, performance and connectivity.
But it also has a manual wi-fi switch and a docking station port, and smartcard and fingerprint readers, which are more useful for mobile office workers than people wanting something to use at home.
The screen has a maximum resolution of 1920 x 1080, but reviews suggest it's not great for colour sensitive work such as image editing.
The mobile office aspect is further reinforced - pun intended - by the fact that the screen is made from Gorilla Glass, and the body from sturdy brushed aluminium.
Tough it may be, but bulky it isn't at 1.6kg and 21mm thick.
The battery appears to just squeak under the ultrabook specification - reviews suggest it only lasts five and a half hours or so when used to watch video. But being a Dell, the battery pack itself is replaceable, which should help increase the machine's life span.
5. Asus Zenbook UX301LA
RRP Price: £1,499.99
Launch: September 2013
Our rating:
The most expensive laptop on our list, the Asus Zenbook UX301LA costs a hefty £1,499.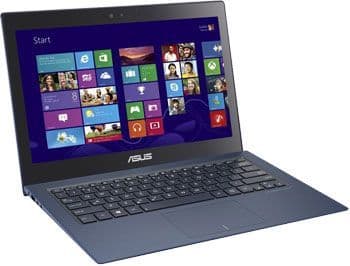 The price is in part down to the design - its lid and keyboard surround use Gorilla Glass for a super glossy finish, and a body that's just 15.5mm at its thickest point.
The keyboard is backlit, and it's the lightest of the machines we've included too, at just 1.2kg.
But it's not entirely a case of style over substance. Also included for the price is an Intel Core i7 processor, 8GB of RAM, and two 128GB solid state drives giving 256GB of storage in total.
It has three USB 3.0 ports, an HDMI port, and an SD card reader, and comes with a couple of dongles to cover the bulkier ports - a mini display port to VGA adapter and a USB to Ethernet connector.
It supports Bluetooth connections as well as 802.11ac wireless. With moderate use - think office work - the battery seems to last up to eight hours.
But the incredibly slim design does have some downsides - some reviewers have commented negatively on the flex in the screen and lid.
In conclusion
The design specifications that define whether a computer is an ultrabook or not should make for very high performance machines - but as we found when we were compiling the above list, the build quality can still vary tremendously.
It's telling that while researching these laptops, we found the two cheapest models had the best user reviews - from the light but sturdy Macbook to the hefty but well-appointed HP - and that swayed our results slightly.
But the new Lenovo Yoga 3 has some major improvements over the Yoga 2, and while Mac users will say it's not possible, on paper it's a close race between the two.
In the end, it depends what exactly you need your ultrabook to do - but here are the key specs and prices again for quick comparison:
| Model | Apple Macbook Air 13 inch | Lenovo IdeaPad Yoga 3 | HP Envy 4-1103EA C1X26EA | Dell Latitude 14 7000 series | Asus Zenbook UX301LA |
| --- | --- | --- | --- | --- | --- |
| Our rating | | | | | |
| RRP Price | £849.00 | £1,299.99 | £899.00 | £1,462.80 | £1,499.99 |
| Screen size | 13.3 inches | 13.3 inches | 14 inches | 14 inches | 13.3 inches |
| Weight | 1.4kg | 1.2kg | 2.1kg | 1.6kg | 1.2kg |
| Processor | Intel Core i5 1.4GHz | Intel Core M-5Y71 2.9 GHz | Intel Core i5 1.7GHz | Intel Core i7 2.1GHz | Intel Core i7 1.8Ghz |
| RAM | 4GB | 8GB | 8GB | 8GB | 8GB |
| Storage | 128 GB SSD | 512 GB SSD | 500GB HDD, 32GB SDD | 256 GB HDD | 256 GB SSD |
| OS | Mac OS X 10.4 Yosemite | Windows 8.1 | Windows 8 | Windows 7 | Windows 8 |
13 October 2017
11 October 2017
10 October 2017
Follow us or subscribe for FREE updates and special offers