Best tablets for reading: Top five of 2015
©iStock.com/vvooki
UNTIL recently being a reader was tough. Books are wonderful - but they take up an awful lot of space, and bigger reads risk being neglected because they're just too heavy to carry about.
E-readers have completely changed all that - even if many book lovers have resisted making the switch. Finally, a way to take a whole library on holiday - or just down to the coffee shop - without breaking our backs!
But while a dedicated e-reader is a lovely thing to have, some of us want or need the versatility that comes with a tablet as well - and what about those of us who enjoy graphic novels?
Our guide to the best tablets for reading starts off with a device devoted to books and books alone - but the other four offer great reading as well as a variety of other tools.
1. Amazon Kindle Paperwhite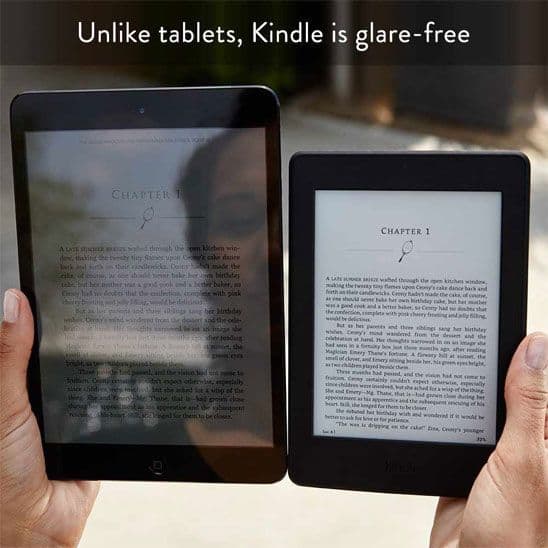 Need to know
Price: £89.99
Dimensions: 169 x 117 x 9.1mm
Weight: 205g
As we said above, this technically isn't a tablet, but the Amazon Kindle Paperwhite provides the standard by which e-reading experiences tend to be judged.
Dedicated e-readers have matte screens which, just like paper, are readable in all kinds of light conditions, including bright sunshine - unlike tablet, phone and computer screens.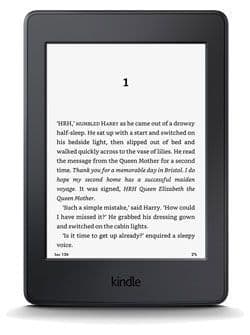 The latest incarnation of the Paperwhite has a screen resolution equivalent to 300ppi, which makes for fantastic clarity when reading. This is further helped by the inbuilt light.
It's not a backlight - it's much cleverer than that, gently illuminating the display from in front of it. As such, it's incredibly easy on the eye even when there's no other light in the area.
Being a pure e-reader, it's lighter and slimmer than any of the other models we've looked at - and the battery can last up to six weeks on a single charge, based on half an hour's use per day.
Perhaps the most frustrating thing about the Kindle is that it doesn't support the ePub format, which is used by the majority of bookstores and libraries - but the determined will find they can convert ePub files to the Mobi format, which is supported.
2. iPad Mini 2 32GB
Need to know
Price:£259.99
Dimensions:200 x 135 x 7.2mm
Weight: 331g
We've gone for the slightly older version of the iPad Mini, because the only things the newer version has over it are a fingerprint reader and the chance to get it in gold.
With a resolution of 2048 x 1536 pixels - an equivalent of 326ppi - the iPad Mini 2 beats the Kindle Paperwhite for clarity.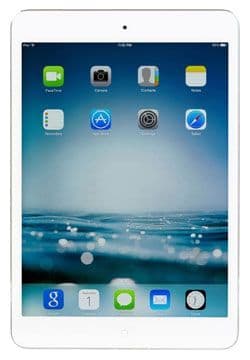 The 7.9 inch screen and the extra weight may mean holding it with one hand isn't possible over a long period, but in landscape mode it's no bulkier than many paperbacks.
Being a full on tablet, it provides plenty of options as far as reading is concerned - Apple's own iBooks supports ePub and PDF as well as its own format - or download the Kindle app or one of any number of other reading apps from the App Store.
Downloading reading matter is simple enough because of the dual band wi-fi, compatible with 802.11 a/b/g/n protocols - or share with those nearby over Bluetooth. There's also a micro USB 2.0 port.
The resolution and the 64-bit A7 chip make this a great tablet for graphics heavy apps and games as well as for reading - and the Retina display copes well with a variety of lighting situations.
Apple claim the battery will last a good 10 hours with mixed use.
3. Samsung Galaxy Tab 4 8"
Need to know
Price: £284.99
Dimensions: 213 x 125 x 7mm
Weight: 294g
At full price the Galaxy Tab 4 isn't cheap, but it is one of the best tablets going, with many reviews saying it more than holds its own against the iPad Mini.
Despite having an 8.4 inch screen, it's lighter than the iPad, and it also beats it for image crispness; the 2560 x 1600 resolution equates to 359ppi.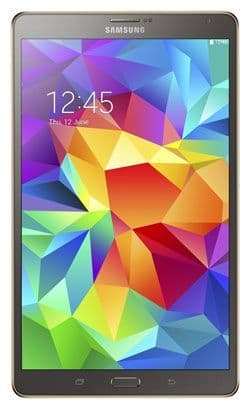 Having an AMOLED screen means colours are punchy - some say too punchy, complaining that things look oversaturated. But that does mean the display stands up well to bright conditions - even direct sunlight.
As well as having Google's Play Books, which supports the all important ePub format, the fact that it runs on Android means access to numerous other e-readers in the Google Play Store, including the Kindle app.
It also comes with Samsung's own Papergarden app, designed for digital interactive magazines.
Storage isn't a problem - the micro SD slot can cope with an up to 128GB card. There's also dual band wireless that can use 802.11 a/b/g/n and a/c protocols, Bluetooth 4.0 - and GPS.
Battery life is claimed to be up to 12 hours when watching video, and 10 hours when browsing the web over wi-fi - so it should cope with being used mostly for reading for a good few days between charges.
4. Asus Memo Pad 7
Need to know
Price: £79.99
Dimensions: 189 x 114 x 9.6mm
Weight: 295g
After creating the highly rated Google Nexus 7, Asus came up with a pared down version that costs about £60 less in the form of the Memo Pad 7.
With a resolution of 1280 x 800 across a seven inch screen, its 216ppi is the least sharp of the five in our list - but reviews say it's bright and crisp, and users are only really likely to notice a difference if they're used to the iPad or Tab.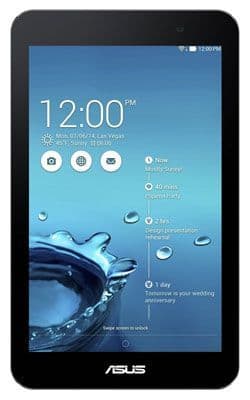 Where the display is let down is in the glossiness of the screen, which shows fingerprints and other marks quite easily, and will reflect a lot of glare if used in bright situations.
A quite impressive 64-bit 1.86 GHz Intel Atom Quad-core processor with 1GB RAM means the tablet is quick to respond when used for something other than reading; the 16GB internal storage can be boosted with a 64GB micro SD card.
Being an Android tablet, it has access to a whole host of reading apps allowing for different formats and reading experiences.
Downloading relies on the wireless 802.11b/g/n protocols or Bluetooth 4.0, and there's GPS to help locate the nearest library.
Asus say the battery will last for up to nine hours of constant use - gamers and video streamers should expect less, but readers should find it lasts quite well.
5. Amazon Kindle Fire HD 6"
Need to know
Price: £79.99
Dimensions: 169 x 103 x 10.7mm
Weight: 290g
Those who want the Kindle experience but also need some of the functionality of a tablet may well find themselves drawn towards the Kindle Fire.
As we're concentrating on tablets for reading, we've gone for the smallest of the Kindle Fires, the six inch version.
Overlaid on the Android OS is Amazon's Fire OS 4, codenamed Sangria. There are no Google apps, nor access to the Google Play Store, but Amazon's services - Prime Instant Video, the Kindle, MP3 and Audible stores, and other apps - are very well integrated.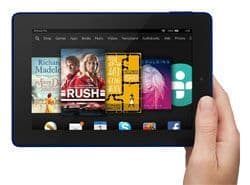 The Fire HD6 also offers unlimited cloud storage for Amazon content - useful for moving between devices. Browsing the web is via Amazon Silk; the email app supports Gmail, Outlook, Yahoo and various others, and any documents downloaded are saved to the cloud.
This is particularly important considering there's no external memory storage, and this version of the Fire comes with just 8GB of internal storage.
Again, there's no support for the ePub format - but at least those who like audio books can indulge with Audible, with the option to keep their tastes to themselves thanks to the 3.5mm stereo jack. Other than the micro USB port, that's the lot in terms of external connections.
The screen isn't as sharp as the Kindle - but at 252ppi it's still quite good, and being a tablet, it's full colour rather than monochrome.
In conclusion
There's really no beating a dedicated e-reader for an experience that's easy on the eye, arms and wallet.
But as the Kindle Fire and Asus Memo Pad show, those who need or want just a bit more than an e-reader can get some extra functionality without paying above the odds.
Anyone wanting a really good all rounder should seriously consider the iPad Mini or Galaxy Tab S4 - which depends largely on personal preference in the end.
| | Amazon Kindle Paperwhite | Apple iPad Mini 2 32GB | Samsung Galaxy Tab 4 8" | Asus Memo Pad 7 | Amazon Kindle Fire HD 6" |
| --- | --- | --- | --- | --- | --- |
| Rating | | | | | |
| RRP | £89.99 | £259.99 | £284.99 | £79.99 | £79.99 |
| Size | 169 x 117 x 9.1mm | 200 x 135 x 7.2mm | 213 x 125 x 7mm | 189 x 114 x 9.6mm | 169 x 103 x 10.7mm |
| Weight | 205g | 331g | 294g | 295g | 290g |
| Resolution | 300ppi | 326ppi | 359ppi | 216ppi | 252ppi |
| Ebook formats supported | Kindle, Mobi, PDF | iBook, Kindle, ePub, Mobi, PDF | Kindle, ePub, Mobi, PDF | Kindle, ePub, Mobi, PDF | Kindle, Mobi, PDF |
13 October 2017
11 October 2017
10 October 2017
Follow us or subscribe for FREE updates and special offers