Best notebooks of 2015: Top five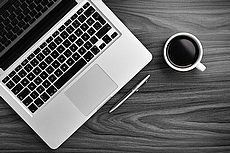 ©iStock.com/rustemgurler
LOTS of laptops are described as "notebooks", but as far as we're concerned only those that are really portable - say, with screens of less than 13 inches - count.
This size - or rather, the lack of it - tends to cost. While none of these laptops is a budget breaker, they certainly don't have the performance components you could expect to find in bigger machines that cost about the same.
But that doesn't mean they're at all lacking. All bar one of our picks has 500 GB of storage; all bar one has 4GB of RAM - and getting a notebook with a touchscreen for less than £500 doesn't mean losing out on other, possibly more useful, features.
So without further ado, here's our guide to five of the best notebooks.
1. Apple Macbook Air 11-inch
RRP: £750.00
Launch: May 2014
Our rating:
The most expensive of our picks, the Apple Macbook is also the highest rated, and something of an institution among those who don't want to compromise between portability and performance.

For the £750 price tag, you'll get the only notebook in our selection with an Intel Core i series processor - here it's the i5 1.4GHz chip - and a solid state hard drive.
That means there's not as much storage - only 128 GB - but combined with the chip and 4GB of RAM, it should make for a superbly fast machine.
You also get a backlit full size keyboard, and the lightest machine in our selection - just 1.1 kg - but very solidly built.
There's no SD card reader - you'll need a model with at least a 13" screen for that - and no network port. There are only two USB ports, but both are USB 3.0. Being a Mac, this comes with a Thunderbolt port as well.
There's no Ethernet port, but the wireless protocols are the newer, faster 802.11 a/c - and the battery should last a whole working day.
2. Lenovo S20-30
RRP: £229.99
Launch: November 2014
Our rating:
The first of two Lenovos in our list, the S20-30 is considered an entry-level notebook - but, a little surprisingly given this is the second cheapest in our selection, it sports a touchscreen.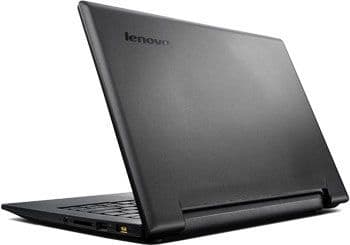 An Intel Celeron N2930 1.83GHz processor works alongside 4 GB of RAM, and yes, that's a 500 GB hard drive.
Oddly for a cheaper, supposedly more basic laptop, the wi-fi uses the faster 802.11 a/c protocol, and there's Bluetooth connectivity too.
Again, there are just two USB ports, one of which is USB 3.0. There's an HDMI and Ethernet port, and an SD card slot.
The price is reflected somewhat in the design - there's nothing fancy or sleek about this notebook - but it's got a very respectable rating from users.
Finally, that low price is also reflected in the battery power. Even Lenovo reckon it's only possible to get up to five hours of life before having to plug in, and that'll be on the optimistic side.
3. HP Pavilion x360 11-n001na
RRP: £349.99
Launch: May 2014
Our rating:
The second of three touchscreen options in this list, the HP Pavilion also claims to be convertible - that is, able to switch from laptop to tablet.
That's something of an overstatement; it's actually got a 360 degree hinge that allows the screen to be folded back completely, creating a somewhat bulky tablet-like device.
However you choose to use it, you'll be relying on an Intel Celeron N830 2.41GHz processor and 4GB of RAM, and there's a 500 GB hard disc drive at your disposal.
It's possible to get a good six hours of use out of the battery, although reviews suggest that with heavy use it's more likely to last only a couple of hours.
As well as having an Ethernet port, it supports 802.11 b/g/n wireless and Bluetooth; there's also an SD card reader, HDMI port, and three USB ports.
Only one of them is USB 3.0, but the extra port is useful, and it also allows for charging of other devices while the machine's asleep or switched off.
4. Acer Aspire E3
RRP: £219.99
Launch: March 2015
Our rating:
The latest version of the seemingly rather popular Aspire E3 series, it has less RAM than its predecessor, but is otherwise a very similar machine.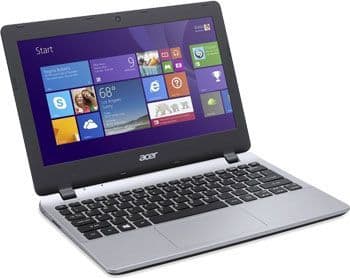 The cheapest of the laptops we've looked at, we might have been tempted to forgive the fact that it only has 2GB of RAM - only the next cheapest is just £10 more and has the full (ahem) 4GB of RAM.
Processing power is provided by a dual core Intel Celeron N2840 2.16 GHz chip, and tucked inside the body is a 500 GB hard disk drive.
In terms of ports, there's one USB 2.0 and one USB 3.0 - and an HDMI port and SD card reader, and while there's no monitor port, the Acer does have a Gigabit-compatible Ethernet port to back up the 802.11b/g/n wireless.
There's a 720p HD webcam and the screen resolution is 1366 x 768; reviews of the older model suggest the sound is better than we could expect for a laptop of this size and price.
5. Lenovo IdeaPad Yoga 2
RRP: £499.99
Launch: March 2014
Our rating:
Another touchscreen notebook with a 360 degree hinge, Lenovo's Yoga series of laptops have four special modes with recommended apps for each.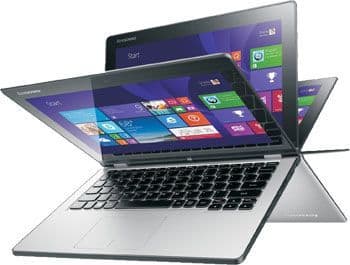 Basically, while as flexible as it needs to be in laptop mode to give a good view of the screen, the Yoga 2 can also be used as a tablet, in tent form or flipped back into "stand" mode for watching video or using like a keyboard-free laptop.
The higher price compared to the other touchscreen notebooks featured is mostly because of these modes - and partly because of the marginally punchier processor - a Pentium N3520 2.1GHz chip.
Alongside that there's a 500 GB hard drive and 4GB of RAM, an HDMI port and SD card reader, and two USB ports (one each of 2.0 and 3.0).
There's no Ethernet port, so users will have to rely on the 802.11 b/g/n wi-fi and Bluetooth connectivity.
In conclusion
With prices ranging from not much over £200 to up to £750, it should be possible to find a well rated notebook whatever your budget.
In fact, the second cheapest in our selection also scores second highest with us and among users - and even given people being slightly forgiving bearing in mind the price, that's not to be sniffed at.
But for a machine that combines incredible computing with compact, beautiful, clever, design - take note Lenovo - it's tough to beat the Apple Mac Airbooks.
Here's a quick comparison table for you to check prices and specifications side by side:
| Model | Apple Macbook Air | Lenovo S20-30 | HP Pavilion x360 11-n001na | Acer Aspire E3 | Lenovo IdeaPad Yoga 2 |
| --- | --- | --- | --- | --- | --- |
| Our rating | | | | | |
| RRP Price | £750.00 | £229.99 | £349.99 | £219.99 | £499.99 |
| Screen size | 11.6 inches | 11.6 inches | 11.6 inches | 11.6 inches | 11.1 inches |
| Weight | 1.1kg | 1.3kg | 1.4kg | 1.3kg | 1.4kg |
| Processor | Intel Core i5 1.4GHz | Intel Celeron N2930 1.83GHz | Intel Celeron N2830 2.4GHz | Intel Celeron N2840 2.16GHz | Intel Pentium N3520 2.1GHz |
| RAM | 4GB | 4GB | 4GB | 2GB | 4GB |
| Storage | 128GB SDD | 500GB HDD | 500GB HDD | 500GB HDD | 500GB HDD |
| OS | Mac OS X 10.4 Tiger | Windows 8.1 | Windows 8.1 | Windows 8.1 | Windows 8.1 |
13 October 2017
11 October 2017
10 October 2017
Follow us or subscribe for FREE updates and special offers