Gas barbecues: Top five for 2015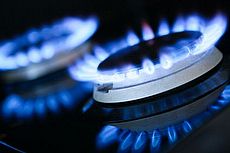 IT SEEMS to us that calling a gas barbecue a barbecue is something of an understatement.
After all, the word "barbecue" tends to bring to mind grilling food, usually over coals - but gas barbecues tend to be much more like outdoor cookers, capable of doing almost everything the stove inside can do.
Reflecting the extra features, versatility and controllability that comes with cooking with gas comes a higher price tag than charcoal grills.
Unless it's a camping or portable model, expect to pay at least £100 - more if it's a well known brand. Prices go into the thousands for the most well appointed barbecues, featuring everything from extra burners to rotisseries, baking stones, and ice boxes.
Our top five doesn't feature anything quite that extravagant - but then we have stuck to the smaller models - if four burners can be considered small. Also note that the most expensive barbecue in our selection is considered to be entry level.
Without further ado, here are our top five gas barbecues for 2015.
1. Outback Meteor 4
RRP: £439.99
Our rating:
The second most expensive barbecue in our selection, the Outback Meteor 4 may be a little pricey, but it's packed with features and built to last.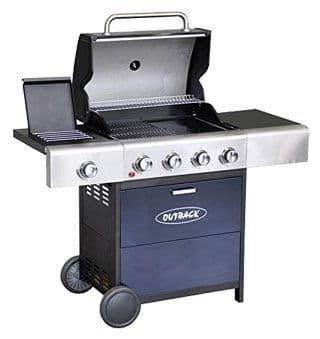 The most obvious feature is the four burners in the main cooking space, plus a side burner for those little extras.
Cheaper Outback barbecues come with much cheaper components - but the Meteor has porcelain enamelled cooking grates, hood and bowl, and the burners are cast iron.
Notice we said "grates". The main cooking space is arranged so two burners are under a grill, and two are under a griddle.
Outback use lava rocks rather than vaporiser bars to add a smoky barbecue flavour - and they have the advantage of absorbing the excess fat to make cleaning a little easier.
Being a four burner model, the Meteor isn't the smallest barbecue going - and at 60kg in weight, anyone who wants to try moving it around the garden will really need to rely on the wheels and a good friend.
But with the weight and size comes space. There's a (fixed) side shelf, and a wide hinged top drawer for storing utensils rather than faffing with tool holders.
Built into the hood is a thermometer for easier roasting, and when the lid's open there's a good width warming rack.
2. Fire Mountain Matterhorn
RRP: £189.99
Our rating:
Next up is the Fire Mountain Matterhorn three burner barbecue. Despite having one less main burner than the Meteor, the main cooking area is the same generous 63cm x 42cm.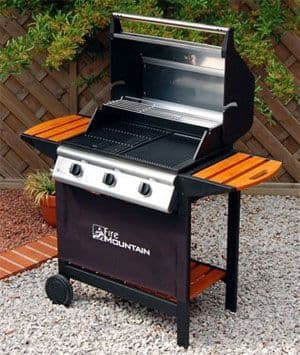 Like the Meteor, the cooking space features a grate and a griddle, and another full length warming rack.
The grate and griddle are made of cast iron, which is an unexpected bonus at this price - and removes the need to buy and replace lava rocks.
Although the lack of a side burner might have cost this barbecue a few points, the two side shelves and the fact that the rack can be removed and a rotisserie pole fitted in its place - hood up or down - make up for that.
The hood has a built in temperature gauge, so roasting will be a little less fraught - although because it and the body are made of stainless steel, heat retention might not be what it could.
That said, the stainless steel helps keep the weight (and the cost) down - it's about half the mass of the Meteor despite their being a similar size.
Other cheaper barbecues seem to get mixed reviews regarding their stability - but the lighter body and the sturdy wooden bottom shelf seem to make this grill much less wobbly than smaller, similarly priced models.
3. Cadac Safari Chef
RRP: £69.99
Our rating:
Cadac are known for their camping barbecues and incredibly well appointed patio grills. We've chosen one of their cheapest models, the Cadac Safari Chef, to show that you don't have to pay a huge amount to get an incredibly versatile barbie.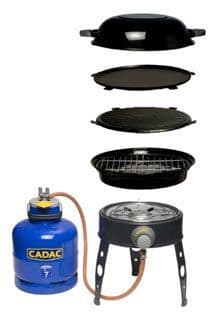 One of the reasons this barbecue is so popular is that it's ridiculously portable.
It weighs just 4kg; in cooking mode it's less than 40cm high, and 33.5cm in diameter - and everything folds down or stacks away into a carry bag for easy transportation.
That compact design means it only has one burner, but that doesn't mean you're limited to heating a few sausages at a time or a sole pan of beans.
Unlike the more expensive Carri Chef series, the Safari comes with a couple of different cooking surfaces as standard.
As well as the basic grate, there's a full size griddle that's flat on one side and ribbed on the other, and the lid also doubles as a wok.
If that's not versatile enough, there is a Deluxe version that costs about £15 more, which comes with a pizza / baking stone.
There's one final thing to consider before buying one of these, and that's the letters after the name. The LP runs off low pressure refillable gas bottles, while the HP runs off disposable gas cartridges.
4. Weber Spirit Classic E210
RRP: £449.99
Our rating:
Weber are kings of the charcoal barbecue, and they have designs on the gas grill crown too.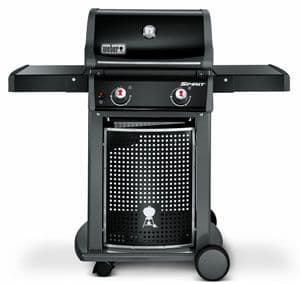 But at £450 for their entry-level model, that might seem a little ambitious of them - so what are we getting apart from that famous name?
It's a two burner model - enough to comfortably cater for up to six people in one sitting.
Because this is a Weber, it's sturdily built with a porcelain enamelled cooking grate and vaporiser bars (for adding smoky barbecue flavour), and the well insulated lid with built in thermometer fits snugly, making roasting a cinch.
There are also two collapsible shelves, one either side of the grill for food and plates, and it has six built-in tool holders.
But other gas grills sacrifice shelf space for a side burner. With just two main burners, anyone wanting to whip up a sauce or heat a can of beans on the side while something large cooks over the grill is out of luck.
You're really paying for the name and the reputation here - and while it's highly unlikely that you'll be disappointed, £450 is a lot to pay for a barbecue that doesn't have the versatility of some of the other models here.
5. Outback Omega 250
RRP: £159.99
Our rating:
Those who like the look of the Weber but really can't justify paying that much for a two burner grill might want to consider the Outback Omega 250 instead.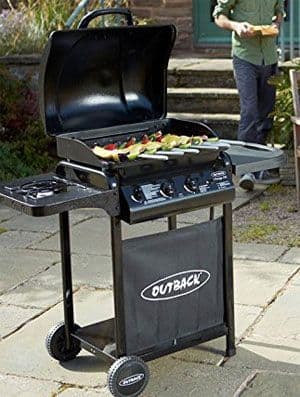 At about a third of the price, it's not got the same built-to-outlive-you feel to it - but it does have a side burner!
The cooking grate is a decent size, but it's chrome - the lightest and cheapest material barbecue grills tend to be made of.
Underneath this there's a basket for lava rocks - good for both creating smoky flavours and absorbing excess fat to make cleaning a little easier, although there's also a cup to collect any they don't catch.
Again the hood allows for roasting; it's not as heavy duty as the Weber's but at this price we wouldn't expect it to be. Perhaps more importantly it's lacking a thermometer, adding a little bit more observation and/or guesswork to the mix.
The side burner takes away a bit of shelf space - and while a warming rack is available for this barbecue, it's sold separately.
Being made of lighter materials makes it easier to move around the garden - but reviews suggest it needs to be built very carefully to make it stable enough to cope with being wheeled about.
In conclusion
As we mentioned at the start, gas barbecues do tend to cost more than the charcoal type - but hopefully we've shown it's possible to get a fair amount of bang for your buck.
The build quality and reputation of Weber - and some glowing reviews - could have won it a higher position. But the Cadac camping barbecue can do just as much, if not more - and at a fraction of the price and in an incredibly portable package.
Another lesson regarding brand names comes from Outback.
The Meteor is a really good buy - approaching £450, yes, but with plenty of features and well built to boot.
The Omega 250 may be cheaper, but it shows in the choice of components - although it is at least better designed than the charcoal Omega 200.
All that remains for us to do is give you another look at those key features, side by side for comparison, once more:
Model
Outback Meteor 4
Fire Mountain Matterhorn
Cadac Safari Chef
Weber Spirit Classic E210
Outback Omega 250
Our star rating
RRP
£439.99
£189.99
£69.99
£449.99
£159.99
Cooking area
63cm x 42cm
63cm x 42cm
Circular diameter 33cm
53cm x 35.5cm
50cm x 36cm
Total dimensions
130cm x 56cm x 125cm
136cm x 56cm x 108cm
36.5cm x 33.5 x 33.5
160cm x 81cm x 127cm
103cm x 49cm x 113cm
Shelves
Two side shelves, one drawer, base shelf
Two side shelves, base shelf
No
Two side shelves, base shelf
One side shelf, base shelf
Hood
Other features
Grill / griddle
Temperature gauge
Side burner
Grill / griddle
Temperature gauge
Rotisserie slot
Incredibly portable
Lid doubles as wok
Portable design, top and bottom air vents
Designed for spit cooking as well as grilling
13 October 2017
11 October 2017
10 October 2017
Follow us or subscribe for FREE updates and special offers