Charcoal barbecues: Our top picks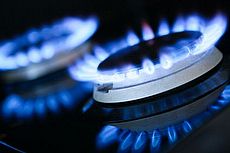 CHARCOAL barbecues are, for many, the only true way to cook outdoors. The smoky flavours, the glow of the coals, the burnt outsides...
Okay, so there's an art to cooking over hot coals - but there's also much more to it than simply grilling.
We've included an entry-level grill as well as the top-spec kettle barbecue to show what's possible, and there are all manner of useful and different features on a couple in our selection.
Now, get the steaks thawing and read on for our pick of the charcoal barbecues.
1. Weber One Touch Premium 57cm
RRP: £254.90
Our rating:
Weber's Premium 57cm barbecue has a few more bells and whistles - including features that address some of the issues found in the cheaper model, listed below.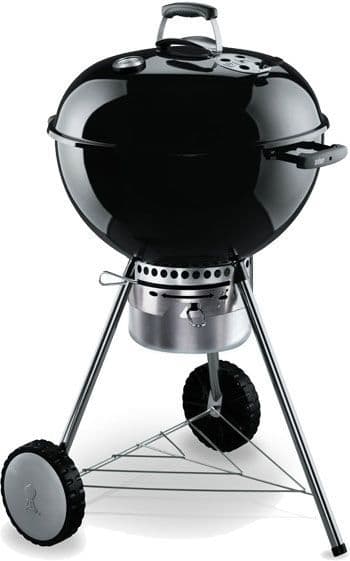 The air vent on the lid is well insulated, and the ash collector is sophisticated and effective. There are also two handles on the kettle body - so it can be wheeled or carried around easily.
It's made of heavy gauge enamelled steel, and packs fierce heat over the entire cooking area. Once you've got the hang of using it, most users think you'll be doing so for years and years.
Because adjusting the height of the grill isn't an option, and there's only one - hot - cooking temperature, users need to keep an eye on their food.
The large grill area does allow for cooking with less direct heat with the coals heaped to one side - and the snugly fitted lid, with a temperature gauge built in, makes for good roasting rather than toasting conditions.
In case it's not clear from the above, Webers are designed to be used almost like outdoor ovens - but anyone who really wants to go for the open grill experience can do so, using the hook on the side of the kettle to stash the rather heavy lid.
2. Weber One Touch Compact 47cm
RRP: £100.00
Our rating:
This "Compact" model isn't the smallest or cheapest barbecue Weber does - their truly compact kettle grills are designed to sit much closer to the ground or on a table top.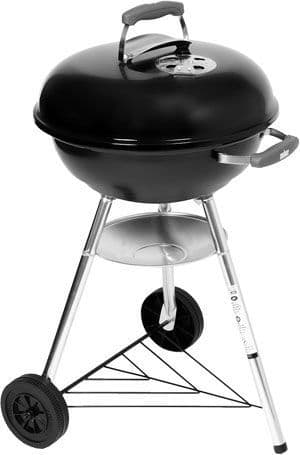 Instead it's a scaled down version of their famous One Touch models: shorter - about thigh level for someone of average height - with a smaller body and grill area.
The kettle is made of the same porcelain-enamelled heavy gauge steel as the Premium; the cooking grate is nickel-plated and the handles are sturdy.
The one attempt at a shelf is more of a wire rack low down between the legs - ideal for keeping the bag of charcoal handy, but not for much else.
The heavy base and lid allow a good degree of heat to build up - and maintain it - so it's possible to keep cooking for some time. The handle on the lid is insulated so it's easy and safe to check on food.
But on this model the air vents aren't insulated, and they have a reputation for being a little stiff - so beware if you want to adjust them. The other drawback of the "compact" design is that the ash collector is little more than a plate.
3. Outback Omega 200
RRP: £164.44
Our rating:
The Outback Omega 200 looks like someone's taken several rather attractive features and fixed them together without really thinking about it - or it really could have challenged the Webers.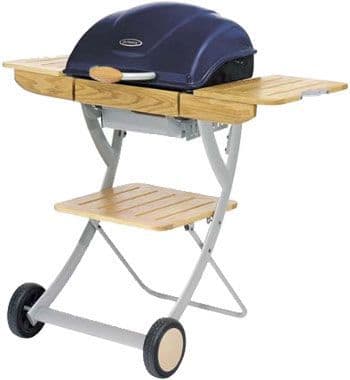 The shelves are large and sturdy, and one has hooks for BBQ tools. But they're fixed - they can't be dropped when not needed, or when it comes to putting the barbecue away.
The wheels are set at the front of the barbecue so it can only be moved wide side on - and the rear part of the stand will get in the way of your feet.
Once you have got it in position, the generous grill size and hood mean roasting and grilling are equally easy.
Slow-cook barbecue lovers can roast large items, while there's more than enough room for all the sausages, burgers and kebabs fans of open grilling could want - and there's a good sized warming rack for any overflow.
The porcelain coated hood adds durability; the same coating on the grill makes it easier to clean - and users say it allows for charring without burning or drying out the food.
4. Outsunny pedestal barbecue
RRP: £40.99
Our rating:
The Outsunny pedestal barbecue is this list's entry-level barbie, selling for just over £40.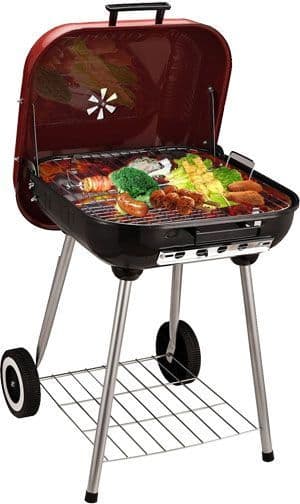 For that price you get a fairly simple but quite portable grill, with a lid and base made of powdered iron, and a stainless steel cooking grid.
The charcoal sits above a solid base which can be lined with foil for easier cleaning; there is a shelf for storage but it's basically a wire rack sat not far above the wheels.
It's small too - the grill height is just 56 cm, and the cooking area is about 40 cm square.
The hood tips back to form a windbreak for open grilling, but it also features a simple ventilation disc for temperature control when the barbecue's closed.
Further air flow control is possible using the slatted vent on the front of the base.
There's no warming rack, and being just 4 kg in weight, it isn't the sturdiest or best insulated barbecue you could find - best have heated plates or hungry mouths and a bit of a production line going instead.
5. Outsunny Cypriot style barbecue
RRP: £87.99
Our rating:
Anyone who's ever fancied doing a bit of rotisserie barbecuing should really consider a Cypriot style rig like the Outsunny barbecue, which comes with three long spits and 11 short forks.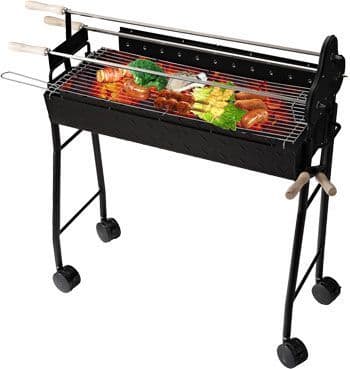 While the grill itself can't be moved any further from the coals, the whole barbecue pit can be raised up from 67 cm to 85 cm.
With the pit in the higher position, the lower of the long spits sit just above the grill; when it's in the lower position they're about 20 cm above the grate.
As the barbecue comes, turning the skewers is a manual job, but it is possible to buy a small motor to automate that process.
And while it's not the deepest barbecue, there's still plenty of cooking space because it's quite long instead. The length of the grill also makes up for the lack of warming rack; you should be able to arrange a small area away from direct heat to keep food warm.
But made of powdered iron with a stainless steel grill, and at just 6 kg in weight, it's not the sturdiest looking contraption - and the wheels look like they'd be better suited to life in an office than outdoors.
In conclusion
To be honest, it would be easy to come up with a top five list of charcoal barbecues that were all Weber grills.
But kettle barbecues aren't to everyone's taste - and as the Outback Omega shows, squeezing in a lot of otherwise desirable features can pull focus from the grill's performance.
Hopefully we've shown that there's a fair bit of variety, and that different budgets can be - ahem - catered for.
In the end it comes down to what kind of barbecue experience you're after, and how often you're thinking of indulging - but here are the models listed above for comparison:
| Model | Weber One Touch Premium 57cm | Weber One Touch Compact 47cm | Outback Omega 200 | Outsunny pedestal barbecue | Outsunny Cypriot barbecue |
| --- | --- | --- | --- | --- | --- |
| Our star rating | | | | | |
| RRP | £254.90 | £100.00 | £164.44 | £49.99 | £87.99 |
| Cooking area | Circular diameter 55cm | Circular diameter 45cm | 50cm x 35cm | 42cm x 39cm | 67.5cm x 30cm |
| Total dimensions | 64cm x 74cm x 107cm | 53cm x 54cm x 88cm | 119cm x 64cm x 106cm | 45cm x 47.5cm x 70cm | 85cm x 36cm x 90cm |
| Shelves | One, low down | One, low down | Fixed in place: two at cooking height, one lower | One, low down | No |
| Hood | | | | | |
| Other features | Ash collector, top and bottom air vents | Ash collector, top and bottom air vents | Ash collector, tool hooks. No air vents | Portable design, top and bottom air vents | Designed for spit cooking as well as grilling |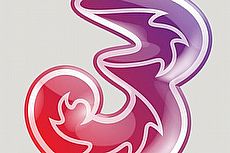 7 December 2017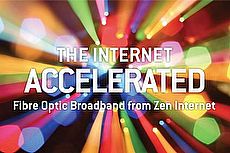 6 December 2017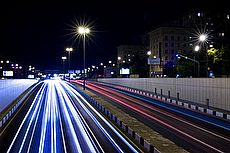 4 December 2017
Follow us or subscribe for FREE updates and special offers