Budget laptops: Five of the best under £500
©iStock.com/rustemgurler
THE phrase "budget laptop" still has a bad image, calling to mind clunky machines with the computing power of a pocket calculator.
But technology moves quickly, and as specifications have improved, prices have come down. Anyone replacing a computer of more than a few years old is almost guaranteed to find something of similar specifications or better for the same price.
The one downside is that cheaper machines do still tend to be on the chunky side. The five we've picked here all have 15.6 inch screens: while they are portable, they're not the lightest or neatest machines available: see our top five notebooks for smaller options.
On the plus side, however, that means full size keyboards, a good selection of ports, and bigger disk drives - all of these come with 1 TB hard disk drives as standard.
Here's our guide to five of the best laptops available for less than £500.
1. Toshiba Satellite L50-B-1HQ Notebook
RRP: £399.99
Launch: September 2014
Our rating:
HP laptops have Beats Audio, Toshiba laptops come with SkullCandy technology - and this one comes in four snazzy colours.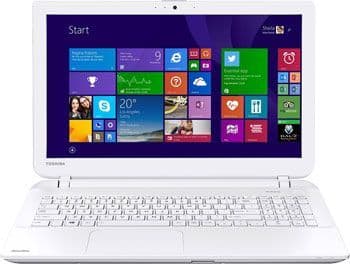 The Satellite relies on an Intel Core i3 1.7 GHz processor, with 8GB of RAM and a 1TB hard disc drive offering plenty of storage.
The Ethernet port supports Gigabit connections, and there's support for the newer 802.11ac wi-fi protocol as well as the standard 802.11a/b/g/n.
If that's not enough, Bluetooth is available over short distances as well.
There are three USB ports, one of which is USB 2.0, and two of which are USB 3.0 - and one of these supports charging while the laptop is asleep or switched off.
As well as the DVD drive - which not all L50 models sport - there's an HD webcam and the standard monitor and HDMI ports.
But this particular model supports Ultra HD 4K output via the HDMI port - so streaming super sharp video from the laptop to a compatible TV should simply be a matter of plugging the cable in.
2. Lenovo G50-30 15.6-Inch Notebook
RRP: £299.99
Launch: November 2014
Our rating:
Bargain hunters may well want to stop reading here: a decently outfitted 15.6-inch laptop for less than £300, with pretty good reviews.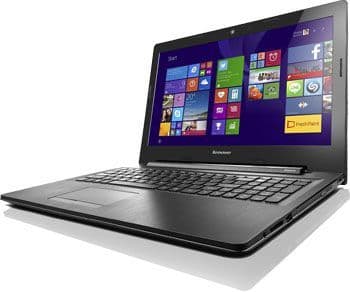 There are even cheaper versions available - opt for a Celeron chip and the price drops to less than £250 - but this model has the Pentium N3530 2.16 GHz processor powering it.
The screen has the same 1368 x 788 resolution as the others we've looked at, and the built-in webcam is HD capable.
Yes, it has only one USB 3.0 port, but so does the much more expensive Acer we've included. There's also the HDMI and monitor ports and a DVD writer, as you'd expect.
Interestingly, considering it's the cheapest of the machines we've included, it's one of only three to offer Bluetooth connectivity as well as 802.11b/g/n wi-fi and an Ethernet port.
There are more expensive versions available with Intel Core i-series processors. And it's the processors that dictate the price: users of models from across the range say the keyboards have more flex than they'd like.
3. Acer Aspire E5-571 15.6-Inch Notebook
RRP: £479.99
Launch: January 2015
Our rating:
Not only do the 15.6 inch laptops in our review sport full size keyboards, some of them manage to fit a numeric keyboard alongside them without looking or feeling squeezed. The Acer is one such computer.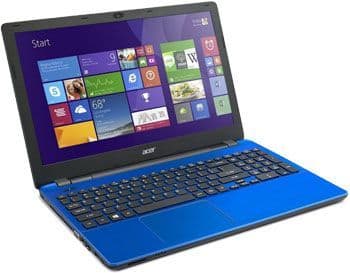 An Intel i5 2.2GHz processor assisted by 8GB of RAM makes it more than capable of dealing with everyday use, and the 1 TB HDD means there's plenty of storage.
The Ethernet port supports Gigabit connections, while wireless is supported on the 802.11b/g/n protocols.
The Acer also sports three USB (two USB 2.0, one USB 3.0) ports, one HDMI port, a monitor port, SD card reader and DVD-writing drive, and like all the computers we've included here, the screen resolution is 1366 x 768.
Battery life is quoted as being up to seven hours, but reviews suggest four to four and half is more realistic.
For those put off by the shocking blue exterior, it also comes in a much more sedate dark grey.
4. ASUS X555LA-XX273H 15.6-Inch Notebook
RRP: £429.99
Launch: September 2014
Our rating:
Asus like their design touches. Their ultrabook features an exterior coated with Gorilla Glass; their more budget-friendly X555LA notebook features "IceCool technology" in the keyboard surround to keep resting palms, well, cool.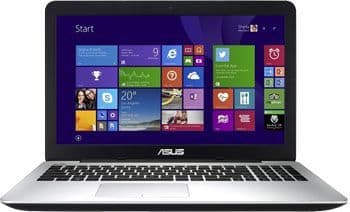 But that might be cold comfort (sorry) when we consider that every other laptop in this review - including the two cheaper models - has 8GB of RAM, while the Asus has just 4GB.
It's not the lowest spec available, but RAM tends to be more conducive to smooth multitasking than cool hands.
Memory aside, the Asus is packing a thoroughly respectable Intel Core i5 1.7 GHz processor and a 1 TB hard disk drive - and it fires up from sleep mode in two seconds.
It has the full range of ports along its sides, from HDMI to one for a monitor, SD card reader and two USB 3.0 ports, plus one for USB 2.0 devices. There's an Ethernet connection and it supports Bluetooth as well as 802.11b/g/n wi-fi.
Despite generally good reviews, users say the screen suffers from more than the usual amount of glare.
5. HP Pavilion 15.6-Inch Notebook
RRP: £499.99
Launch: January 2014
Our rating:
The most expensive of our budget picks, the HP Pavilion is the only one not sporting an Intel processor. Instead it relies on an AMD A10 quad-core 2.0 GHz chip.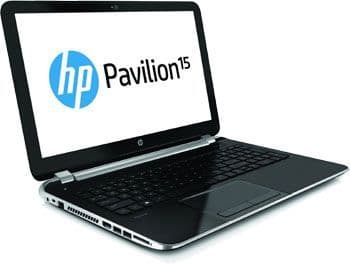 Reviews seem to be fairly evenly divided between those who find it laggy compared to Intel processors, and those who like the slight edge that comes with the need for a separate AMD graphics card.
The processor is backed up by 8GB of RAM, and the almost standard 1 TB hard disc drive.
As should be expected by now, the HDMI, monitor, Ethernet and multiple USB ports are present - again, two of the three USB ports support USB 3.0 - as is the SD card reader and DVD writing drive.
Wireless connectivity is possible using the 802.11b/g/n protocol. The screen resolution is again 1366 x 768 - but the webcam can shoot in HD.
Battery life seems pretty good, with users saying they get four or five hours minimum before having to plug in.
People for whom the budget isn't so strict may be tempted by the touchscreen version of this computer, although that'll cost an extra £200.
In conclusion
Hopefully we've shown that cheap can indeed be cheerful when it comes to laptops, and that just because less expensive laptops tend to be bigger, they don't have to be cumbersome.
Despite Build quality is less of an issue than might be expected. In fact, it's possible to get a Lenovo G50 with considerably more power under the lid - up to an i7 chip, for a slightly less bargain basement price tag - but the soft keyboard remains.
As with our pick of ultrabooks, the most expensive machines aren't necessarily the highest rated.
The three most expensive are in the lower half of our table: the Acer and Asus suffer from limited connectivity options and style over substance.
Maybe we've been a little unfair ranking the HP Pavilion fifth, but squeaking in just under budget and the love/hate relationship many have with AMD processors meant we couldn't in all honesty give it a total thumbs up.
But the Toshiba AMD has fantastic connectivity, strong performance, looks pretty good, and meets the budget with cash to spare - so we think it's a pretty good bet.
Here are the key specs and prices again for quick comparison:.
| Model | Toshiba Satellite L50-B-1HQ | Lenovo G50-30 | Acer Aspire E5-571 | ASUS X555LA-XX273H | HP Pavilion |
| --- | --- | --- | --- | --- | --- |
| Our rating | | | | | |
| RRP Price | £399.99 | £229.99 | £479.99 | £429.99 | £499.00 |
| Screen size | 15.6 inches | 15.6 inches | 15.6 inches | 15.6 inches | 15.6 inches |
| Processor | Intel Core i3 1.7GHz | Intel Pentium 2.16GHz | Intel Core i5 2.2GHz | Intel Core i5 1.7GHz | AMD A10 |
| RAM | 8GB | 8GB | 8GB | 4GB | 8GB |
| Storage | 1 TB HDD | 1 TB HDD | 1 TB HDD | 1 TB HDD | 1 TB HDD |
| OS | Windows 8.1 | Windows 8.1 | Windows 8.1 | Windows 8.1 | Windows 8.1 |
13 October 2017
11 October 2017
10 October 2017
Follow us or subscribe for FREE updates and special offers