Over 85% of broadband customers in the UK get their service from one of the big four providers: BT Group, Sky, Virgin Media, and TalkTalk.
Yet as more independent full fibre networks enter the market, alongside smaller resellers like Vodafone, Shell Energy Broadband and NOW growing their customer bases, the big four are being challenged.
BT Group, Sky and TalkTalk have all seen contracted market share over recent years.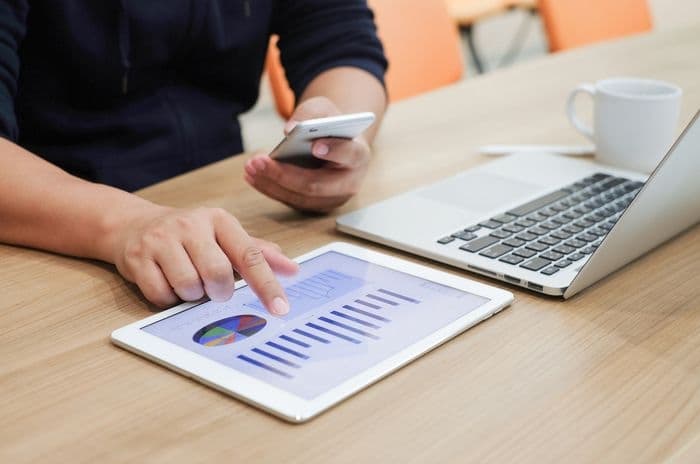 ---
At a glance: Broadband market share
As the graphic below shows, the vast majority of UK customers get their broadband connection from the BT Group (BT, EE and Plusnet), Sky, Virgin Media O2 or TalkTalk.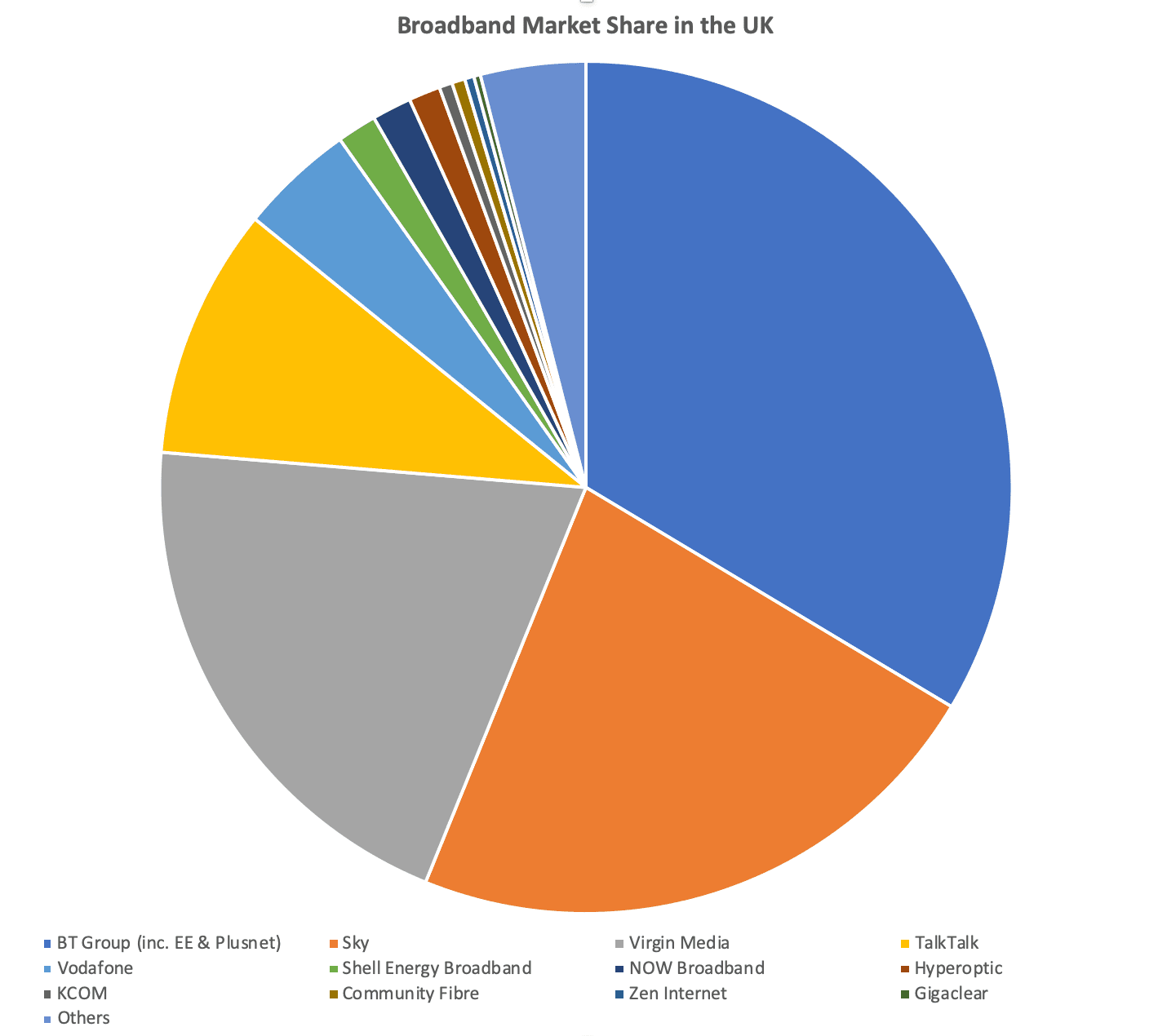 | Provider | Subscriber numbers | Market share |
| --- | --- | --- |
| BT Group (inc. EE & Plusnet) | 9.4 million (approx.) | 33.6% |
| Sky | 6.215 million | 22.54% |
| Virgin Media | 5.8 million | 20.18% |
| TalkTalk | 4.039 million | 9.53% |
| Vodafone | 1.223 million | 4.36% |
| Shell Energy Broadband | 595,000 | 2.12% |
| NOW Broadband | At least 400,000 | 1.5%+ |
| Hyperoptic | 345,000 (approx.) | 1.2% |
| KCOM | 149,100 | 0.5% |
| Community Fibre | 149,000 (approx.) | 0.5% |
| Zen Internet | 100,000 | 0.35% |
| Gigaclear | 70,000 | 0.25% |
---
UK broadband statistics and trends
Availability and take-up
28 million households have a fixed-line broadband connection
97% of households can access superfast fibre broadband, with at least 30Mb per second download speeds, with around 73% of households taking superfast connections
Over 73% of homes can now access gigabit-capable broadband, and over 48% have access to full fibre to the premises, with around 25% taking up an FTTP connection
68,000 of homes and businesses still don't have access to a broadband connection of at least 10Mb per second.
While 30,000 premises don't have a decent broadband or 4G mobile service
Broadband usage
Average monthly broadband usage has grown from 240GB per month in 2018, to 482GB per month in 2022.
Digital voice switchover
Around 27% of landline phone services are now delivered over broadband
Over 3 million households have broadband without a phone line, more than twice the number just two years ago
Broadband without a phone costs around 13%-18% cheaper than when taken with a landline
Affordability
Broadband, phone and TV bundles save households between 9% and 39% compared to taking services separately, with 79% of households taking more than one service from the same provider
8.1 million households are struggling to afford their communications service, with around 1.4 million of those struggling to afford fixed-line broadband
11% of households on means-tested benefits are struggling to afford their broadband bill, while take-up of social broadband tariffs remains low at just 5.1% of eligible households.
---
BT Group
Broadband market share: 33.6%
BT Group is the largest broadband provider in the UK with a customer base of approximately 9.4 million, and a market share of 33.6%.
BT is made up of three retail brands including BT, EE, and Plusnet. Home broadband and mobile network provider EE were bought out by BT in 2016, when they added around 933,000 fixed line broadband customers to BT Group.
While Plusnet joined BT Group prior in 2007, it continues to operate as an independent brand with its own customer call centre.
There has been some streamlining of brands however, with BT taking the decision to close the John Lewis Broadband brand in late 2022 that had been operating via Plusnet.
While BT has seen its market share contract in recent years, from a peak of 36.45% in 2016, the provider is growing its full fibre to the premises customer base.
Currently standing at 1.8 million customers, BT's FTTP network so far passes 10 million premises, and is on target to reach their goal of 25 million premises by the end of 2026.
---
Sky
Broadband market share: 22.54%
Sky is the second largest broadband provider in the UK, with more than 22% of the market, amounting to 6.215 million customers. Although it should be noted this doesn't include customers taking Sky TV without broadband.
Since their takeover of Telefonica broadband (O2 and BE) in the summer of 2013, Sky broke the five million subscriber mark in the latter part of that year. Subsequently, they went on to pass six million broadband customers by the second half of 2016.
While loyal BE Broadband customers weren't happy about the takeover by Sky, the provider has gone on to become one of the market's best performing providers for customer service and satisfaction. Regularly coming in first place for the least number of complaints reported by the regulator Ofcom.
Sky's online TV platform brand NOW, launched broadband deals in 2016, and has a separate customer base making up around 2% of the market.
---
Virgin Media O2
Broadband market share: 20.18%
While Virgin Media O2 joined forces in June 2021, O2 left the home broadband market back in 2013 when they sold their business to Sky.
However, Virgin Media O2 are still the UK's third biggest fixed-line broadband provider, with a market share of 20.18% and around 5.8 million customers.
They independently own their own network, which now delivers broadband speeds of up to 1.13Gb on average, making them the fastest widely available provider in the UK.
Virgin Media's network currently passes around 16 million premises, which suggests they have a take-up rate of around 36.25% for their broadband network where it's available.
At the time of the Virgin Media O2 merger, the company announced an investment plan of £4.5 billion to expand their network to a further 7 million premises, which they aim to complete by the end of 2026.
Despite currently being the main provider of gigabit-capable broadband in the UK, Virgin Media are also investing £2 billion a year for the next five years to upgrade its entire network to DOCSIS 4 cabling, or full fibre to the premises, which will future proof the network for years to come.
The network also previously invested £3 billion into Project Lightning in 2015 to fill in gaps in their network, adding 500,000 premises the first year, and a further 720,000 in 2016. As of Q3 2021, Project Lightning had reached a further 2.6 million premises.
While Virgin Media was the first provider to offer quad-play packages in 2014, bundling broadband with TV, phone and mobile, their merger with O2 in 2021 enabled the provider to offer even greater value for money with their Volt bundles.
---
TalkTalk
Broadband market share: 9.53%
TalkTalk is the fourth biggest broadband provider in the UK. They operate their own fibre-to-the-cabinet unbundled network, and resell full fibre through Openreach and CityFibre.
They have a share of 9.53% of the fixed-line broadband market, with an excess of 4 million retail customers.
TalkTalk's B2B arm, TalkTalk Business, is also the UK's largest wholesale broadband provider, with over 50% market share and nearly 1,000 business customers.
However, TalkTalk's retail customer base has seen peaks and troughs throughout the years, and alongside BT and Sky, has been steadily contracting from a peak of 15.72% of the market in 2013.
They've previously acquired other broadband brands including Tiscali in 2009, and the Post Office broadband in 2013. The Tiscali takeover caused issues for TalkTalk, with long-running billing problems that eventually led to the company paying out £2.5 million in compensation to customers and a further £3 million in fines to Ofcom.
The provider has also led a push towards fibre broadband. In 2021, they began pricing their basic copper package above that of faster fibre deals. That year, the provider also launched their full fibre broadband working with both the Openreach and CityFibre networks.
Overall, while TalkTalk has previously been seen as a budget provider, they're increasingly moving towards offering a more premium product, with the second fastest average download speeds on their gigabit plan at 944Mb per second, and offering one of the best wireless routers to full fibre customers, providing a WiFi 6 compatible eero Pro 6.
---
Other providers
While over 85% of broadband customers are signed up to one of the big four, there are an increasing number of resellers and independent fibre networks expanding in the UK.
Vodafone
Vodafone achieved a stable market share of fixed-line broadband customers in late 2018, exceeding the 1.5% required to appear in Ofcom's quarterly complaints reports.
While Vodafone are better known as a mobile network operator, they also resell fixed-line broadband via both the Openreach and CityFibre networks.
Their latest financial results show the provider to have now acquired over 1.223 million fixed-line customers, suggesting a market share of around 4.36%.
Shell Energy Broadband
Shell Energy Broadband originally launched in April 2019 when they took over First Utility and rebranded to Shell Energy.
They subsequently took their market share of fixed-line broadband customers over the 1.5% mark when they acquired 465,000 customers from the Post Office in early 2021.
However, since their latest acquisition, they've been plagued with customer complaints, and Ofcom's latest review into customer service reported 108 complaints per 100,000 customers, considerably higher than the industry average of 44 for 2022.
While complaints peaked in Q2 2022, and did decline in the following quarter, customers have also clearly been struggling to get through to customer services, with an average call wait time of 8 minutes 14 seconds, and as many as 28% of customers giving up before their call is answered.
Shell Energy Broadband is provided via TalkTalk's wholesale network and they also resell full fibre broadband via Openreach.
Hyperoptic
Hyperoptic have recently passed over 1.15 million premises as they begin connecting individual homes to their network after focusing for several years on apartment blocks and social housing schemes.
While the provider has limited availability, they operate nationwide and are active in 64 towns and cities across the UK. They also have current plans to continue their expansion to 2 million premises.
According to their latest financial report published in June 2022, the provider had 224,080 customers and a take-up rate of almost 30%.
This means they've likely now acquired a customer base of approximately 345,000, and a market share of 1.2%.
Hyperoptic have marketed themselves as a fairer provider, and are one of the few remaining to still offer fixed prices. They've championed an end to above inflation mid-contract price rises since the start of 2022, which helped win them the 2023 Choose Broadband Fair Terms award.
KCOM
KCOM, formally known as Kingston Communications, are the incumbent provider for Hull, the only city in the UK not covered by BT Openreach.
As of 2023, KCOM has 149,100 fixed-line broadband customers, giving them a market share of around 0.5%. However, KCOM are mainly only available in Hull, with the provider only beginning to expand their network in the last few years.
KCOM's full fibre network currently reaches 277,000 premises, and they are now expanding outside of Hull into areas across Yorkshire and Lincoln. In 2022, they added 28,000 premises to their network in a further 20 towns and villages.
While the provider no longer has a complete monopoly in Hull, there is still little competition in the area, which is something Ofcom are keeping an eye on.
However, for now, they may be the only provider for many households in Hull, and as the Universal Service Provider for the area, they have more market power than their relatively small subscriber base suggests.
Community Fibre
Community Fibre are a dedicated London provider, but one of the largest independent full fibre networks, covering 932,000 premises in the capital.
The provider has a take-up rate of around 16%, and a customer base of approximately 149,000, giving them a market share of around 0.5%.
Community Fibre operate their own full fibre to the premises network with average download speeds of up to 920Mb, and even 3Gb per second in some areas.
The provider is one of the most affordable options in London, as well as one of the fastest. They also mark themselves out by some fair terms including a 60-day satisfaction guarantee and limited out of contract price rises of just £2.
Zen Internet
Zen Internet are a well-known broadband provider for their commitment to excellent customer service and ethical credentials. They have around 100,000 customers across the UK, although this figure includes both retail and business customers.
With a market share of around 0.35%, the provider is too small to be included in Ofcom's research and complaint figures. Yet, the provider has strong performance on Trustpilot, is a certified BCorp organisation, and is frequently recommended by Which?.
Zen offer both fibre to the cabinet and fibre to the premises broadband via Openreach and CityFibre networks.
Gigaclear
Gigaclear operate their own full fibre network and specialise in connecting rural areas.
As of 2023, they have 70,000 customers and have passed 380,000 premises. The provider boasts a 90% coverage figure in underserved areas, and their take-up rate is 18%.
Overall, Gigaclear have a market share of 0.25%, but they're the largest dedicated rural provider, having connected over 250 communities so far.
---
Summary: the big four have growing challengers
While the big four looks set to retain their market dominance for the foreseeable future, we shouldn't overlook the fact that the market share of three of these providers has been steadily decreasing over recent years.
Smaller providers, particularly Vodafone, Shell Energy Broadband, and independent networks like Hyperoptic and Community Fibre, continue to steadily grow their customer bases.
In addition, we've also seen in recent reports, how altnets are investing more money into the full fibre rollout than the larger networks of both BT Openreach and Virgin Media, suggesting more providers will start taking market share as customers move away from legacy copper and fibre to the cabinet connections.